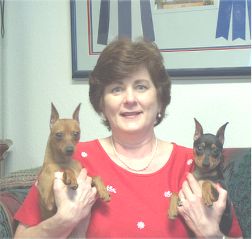 My name is Roberta Mills-Bowhay. Everybody calls me Bobbie. I have bred Miniature Schnauzers, Standard Schnauzers and Miniature Pinschers for obedience and conformation. Prior to my involvement with my show dogs I trained and showed horses in the hunter/jumper ring, in dressage and 3-day eventing until I figured I was getting a little too old for these activities. My competitive nature spread to my love of dogs. I have owned many breeds of dogs including mixed breeds, a Beagle, Border Collies, a Golden Retriever, Mini and Standard Schnauzers. Along with my Miniature Pinschers, my home is currently inhabited by a Doberman Pinscher and a German Shorthair Pointer.

I bought my first Miniature Schnauzer in 1968 and my first Standard Schnauzer in 1979. My son now has my last two Miniature Schnauzers which are daughters of my top winning and producing dog CH. Windwalker's Road Warrior. I began competing in obedience with a Miniature Schnauzer in 1979 and over the years put many Companion Dog, Companion Dog Excellent and Utility dog titles on several of the Mini and Standard Schnauzers. I got my first conformation Mini Schnauzer in 1981. Since that time I have bred, raised and finished many Miniature and Standard Schnauzers to their championships. Most of my dogs had dual titles from the conformation and obedience rings.

My first Miniature Pinscher was acquired as a birthday present for my son's 15th birthday In 1989 we were at a show in Knoxville, Tennessee showing Mini Schnauzers. My son who had been wandering around the show grounds came running up to me all excited saying he had found the kind of dog he wanted and would I please get it for his birthday. He said it looked like a little Doberman and had a neat way of prancing like a horse. After much pleading and begging on my son's part to convince me he really needed this little puppy, we left Tennessee the owners of "Spike", a very loving and very energetic min pin. Spike won our hearts with his intelligence, animation and cat-like curiosity. He also turned out to be a little thief and hoarder - if something was missing we learned to check Spike's bed first - it was usually there. Since 1989, my family has enjoyed the companionship of Miniature Pinschers. I cannot imagine not having these wonderful little dogs in our lives to make us laugh and to be amazed by their athletic ability, inquisitiveness and playful antics. Besides showing my dogs in the conformation ring, I have trained my min pins in obedience and agility.

I work hard in my breeding program to produce dogs true to the standard and to produce sound temperaments. My dogs are raised around a lot of activity in the household and play with and love the grandchildren. The pages that follow will show you some of my four legged friends and companions.
Club Affiliations:
Texas Kennel Club - Recording Secretary 2007 to present
Miniature Pinscher Club of America - Secretary 2008-2009
Dog Training Club of Dallas County
Lone Star Miniature Schnauzer Club
E-mail Address:
windwalker548@mac.com