Mini
- Wednesday December 25/13 at 10:00 pm to Wednesday April 9/14 at 2:00 pm
Mini drowned today. I didn't know that I had the capacity to love something so much. This 1 lb 4 oz power house left a gigantic, jagged hole in my heart. I doted on this little girl like a mother hen. She was with me always. No matter what, Mini could always make me smile.

Mini lived in the house with Karma and Cammi. She was never in the kennel unless I could keep an eye on her. It was a warm sunny day and I took everyone for a 30 min walk in the south field. Mini out ran everyone and never stopped. When we got back she was exhausted and crawled into her favourite tunnel to have a nap. I puttered around the kennel, washing dog dishes and getting the dog beds ready for the night. After about 45 minutes I peeked in the tunnel to check on Mini. She wasn't there. I called her and searched the kennel but couldn't find her. I walked out into the field and called. I was circling the water around the island in the field and I spotted her under water, caught in the brushes. I screamed "Oh no Mini!!" and scooped her out. I worked on her for over 30 minutes but she was gone. I was crying and vomiting at the same time. I ended up dry heaving.

This little girl was the love of my life. Mini was completely unique and I had big plans/dreams for her/us.
I went back out to look where I found Mini. The most amazing thing happened. The Pins all ran down the small embankment and were rooting around in the exact spot she drowned. By the time I thought to get my camera out they had all left but two. Her best friend Karma is on the left and she stayed the longest. After I left Karma kept going back to that exact spot. No one will ever convince me that they didn't know exactly what happened.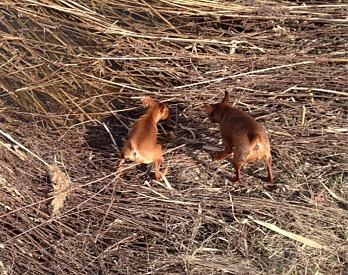 This is Mini when I stopped working on her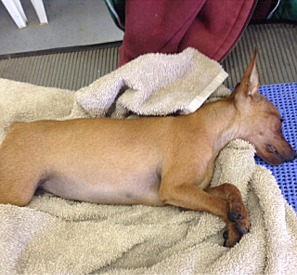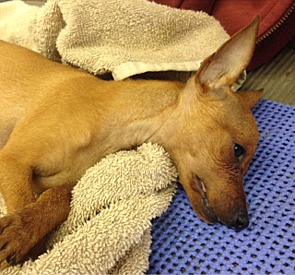 The last one is Mini, wrapped in a towel.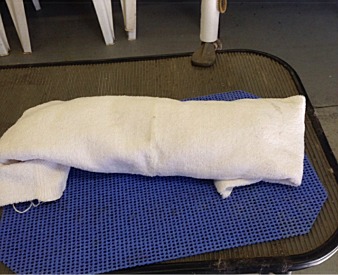 We are waiting for Gaston to get home. He will bury her on that island where my very special dogs are laid to rest. The rest of the pics are random photos of Mini just being Mini.

I lost Mini three hours ago and I am completely choked up as I prepare this. I am sure you will understand that this update is just dedicated to Mini. I can't even remember what happened around here up until today anyway. My mind has been wiped clean.
---
Ravi
August 29, 2009 - July 26, 2010

Ravi in her prime

On Sunday morning, Ravi raced and bounced through our 30 minute off leash walk. She played biting tails with her sister and ate a hearty breakfast. When we put her to bed Sunday night, we noticed that she seemed lethargic and a bit tense. We put her to bed with her cookie and she curled up in her bag. Monday morning, she wouldn't get out when we opened the door to her crate. We lifted her out and she had vomited, was chilled to the touch and felt stiff.

We rushed her to the vet where she received extensive testing. By noon we were given our most feared diagnosis. Our beautiful, vibrant Ravi had severe Addison's disease. It had also compromised her kidney function. After a lengthy discussion with the vet, we made the painful decision to euthanize Ravi. Ravi was masked down into a peaceful sleep and never flinched,

We brought her home to say good bye to her sister Liza, and her dog friends. It was a touching, heartbreaking scene. Liza kept going back, over and over. Ravi and Liza were like Siamese twins. They did everything together. If you were looking for one, you would always find the other one close by.

Ravi was an affectionate, playful girl. She was never anything but pure delight. We were going to start showing her in August as she had matured into a beautiful specimen of the breed. I will always miss Ravi, as will her sister Liza. July 27, 2010


Saying good bye


Liza went back almost a dozen times on her own
---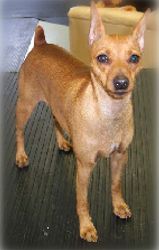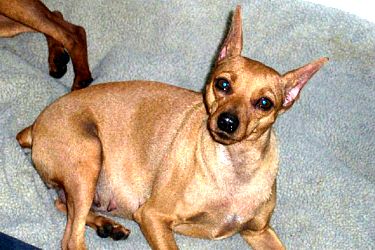 Ch Patapin Mel Lo Yello
April 12, 2001 to July 25, 2005
Mel Lo was lost to us in a tragic accident on July 25, 2005. Her adventurous spirit was partly to blame for the tragedy. Mel Lo was truly unique. There was nothing mellow about our Mel Lo. Her eyes were always shining as she sought out life's next great adventure. She didn't hesitate to talk back and was very vocal about expressing her opinion. She passed this to her daughter Ch Patapin Next Episode who was nicknamed Squeeky because of her talking. She also passed it to her daughter Ch Patapin Talk the Talk who is aptly named Gabby. Mel Lo will live on in Squeeky and Gabby as well as her three girl babies that will remain here for now. My heart aches for Mel Lo and I miss her terribly. There is something to be said for the saying that only the good die young. July 26, 2005
---
Conrad on May 7, 2005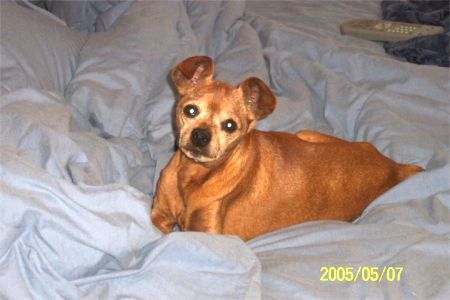 Music's Spicer Dobie..aka Conrad Gauthier:
August 10, 1996 to May 11, 2005
You were my very first minpin and constant companion. I will never forget the day Gaston brought you home from what I now realize was a puppy mill situation. You were nine weeks old and had never been out of a wire cage. You certainly weren't a show dog and some people wouldn't even think that you were a nice looking pet.
You had a big barrel chest and were bow legged in the front and cow-hocked in the rear. You developed mild luxating patellas by one year of age but it didn't slow you down. I still laugh at the day that I wore a sweat shirt with your picture on the front to my dentist appointment. He told me it was the first time he had ever seen a picture of a pig on someone's sweat shirt.
You were an eating machine and would squeal in excitement as the meals were being prepared. I am afraid that I indulged you and you were always a chunky boy. You glued yourself to me from the start and never left my side. You were a bit of a couch potato and loved to lay anywhere it was warm. When Gaston took everyone for their walk, you ignored him and kept your eyes closed until he left without you. When I took everyone for their walk, you would leap up and go with gusto.
You were never a problem and stayed aloof from the other dogs. They respected you and left you alone. This was fine with you because I was your whole world. You were 100% house trained and would probably have died in embarrassment if you ever had and accident.
If I went in the house without you, would sit by the door in the rain and cold and look longingly at the window until I let you in. You slept on my bed and were at my feet anytime I sat down. When I went away for a couple of days you were so excited to see me that you would squeal and pick up a toy and shake it so hard I thought your head would fall off. Once you got some of your pent up energy and excitement out, you would come and greet me like I have never been greeted before.
You were thoughtful and sensible and a great comfort to me when I was down. It broke my heart when you were diagnosed with pancreatic cancer. You were very stoic and never once whimpered or complained.
You had the very best palliative care available and continued to eat and wag your tail every time you saw me.
You spent your last days in my bed and would cuddle even closer at night. Then the day came that you stopped eating and started vomiting. You wouldn't wag your tail or raise your head when I came in the room. You would just follow me around the room with those big, soft brown eyes. You still didn't whimper or complain but I knew the time had come.
I held you in your favorite blanket and you looked trustingly into my eyes as the vet inserted the needle.
Then you relaxed and were gone. A part of me died that day with you. You had my heart my friend and no one will ever take your place. I cherish our time together and I will never forget you.

Until we meet again. Pat

---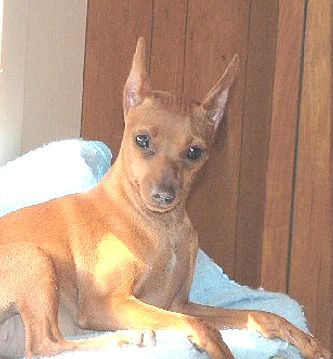 Patapin Peaches N Cream.
September 24, 2003 to July 31, 2004
Taken well before her time

A beautiful girl.
You can see the trusting, loving nature and happiness shining from her eyes.


Peaches started off her show career with a BOB
and Group 2 win! She had untapped potential in the ring


Peaches and her best friend Sabrina


Peaches had wonderful friends to snuggle with
Peachey was tragically and unexpectedly taken from us before she had a chance to reach her prime . She will be greatly missed by me and her second mother Francoise that, if possible, loved and cherished her even more. She is also mourned by Robert, Maxim and of course, her best friend Sabrina. She had a short but wonderful life and lived it to the fullest.
---
Laser's Autumn Red (Roxy Gauthier)
Can Am C.D., CGC, TT, Reg'd Pet Therapy
June 2, 1995 to July 19, 2004
Loyal Companion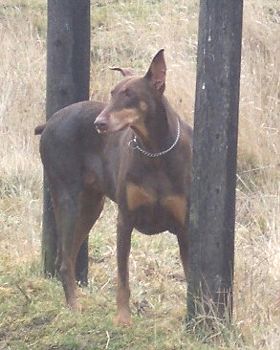 Roxy, January 2004
---
Dennis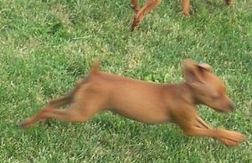 April 4, 2003 to December 16, 2003



Dennis brought tremendous joy to our lives and tremendous heartache. He will never be forgotten.