Well hello Patricia,
It's been quite a while since we last communicated and I hope you've been well.
Much has changed for me since then. If you recall, I had a boyfriend that was very allergic to Charlie Brown (born March 4, 2006. I also don't think he even liked CB. So I got rid of the boy and remained thick as thieves with my baby boy Charlie. Obviously ;)
Just last week CB had surgery to remove a mast cell tumour from his right hind leg. Took me by surprise that there was anything wrong with him because he's the toughest little guy I've ever known.
The good news is I have an amazing vet in Toronto who has been caring for CB for a few years. Amazing. The prognosis looks very positive and CB is doing fantastic. In fact he thinks his cone is a 'crown'. Obviously!!!!
Thank you from the bottom of my heart for breeding such a strong, confident, loving dog. I admire and respect him for all of the impressive qualities he has...including his feistiness. You were right that he (vs his little sister) was the perfect match for me.
Here are some pics of the little man if you want to post on your website.
PS. I found a better man and now we're engaged. And Charlie Brown has a Boxer sister (Riley) to look out for him xx
Liza


How impressed the Trainer is that I am working with for Micah and Chloe about the calibre of puppy you raise. She always remarks on their beauty and smarts so good work Pat from a very satisfied puppy owner!
Lori June 26/15


Micah has blue collar. Chloe on red background.


I read your blog often and know from experience that your dogs have a different temperament than most Minpins. Whenever we go out or to the vet, people always tell us that Sara is a lot more friendly and loving than other Minpins. Your dogs are unique and we are seriously considering a friend for Sara in the next two years.
We are so proud of Sara and her behaviour with the baby. She licks her and checks on her multiple times a day. Sara never steals her toys and whenever we leave (honestly once a week for an hour and a half at most to go shopping) she always goes to the baby first in the car seat when we walk through the door.
Anne Marie May 27/15


Chance just turned two years old. We wanted to drop you a line and say hello. Chance is the smartest, most handsome little boy. He continues to go to daycare daily he enjoys it so much and has so many friends both large and small. I continue to work on commands with him. He can be stubborn just like his mom. Thank you so much for giving me a Patapin. I read him your blog weekly.
I have enclosed a few photos. One with his birthday present rabbit who was rated a 9 toughly but he only lasted 2 days. I sent a couple of him after his recent grooming he is so proud and 1 of him in training.
I love him so much and cannot imagine life without him in it! Joe. May 23/15


Dora is settling in wonderfully; we have decided to call her "Suzie" (I can't ask her if she likes it as Gerry is having a nap and she is curled up tight beside him). She has been eating very well, all raw food. I had no idea she could down a chicken wing so fast, bones and all! I went to the market yesterday and bought a range of things for her: chicken wings, hearts and gizzards, liver, and stewing beef. I will make certain she eats one chicken wing a day. I found I cannot leave food out for her without ants marching in in columns. But she lets us know when she is hungry.

Suzie is captivating everyone who comes by. We have the back yard set up with a patio, tables, chairs and chaises longue. It is not a very large yard, but there is grass, two flower beds, and lilies of the valley growing beside the garage. She loves the flower beds and is constantly running through them, nibbling on the plants before her mind gets distracted (about five seconds). She also loves to dig; when she gets lazy she does it lying down, with both front feet going furiously. We laugh and laugh.
Suzie is quite adamant that her play not be interrupted. Her favourite playmate is s long white toy that squeaks. We call it "weasel" and she runs all over with it, then flops down and chews furiously. The more leaves and dirt that are stuck to it the better. Considering that weasel is as long as she is, it is very amusing to watch her, She was unhappy yesterday when she couldn't carry weasel into the flower beds (they have wire fencing around them that she can slip through but not with weasel held crossways in her mouth). She tried several times before giving up.

We were wondering how Susie would adapt after being separated from you and all her doggie friends.
She did cry in the car when we left, but a soon as we got her home, she started exploring. Her tail was down a little at fist but then went up and has stayed up except when she is feeling unsure about something. When she gets tired of running an needs a power nap, she wants to snuggle up and have her tummy rubbed and be told what a wonderful little puppy she is, before drifting off. She slept the first night with Gerry and was very good, and last night with me. She lasted until 6:00 am when she gave a sharp yip to wake me up, then streaked down the bed. I grabbed her and took her to the basement when she did both numbers 1 and 2. Them she wanted her breakfast, followed by a run in the back yard.

I bought a new halter for her yesterday and Gerry took her for a walk out front of the house this morning. She liked the walk but WHAT THE HELL IS THIS HALTER THING THAT STOPS ME FROM GOING WHERE I WANT TO???? That got a chuckle.

Gerry will be sending you more photos soon. But rest assured that there is a quite contented little puppy here being doted on by two humans. Harold.
May 4/15

Hi Pat
it's been two years since we took our sweet girl, Sheira home with us. I thought I would give you our yearly update.
Sheira is doing so well, has learned a number of tricks which she does as often as asked in order to get those treats. Her and Magnum (my daughter's min pin) have become very good friends and we stop traffic everywhere we go when we walk these two beautiful and happy dogs. Sheira is a loving buddy, friendly with everyone and will cuddle with whoever needs to be cuddled but at the end of the day she is definitely my special buddy. We are still going to the nursing home and she is the sunshine for the staff and the residents. A couple of times this winter I was worried about the cold and the roads so I left Sheira at home. The folks at the nursing home were so sad and Sheira let me know she was NOT happy either. She chose her bed that whole evening instead of me and my chair which is where we usually spend our evenings. Sheira is amazing with my two granddaughters...Piper-3 and Rayna 6 months. Sheira and Piper are just two friends, playing together. We watch carefully though as Piper does not always realize that however smart Sheira is she does not speak or understand English. Sheira will teach Piper to be a good, patient and kind pack leader. Rayna thinks everything Sheira does is wonderfully funny and the quicker Sheira moves, the funnier it is....so....Sheira runs all around Rayna as fast as she can just to get her giggling. It is all so great.
So as you can tell we are just loving up Sheira and she is a very very important member of our family. Thanks Pat for all you do. I have sent a few pics.. hope you can see Sheira's importance in our lives and how much we really love her.

Liz. April 9, 2014




Hi Pat,
TimTim is doing so well. He has already adapted to our family and he becomes very naughty. He is running around the house with his toys all the time and plays fetch. He loves to sleep on our lap when he is tired. TimTim loves the fireplace! Sometimes we are afraid that he will burn himself since he sits so close to the fireplace. He is really a special, amazing puppy and we love him so much. Thanks for letting us have him.
Regards,
Shermie 2-22-15



Micah before he left

Thanks for the pictures - love them - so many happy memories of your place.

Micah would like to report that he loves his back yard very much and hangs around out there with his big brother and Mom. This morning he peed outside! He brought me pine cones while I was weeding!

Micah has settled in well and has really taken to the morning walk - follows Chase with no issues and sniffs where Chase does. I got him fit for a red harness and he thinks it's cool.

He likes to sleep in bed at night under the covers. He has some stairs now to get off and on the bed. Chase laid in front of the stairs while I was in the shower and Micah gave him heck but Chase didn't move! They hide each other's toys and have a great time pretending that they don't know where they are. I call them "the boys" and Chase will initiate play so that it's not always Micah asking to play! It's a rip roaring play place and both of them enjoy the family room carpet to play on as they don't slide.

He likes being an Island dog and has easily fit in to our routine!! He is a great joy to me and I am so thankful that Micah and Chase enjoy each other.

You have a whole legion of fans in Victoria for raising such a superb puppy! We have had lots of visitors and they all comment on how special he is! I am able to tell them about all of your dogs and how well you look after them. You are awesome Pat!"


Lori , Feb 2015


I was thinking about our puppy Jasmin that we adopted from you back in 2001. We lost her a couple of years ago. I was just looking at your website and it just reminded me of the amazing times we had together. My family and I think about her often. I have so many wonderful memories of her. She brought so much joy to our lives and we miss her like crazy.
I wanted to thank you for giving us Jasmin and for continuing to give other families your sweet little min pin's. My husband and I have just recently decided to adopt a dog and I know that no dog will replace her but I can't wait to love another puppy the way I loved Jasmin.
Thank you for doing what you do.

Lisa Dec 21, 2014


Latte is doing really well. Only 11 weeks old and such a good puppy!!! She is sleeping in a
playpen next to my side of the bed. I put her little sleeping bag in there with some paper and water. She goes to bed when I do and she sleeps right through to 6:05 AM.
My 6 yr old Minpin Sheila and I take her outside for a pee and she knows just what to do and then back to bed. I just put her in the sack and tell her "night-night time still" and she goes right back to sleep. She is the first puppy I have ever had do that. She has a little ball that she just loves, tears around the hard wood floors like she was born a soccer player. Too funny. Loving every minute of her.

Sandy. Oct 17,2014


Hi Pat,
Here's your Henry update!

First of all, I LOVE HIM. He is such a funny, sweet and affectionate little guy. He makes me laugh constantly, and he's very loving. He's quite attached to me - he whimpers when he can't see me - and I am happy he's bonding with me, but I am also trying to teach him that he won't get what he wants by screaming haha.

I'm sticking with the raw diet, and he's eating well. He sort of eats randomly during the day, whenever he wants, which is fine with me. His pees and poops are fine, and I am finding he isn't having many accidents in the house because I'm taking him out pretty regularly.

I've taken him on a few short little walks, and at first he had no idea what he was doing, but he caught on quickly and is now walking fairly normally! Last night we walked up my street, which has a lot of kids and dogs, and he was a HUGE hit. He made a lot of little kid friends who loved him.

He is so wonderful at sleeping. We just cuddle up in bed together, and he sleeps quietly all night, apart from when I take him out to the bathroom. I was worried he would cry or play all night but he just snuggles up under the covers against me and he's out like a light. I'm so grateful for that, because I spend the rest of my time watching his every move haha. It's tiring, but I love it.

I've been bringing him to work, he has his bed and toys and pee pad under my desk, plus his food, and today he's a lot more comfortable than he was yesterday. I think he'll get used to it pretty quickly. Everybody loves him here and have been volunteering to babysit if I have to go to a meeting or something.

I think that's all for now! Henry is adjusting very quickly and he is a happy and energetic little guy! Man I love him so much. Thank you for him.

Eva
Oct 1, 2014

Hi Again Pat,

I definitely appreciate that Henry's whole life has changed. He is adjusting SO well and adapting to everything very quickly. I'm so impressed with him!

I think he's kind of a genius, actually. He hasn't gone to the bathroom inside since Monday - he only goes when I take him out and ask him to, which is probably a miracle. I taught him to play fetch yesterday, he knows the word treat, and he responds to his name. Plus he's walking on a lead pretty well! I don't know whether this is normal for Min Pins, or if he's just exceptionally smart, but he's blowing me away with how quickly he catches on to everything. Like, one day he's afraid of the stairs, and the next he's racing up them. SO SMART. So brave too.

I love my smart little guy. :) Here he is snuggling in his bed, under his fuzzy blanket and with his lamb toy.

Eva Oct 2, 2014



I just wanted to keep you updated and let you know that I received Rudy's Kennel Cub Registration. Thanks!
Rudy is doing great. He graduated from puppy class on Saturday and has formed friendships with some of the other puppies. It's quite obvious that he's taken a special liking to a charming little Yorkie named Linda and he always plays with her during the off leash sessions inside the Paws Way centre across the street. The playtime sessions are 2 hours long and are held three times a week. He loves it.
He's been here for 5 weeks now and it's safe to say that he really enjoys living in the city. He's even been on the subway a few times and he's definitely the cutest passenger!


QUESTION: What is Rudy doing?

ANSWER: Watching a wildlife documentary.

Yes, I'm sure you noticed that his left ear is flopped over. We refer to it as the Rudy Barometer; it usually stands up straight but then starts to relax and fall forward when he gets tired. We love it!
Can't thank you enough for bringing Rudy into our lives. He's something special indeed.
Best regards
Chris & Paula


Hi Pat!
Being that today is Riley's 1st birthday I thought I would send you an update on how he's doing.
Riley has thrived from the minute I picked him up from your place. He was calm and cool during the car ride back to Toronto and enjoyed exploring his new home. He has been a constant source of happiness and hilarity since the minute he stepped foot his new place.

Riley has become a hit around the neighborhood with children, other dog owners and of course, other dogs. He's also made tons of friends at doggie day care where the staff tells me his fearless nature is on full display as he always plays with the biggest dogs he can find.

Thank you for training and socializing your dogs so well, your commitment is apparent and really shines through! It made for a smooth transition for Riley and he brings me joy and laughter each and every day.

I have included some pictures for you.
Take care, Pat!

Linda
May 2/14

Well Brazen is doing wonderful! We LOVE him soooo much! He has settled in perfect and is the apple of everyone's eye! Everywhere we go, he is a perfect gentleman.

He was feeling pretty special today...went to the vet again and he weighed in at 13.4 lbs!!! Down from 14.2 lbs when we took him to the vet the Monday after we picked him The vet is VERY pleased with his progress! We then went to the township office for his license and he was pleased to receive his new jewelry (tag) which is sporting today with pride!...see attached photo!

Brazen and his furry brother Edward (cat) get along well enough to share our bed at night...thank god we have a king size bed as even Lindsay (daughter) joins us all some nights! Lol
And finally....we were out at petsmart last night in Newmarket and you wont believe what we found...a clearance bin with a tweety bird sitting right on top! Well....Brazen was overjoyed! He has added Tweety to his stolen slipper collection (his most prized possessions!) Brazen stole my slippers the first night he arrived and they go everywhere with him...he takes them to bed with him each night and hides them in his crate each day. Im sure if I let him, he would bring them when we go out also. He seems very worried that the cat would want them, which is so not going to happen...but good luck telling Brazen that. lol
All in all we couldn't have asked for a better pup! He is absolutely perfect :)
Leanne
April 30/14

I sent two puppies to BC yesterday and they were in their crates for 10 hours. I got this response after they had only been there for a few hours. In the first email, Margaret reassures me that they got their safely She also says that they ran right out of their crates and immediately had huge pees. She was so impressed that they didn't wet their crate. Then she sent the following.
"And now they're already outside practicing using their leashes in the backyard. They didn't mind their collars at all, and are actually taking to the leashes very well! They're having a blast - two very happy puppies (and three very happy children!)

I'm amazed at how quickly they're adjusting to everything. And no issues whatsoever with the cats - they've sniffed noses several times and I think they'll be good friends. We're very happy with our new little puppies!!!"

Margaret
My response to Margaret was that she was seeing the Patapin temperament in action and as I always say, they aren't like other Pins! Margaret's Pins are the two on the top right.


Well Pat it has been a whole year that Sheira entered this world so I thought I would send you an update. ........

I bring her with me to see my friend at the nursing home and the nurses take her around to see some residents who are bedridden. She is sooooo gentle with these people It is wonderful to see. We walk in and she sits and waits for me to tell her she can go visit the residents who are sitting in the foyer. She sits and greets each one, long enough for a pet and a lick and a quick check for dropped treats and off we go to my friend's room....Sheira knows where it is and she greets her by carefully getting herself onto her wheelchair. Then they have a wonderful greet. This little dog who is a bundle of happy boisterous energy is so very careful for this greet as my friend has MS and apparently Sheira knows she has to be quite still. I haven't trained her at all so it is fun to see that she just knows she has to be careful and gentle. Monday is a highlight for the residents...also for Sheira. We play Bingo and do puzzles and Sheira just takes a nap in the chair beside me.

We have so enjoyed this little dog. We are training and working on some tricks because she needs to be busy and loves to work....and LOVES the treats that come with. She loves and plays with lots and lots of toys and tunnels and balls we keep her equipped with. We have gone to Port Stanley a number of times when there has been no one there which really helped us with the recall training. She surprised us with her happy want to obey and please. More training needed when good things in the sand to smell though :). Sheira is enjoying an active loving life and we are sooo happy with her. Thank you for all the foundation you did to prepare her for a fun, happy life. John often thinks of Sheira's little brother and hopes he is having a fun life to.

We cannot thank you enough for this beautiful, happy, playful, smart, fun little buddy. Her and I are always together, she follows me everywhere, and every evening finds us both cuddled together in my chair under the softest blanket I own. We are happy, happy, happy.
Smiling always with my puppy
Liz Feb 10/14


It was nine months ago when we picked up Fanta's little pup from your loving home, and January 19th marked Silas' first birthday, so we thought we'd send you an update from the last year. There have been a lot of firsts for Silas as well as ourselves, and we cherish each one, and have snapped photos of just about everything. Attached to this email are some of the highlights.
A little bit about Silas:
He loves car rides, 10km walks, water, snow (but not the cold), people (especially children), cats, dogs, carrots, broccoli stalks, and oddly enough; coffee, beer, and scotch (though he's never allowed more than a sniff).
He doesn't seem to like sand, having his face washed, and being alone.
All the best,
Steve & Rene. Jan 31, 2014

Hi Pat,
Hope all is well with you and all the Min Pins. I can't believe another year has passed and that Romeo will celebrate his 3rd birthday on October 14. Not a day has gone by that Romeo hasn't made us happy or laugh. He has filled our lives with so many stories and laughs.
I have attached a photo - one where he is always content- on Laura's lap watching TV (yes, he really watches TV!!) Thsi past summer he spent 2 weeks at Grandma's house. He fit in like he always lived there- he even managed to get into shape as he had go up and down the stairs...LOL- they even told me they would fight over whose bed Romeo could snuggle in at night. Pat, you breed the best pins!! Thank you so much. Please continue on with your great work.

All the best and Happy Thanksgiving Oct 12/13
Rosa, Laura and Romeo

Hi Pat, I enjoy reading your blogs. I thought I should send you some updated pics of Nate. He is thoroughly loved and all our neighbours and friends find him adorable. We have a big walking path along a creek where everyone and their dogs walk and everyone smiles and laughs when they see what a happy, bouncy walk Nate has. I have attached pictures of Nate taking a trip to Ottawa with us. Westin Hotel in downtown Ottawa treat dogs very well and I have sent you a few pictures of his hotel room.


Nate sleeping on the dog bed
provided by the Westin Hotel


Nate cuddled under blanket

Enjoy the pics!
Shirley Sept 23/13


Hi Pat! I hope you're doing well.

I haven't talked to you since we brought Rusty home, so I wanted to give you an update and send you a picture....we think he's pretty gorgeous! He's 7 months old now and just a wonderful little dog. He is truly part of the family, part of the neighbourhood and a real social butterfly at the off leash dog park.
He loves all the other dogs.

We have worked a bit with a trainer and she has mentioned several times what a great personality he has. He is very eager to perform "tricks for treats" and he's provided us with hours of entertainment. He's also a great little cuddler (when he's in the mood of course).

Don't be surprised if you hear from us soon looking for another Minpin friend for Rusty!

Ruth September 1/13


Coda (the little, older one) and Tucker are currently cuddled in with my son. They seem to like my version of your dog stew (I was really glad to see that part) and I am making it just a little bit chunkier at this point. They have pretty much figured out who is who in the zoo and where the facilities are located in the house. Both have even used the doggie door - Coda follows Tucker. They have met the entire family and my sister's dog - a fluff ball Shitzu/Bichon who had absolutely no interest in playing in spite of Tucker's repeated, insistent, and polite invitations.

Honestly Pat - I don't know how we did without them. They have fit into the family soooo well. No one wants to go to work around here but I told them someone needs to bring home the bacon because there are more mouths to feed!!!! And it is like having 3 personalities. There is Coda, there is Tucker, and then there is the 2 of them together. I can't imagine them apart. Such a good decision for everyone to take both.

I have become Mom, as you said I would. Tucker already knows sit and come. Coda is less interested in sitting and more interested in finding trouble. They make me laugh all day long. They have gone for 2 car rides, 4 walks and MANY outdoor play times in the yard.

So - there you go - my morning essay on the very cute and much loved boys, Tucker and Coda. Such perfect babies!

Thanks Pat!
Laura August 2/13

Hey Pat,
Romeo just loves it. Being only one of my nephews were home he was able to get comfortable with him and want to play around. We left your place and went to pet smart in Sarnia, where we had amazing help from the workers there being we told them that we got him from you and they helped us get stuff we needed. He slept in his crate most of the night once we were up he was up and right now he is sitting on Quintin's lap. I think that is his favourite spot.
We bought the pink blue buffalo small breed all natural dog food and mixed it in with some of the food you gave us which he devoured pronto. As for bathroom he has so far went sat at door and we let him out and he goes then comes back and we let him in. My family adores him. My nephew says Romeo is his new favourite puppy.

Thanks,
Rochelle July 28/13

So here we are a week already that we have had Sheira with us. What a perfect little puppy she is. It is hard to believe that she is just 11 weeks old. She is already in the big crate (I have filled it with a dog safe stuffed bear so she doesn't get totally lost in it) and she sleeps all night without a peep. She is patient and waits for us to get ready in the morning and is always available for cuddles and hugs.

She goes with me everywhere I can take her. We have visited my friend who lives in a nursing home in Port Stanley and the residents and the staff fell in love with the little pooch. She has not had an accident in the house...she seems to wait for us to take her outside to do her business. She sits in the doggy car seat I bought for her and just loves it. That makes me happy as I think she is much safer there than on my lap. She is happy to visit with everyone who comes around. We have a pen for her so when we leave her at home she is safe and our house is safe (:)) and she has settled into that after only one time of complaining of being left behind.

She is pretty good at the sit and the down command....she is so smart.....and she looks adorable when she does them. You have done an extremely good job at preparing theses pups for life and I want you to know John and I acknowledge that and are grateful for all your hard work. We are over the Moon in Love with our Puppy.

Liz and John April 6/13

Thanks for the picture. The first 24 hours went really well! Rusty is doing great and we have all fallen in love with him already. He was no problem at all on the ride home. He actually slept most of the way. He spent the evening playing with his new toys and dragging them into his cozy cave. We got him this little "hide a squirrel" plush toy. It's like a hollowed out tree trunk with 3 little squeaky squirrels that you can pull out of little holes in the trunk. He is having a great time playing with that.
I was expecting him to whine all night long, but he seemed very happy in his crate and he really only whined for a minute. We gave him a sweet potato rawhide to chew on, which he absolutely loved. So far so good with the house training too! We couldn't be happier with this little guy! I have the feeling we're going to have lots of stories for you. He has lots of personality already (Kale says he seems like your boy Romeo).

Ruth April, 2013


Hi Pat,
I am finding it difficult to express in words how happy we are with Sera. She is so beautiful and has such an amazing personality. She has fit in with our other dogs so seamlessly, it is like she has been here since birth. She is loving, affectionate and easy going. I am really looking forward to getting her in the show ring to strut her stuff and I am confident that she will blow the competition away. I have sent a picture of her that I took this morning. Can't believe that she has only been here for two days!

Thanks again for trusting us with this gorgeous baby girl.

Meredith Feb 7/2013

Hi Pat,

I just wanted to send a hello from Ginger and Cooper. They are doing very well and bring us so much joy every day. They are so attached to each other as you can see from the photographs and just love to snuggle with each other… and with us. We are now living in a house with lots of trees on the property so they are fascinated by all the squirrels and rabbits that they see in the back yard and they have even caught themselves a mouse (yuck) lol.
They are quite the characters. Ginger loves laying in front of the gas fireplace now that it is winter. If ever we cannot find her she will always be downstairs laying on her dog bed in front of the fireplace. She is not a fan of the cold weather unlike her brother who loves to be running around outside investigating the back yard. Cooper is our little suckie.. he is always where we are and he loves going for car rides, chewing a bone and barking at his reflections whenever he finds it in a mirror or window.

I see that you are expecting some litters shortly and also downsizing… I do hope you continue to breed again down the road as you have bred such beautiful well tempered dogs… I also hope you find good homes for all of the dogs as I know how you cherish each and every one of them. I wish we could have more as we just love Cooper and Ginger and wish we could provide a home to another… Tristan has said continuously he would like a black and rust min pin and he saw the picture of Prize on your website and immediately wanted him. Haha

Sincerely Jennifer Jan 14/13

It's been almost two years since my last update on Rex (previously Remar) I
have since become a dog trainer, Rex was my sidekick along the way.

Rex is now an even better companion than he was when I wrote you last. He is
now a dog that prefers off leash hikes and he never leaves my side unless I
tell him it's OK. I don't treat train and I have found that to be more
effective with Rex. I have definitely been kept busy with Rex because he
requires a lot of out door fun - sometimes we hike or jog. He loves playing
at the park with my 2 boys and is more adventurous than most dogs. He will
climb slides and teeter totters and he is fearless. Rex has so many dog
friends and loves to run free. He is also gentle with most creatures
although he just can't seem to behave when a cat is involved. I think it's
programmed into him that all cats are to be chased and played with ( with or
without the cats permission).

Anyways, I just wanted to update you so you know how he is doing. I am
certain he loves his life and I couldn't be happier.

Cheers
Tiffany Jan 12/13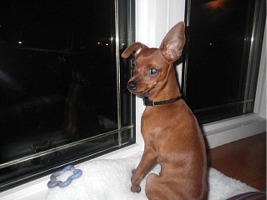 Hi Pat, we have had a wonderful fun-filled busy week with Nate, He is adorable! We are having a lot of fun. Thank you so much for caring and nurturing such wonderful min pins. His happiness, lovableness, and sense of happy energy are wonderful. Mackenzie is missed and will always have a special place in my heart. Nate has sped up my healing with his personality.......... We love Nate tons! Shirley and Greg.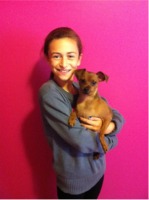 I just wanted to give you an update as Romeo is turning 2 tomorrow. Pat, I know I have said this to you in the past, but I will say it again- Romeo has brought so much joy, happiness, and of course laughter in our lives.

Not a day goes by that he doesn't do something to make us laugh. He loves to cuddle- loves his walks- even the cat has grown fond of him- lol

I received so many praises this past summer on how much he has matured. He made a few trips to my friends school and he was always a good dog with all the kids- so patient- allowed all kids to pet and walk him.
Whoever says min pins are not good with kids has never met a Patapin min pin- you did and continue to do such a great job with all your dogs. Rosa and Laura Oct 14/12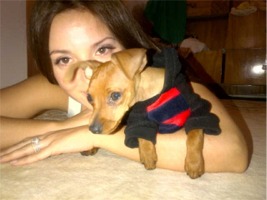 Hi Pat,
Monty is so much fun and full of love! He loves to cuddle with us and get under our sweaters to get extra cozy. Its so sweet. He just LOVES to be around us! He'll cry when we leave, but we know its just drama. Its really cute how he just flies into our arms when we get home! He is just so happy to see us! I love his personality, he has so much of it! Especially when people come over, he will go to anyone and is just so curious. He has found a special spot on top of our couch where he loves to sun. We couldn't be any happier! Thanks again for a wonderful addition to our family. Alexis April 2012

Pat, Sorry it has taken us so long to write, but every spare moment has been consumed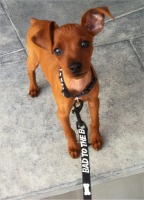 with falling deeper in love with A.J.! I cannot express enough how this little body has made his way into all of our hearts. For first time dog owners, we have been blessed with choosing this little guy and I know so much of his personality is due to the love you gave him in the first few months of his life, you did a great job!

A.J. goes most everywhere with us. He has attended many hockey games in his comfy, cozy bag and usually has the crowd around him much more interested in him then the game. He has gone shopping and visits his grandmother everyday on his morning walk. Friends insist we can only come over if he comes along…these were not "dog people" but our little A.J. has managed to convert even the most unlikely into "down on the floor cooing and cuddling fools!"

He has his favourite spots in the house depending on the time of day…he follows the sun. His most favourite spot is up on an chaise that looks out over the lake. He can often be found there watching the birds and squirrels in the back yard. He has absolutely no trouble traveling back and forth between St. Catharines and our condo in Windsor and has made friends in both places. His best friend by far is at the barn where Allie keeps her horse. His name is Dewy and he is a Daschund. They chase and play for hours over acres of beautiful grass. After one of these sessions, A.J. is like a wet noodle and can barely keep his eyes open, yet appears to have a smile on his little face.

Of course we feel that he has a very unique personality, yet the one interesting thing is that strangers that stop to chat about him often comment that "he has his own personality, almost human." He eats very well. We give him a variety by adding cottage cheese, carrots, yogurt, bits of chicken, or grated cheese to his food. He even loves tiny bits of fruit such as melon. He usually falls asleep in someone's arm and easily transfers
to his crate in Allie's room. However early in the morning she brings him into bed and he is more than happy to cuddle under the sheets until she is ready to get up. He has a morning routine for doing his business and we almost have it down pat…very, very few accidents.

A.J. has brought much joy to us all. At this stage of my life, after raising a family and experiencing both joys and worries like most middle aged mothers, I must admit that A.J. has relit a special feeling in my heart…the only question I ask myself, is why did we wait so long?

Thank you and we will stay in touch,

Sandra & Allie
---
Hi Pat
I wish I had the time to get down all the Willy stories in this email but that would take FOREVER. The stories are ENDLESS! That boy does something funny virtually every day.
I will share a recent favourite one...
Willy sleeps with me, under the covers, every night. If I have to get up in the middle of the night, he usually scoots up and is in my spot, on the pillow, when I return. I have to scooch him over to get in bed. I always keep a glass of water on my bedside table. Returning to bed one night, I discovered Willy up and drinking out of my glass. My first thought was "How long have Willy and I been sharing a nightly drink of water?" So, now Willy has his own glass of water on the bedside table. He knows which is his and which is mine!
OK, here's another one...Willy caught his first chipmunk that made the fatal mistake of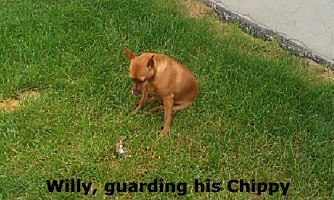 getting under the fence. Willy whipped it into the air and then with lightening speed, jumped up and grabbed it. Tim and I threw dog treats all over the yard trying to get his attention away from his catch. He would not budge. At one point, for a brief millisecond, he looked up and Tim whipped the thing over the fence in a heartbeat. When Willy looked back, it was gone. Well, that boy spent 3 days digging holes in our yard looking for it. One hole was so big, only his tail would stick out when he was checking it out. Every day he would sit by the holes, waiting for that chippy to come back. I think he thought he hadn't killed it and it had escaped. I fear what he will do to the next chippy he catches!
Willy feels that he is our protector and fears nothing. I can't imagine life without Willy. People without Minpins do not know what they are missing! Life must be so boring for them!!
Take care,
Kim, Tim & Mike @ Willy March 2011
---
Hi Pat

Ajay on the left and Cash on the right


We couldn't behave been happier when we adopted your two retired show dogs, Cash and Sunshine, four years ago. When we lost Sunshine so unexpectedly, we didn't think twice about contacting you see if you had anything to help fill the tremendous void left by Sunshine. We all made the trip up and stayed overnight to meet 9 month old, new champion Ajay. We were so excited to discover that Ajay was out of Cash's daughter, Caroline. It seemed like an omen. Ajay fit in right away, like he had always lived here. He is particularly close to my son Fraser.

We had a wonderful Christmas with Ajay and Cash. Ajay has made a wonderful addition to our family. His Grandad, Cash, is always happy to see him and wags his little tail, they play beautifully together. We had a sad start to December losing Sunshine and can't believe how quickly Ajay has brought smiles back to our faces. Ajay loves to be outdoors and loves playing in the snow. He's a real trooper when it comes to long walks on the conservation trails and seems to really enjoy those, whereas, Cash (nicknamed Kashi after his love for food), would rather be riding in the backpacks! I've enclosed some pictures of Ajay at home- the kids love him and he's a really affectionate little fellow. Like Cash, he's also very affectionate to our guests and loves people.

Thank you, Pat for sharing this wonderful little dog with our family. We will keep you posted on the next adventures of Cash and Ajay.

Dec 27/11
Lisa, Fraser, Lexi, Ajay and Cash
---
Greetings from Romeo, Rosa and Laura!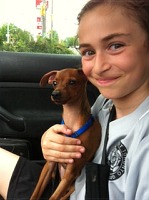 I just wanted to give you a quick update as Romeo is coming upon his 1st Birthday (Oct 14th) Pat, I don't even know where to begin to explain how happy and fortunate we are to have Romeo in our lives. He is such a character!! He makes us laugh so much.

He did have his first sleep over at a friend's house (without me) back in August and he was such a good puppy. I think I was more nervous/worried than he was. I am taken back at how well he adjusts in anyone's home. But what I am most happy with is the fact that he is so good with kids. My friends were amazed at how patient he is with them, how he allows them to walk him, play with him etc. I couldn't be happier. Oct 12/11
---
Hi Pat,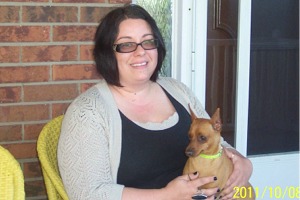 Liza is doing very well. She is very sweet and follows me around everywhere lol. We had a busy Thanksgiving weekend and she met a lot of family and their dogs. She got along with all of them. Everyone including myself, thinks she is so pretty. Junior and Liza are two peas in a pod. I have not heard her bark as of yet. She has settled in so well, I can't believe that we only picked her up three days ago! I will keep you updated. Talk to you soon. Kristie Oct 12/11
---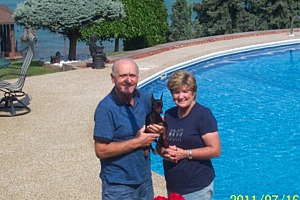 Hi Pat
Brill has settled in to our family like he has always belonged here.
He follows me everywhere and we love him so much already. We couldn't be happier to have adopted an older puppy. He is completely house trained and goes right to the door when he has to go out. He slept soundly in his crate the first night and didn't make a sound. He is gorgeous and my son calls him Mr. Beautiful. I am so happy to have found your web site

We cannot thank you enough for all the help you have given us and the time you have spent. You have done such a wonderful job with your dogs. AndI know we can call if we need help.
Love Jean & John August 10/11
---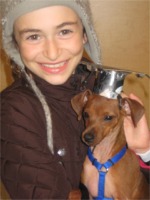 Romeo graduated from his puppy training from Petsmart. He started off as class clown, but finished off as one of the best in the class. Here is a picture with his graduation cap on. We are so proud of him! Rosa
April 26/11
---
Pat,
Last night we all snuggled on the couch as a family.. Me, Mike, Tyler (4), Kaden (2)..... and Rex (Remar). Rex went from lap to lap (even the kids laps) before deciding to make himself comfortable on my lap. around 8pm the kids went to bed... and at nine we gave Rex his dinner in his crate, he ate it all within five minutes. then he came running into the living room, jumped right into my lap and licked my face then Michaels face (as if he was trying to say thanks for dinner).. and then snuggled in for some cuddle time.
This morning he ran up from his crate, into my bed at 8am, and woke us up by licking our faces.. he was excited to start his day! Once the boys heard that he was awake they joined us in our bed and Rex licked their faces and went to the door for his morning walk. right now we are all outside in the backyard sitting under the tree with Rex, he is lying right next to Tyler but keeping his eye on Kaden.. he isn't sure of what to think of all Kadens energy.
Last night and for the next few days I will be taking him for a walk every two to three hours, he walks for about 30-45mins each walk. He is very curious and stops every ten steps to sniff around.. and doesn't bark at other dogs unless they bark first, and even then he stops when I tell him no in a firm voice. I can't believe the obedience and nature of this pup. You have done an incredible job raising him.
I have a no walking or running near the dog rule for the kids.. the rule is that if the dog is near them, they have to crawl slowly, just like a dog. Kaden loves this rule, he now thinks he's a cat (we even tell him good kitty and pat his head).. Tyler however is a dog at heart and is even carrying toys around in his mouth. The rule is that they cant touch Rex unless rex comes to them first, this is the rule they are having the most difficulty with.. but they are trying their best.
Rex is getting along a lot better with the cat today, he is only growling.. no more barking. and the cat seems to not even care he is around. pretty soon they will have a little friendship of their own.
I am so glad you chose us to be Rex's parents, we have already fallen in love with him completely. I just hope he will be as happy here as he was in your home. So far he is adjusting nicely.
We couldn't have chosen a more perfect pup.. Rex will fit in with the routine in no time. we are thrilled to have him here.

P.S. you were right about him following me around everywhere, he wont let me out of his sight. And rex and I took a morning nap together, he slept in bed with me right under the covers with me. very cute.

I will continue giving updates on how rex is doing.. I will e-mail you pictures soon.

Tiffany. May 2, 2010
---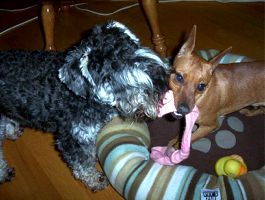 Hi Pat and Gaston!
It's been awhile since I gave you a Willy update. I thought I would drop you a note to let you know he is
doing fabulously. He is a huge part of our family now.
This fall, we discovered that Willy has a weird attachment to golf balls. Tim was out chipping a few in the back yard. The girls would chase them, but Willy hoarded them. He would run, grab the ball and pile them up under the step. At one point, he had about 10. He would sit on them like a mother hen on her eggs. The girls could not get near them lol!
I was worried when the really cold weather came. With his lack of fur, I was afraid he would not want to go out to the bathroom at all! I worried for nothing though. He is great. He loves the snow (eats it and runs in it). His house training is amazing. He will even
pee on command when I tell him. :)
He sleeps under the covers, right beside me, every night. He is the best cuddler EVER! In fact, on nights when I am running late and HE thinks I should be going to bed, he sits on the bed and shrieks at me. I swear he is saying...It's bed time Mom. Hurry up!!
Pat, we love him and he is very happy here. I think he loves us all, although he does love me the most! ;) I am the only one that gets those love bites andthe squeeky excitement from him. I can't imagine not having him here. Thank you for your faith in us. :)
Kim, Tim, Michael, Candy, Abby and Willy December 2009
---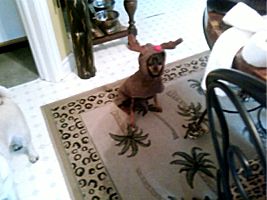 Hi Pat,
I just wanted to give you an update on Junior. He has been living with us (Brian, myself (Kristie), Iggy (pug),luna (cat)for over a year now and he fits right in like he has been here forever. We love him very much and couldn't imagine living without him. He goes to my parents house every Sunday and visits with another pug, yorkie, & cat and he just loves it..(he starts barking when we turn on their road). He loves sleeping under the covers (all of our furniture has blankets on it for him) and he sleeps in our bed with us every night (under the covers of course). He is very smart (he likes to trick the pugs: he pretends someone/something is outside, runs and barks at the door, the pugs drop their bones to run to the door and he steals their bones. They(the pugs) are now clueing in and bring the bones with them!! He came into my life right after my other minpin Tucker had past away and I just wanted to Thank You for choosing us to adopt Junior because without him I would still be heart broken. I just love everything about this breed: their personality/ temperament/ appearance and Junior has them all.
Yours Truly: Kristie Wall and Junior November 2009.
---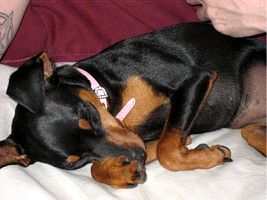 Today is Dolly's first birthday, and we wanted to say hello again and send you some pictures of her. She is such a wonderful little dog, and we have been so thrilled to have her in our home these past 6 months. I can't imagine ever not having a Min-Pin in my home now! We are so delighted with our Dolly, it's so obvious that you have put so much effort and time into your dogs, and I was very excited to see that you have puppies again.
Dolly is such a lovely little girl, in perfect health, robust and mischievous, always ready to make us laugh, and always up for a good cuddle. She had a birthday party yesterday with few of her dog friends and they all enjoyed a homemade peanut butter banana cake together after a few hours of wrestling. She is so full of personality! She has confiscated all of the cat toys and spends time every day hiding them thoroughly, in our shoes, under pillows, in purses, or buried in the garden. We always have a few of them tumble out of the laundry too. She's also taken to midnight snacks -- she barks for us at the pantry cupboard at bedtime to ask for one (if the door is left open, she'll just try to help herself!) I don't think I've ever known a dog to be so food-focused before! She's loving the snow too, she jumps around like crazy on her walks and eats as much as she can. The rain is another story however; it's more like taking her for a 'drag' than a walk!

Just wanted to say hello again, and let you know Dolly is enjoying a wonderful life as the centre of our family, and we are so thrilled we have her!
Warmest regards, Michelle December 15, 2007"
---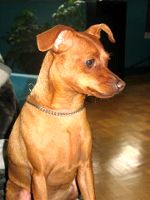 Hi Pat and family!
Just a quick pic - our little dude - Very serious don't you think - Yes - he's looking at his cookie jar. He is enjoying the nice weather - we have a great backyard that he loves. ............... Rascal is the Joy of our lives and everyone he meets. We have a lineup of people who want us to go on vacation so they can have him - Graeme says we should charge them, not the other way around!!
We hope all is well with you and your family.
Sincerely, Sharon, Graeme, and Little Rascal too!!
June 17, 2007

---
Hi Pat!
Just wanted to touch base with you on Coopers 6 month Birthday and give you a little update.
We have a HUGE star on our hands. I cannot tell you how amazed we are with him, he is the absolute light of every ones eyes! He is By far the happiest little guy Anyone has ever met. Everyone that meets him Instantly falls in love with him, and he is quite a little comedian! I cannot tell you how many times we are in tears from laughing so hard at him, and of course the compliments on how handsome he is, and how precious his little face are.... .....they are non stop!
He and his Big Brother "Zeus" get along Famously, and at the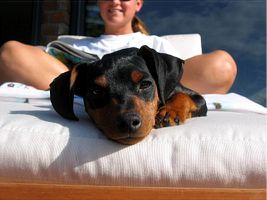 Training centre they both go to , they are by far the favourites. Tomorrow the local news is actually coming to do a piece on our trainer and the 2 stars will be Zeus and Cooper! So much for the "myth" that Min Pins are so hard to train. Our trainer says he has never encountered such a Min Pin with an amazing temperament, like Cooper
Thought you might enjoy an update, I don't know how many people keep in touch with you but I am sure glad to have found your website!!!!
Thanks a million Pat! Things do happen for a reason!

Sincerely,
Leslie June 10, 2007
---
Hi Pat and family,
I was just sitting here watching my beautiful baby sleeping. I needed
to tell you what joy he has brought to our lives. I don't know what Graeme did before we got this little monkey. He is not only my Very best Pal , but the Love of his Dad's life. Little Rascal hears his Dad's truck as he turns the corner - a block away - and does the Happy Dance until he comes in - and yes you now the answer - Mamma no longer exists. He is the light of the neighbour - he knows everyone. Poor Graeme takes him for his nightly stroll and comes home laughing. What should have been ten minutes becomes one hour because Rascal has to stop and talk to every one . Our little social butterfly.
He is a very healthy and happy little boy - and for that we thank you.

Sharon, Graeme, and Rascal November 21/06
---
Sid is doing very well, he is graduating from puppy classes tomorrow and I am very proud.
He sits, stays, goes down, stands, waits for his food until I say "ok", leaves things when I say "leave it" and gives me "high-fives"!
I'm ecstatic I have a dog who loves to learn new things and catches on so quickly. He is content hanging out with me on the couch watching tv or studying, loves going for walks for the attention he gets from everyone (including ppl who are driving by and stop and get out of their cars to see him). He walks down the street as if he is the king of the world and when he does we call him "little prince". Many of the other dog owners on my street frequently stop by to give him hugs, kisses and treats and he soaks it up with pleasure. He loves going on car rides, he falls asleep and goes for the ride and is so excited to wake up in a new place to explore. He is so wonderful I can take him almost anywhere dogs are allowed as long as it is safe for him. He is becoming quite the well socialized little pup. He recently discovered a sand pit when I took him to school with me when I was playing some beach volleyball and he had himself a great time trying to dig his way to China. He has gone swimming in the little kiddy pool and I think he really enjoys it, he's a pretty good little swimmer.
He has learned how to communicate with other dogs exceptionally well and only gets upset when the dog he meets doesn't have any manners and he puts them in their place. He goes to puppy day care once a week to play and socialize. He looks after the little puppies and brings the shy ones out of their "shell". It's just the cutest thing ever! The other week he was paired with a Chinese crested ...he was the cuter of the couple :)
Sid gives me love, laughter and happiness everyday and my only hope is that I give him all the unconditional love and respect he deserves.

Sincerely, Lisa July 2006
---
Good Morning Patricia!
It's been almost one week and I wanted to let you know that Charlie Brown is adjusting to urban life just fine!
In fact, he's turning into quite the downtown Toronto celebrity! Store owners, neighbors, passer-byers, family and friends are all loving our little Charlie Brown and you know he's just soaking
up the attention! ....................................................
He had his first vet visit on Monday and the Dr. was very impressed with CB...well behaved, very healthy and off to a great start. Charlie is also making quite an impression on my "advertising" friends and they are all requesting to use him for Commercial Shoots and Print Advertising!
Can you believe it? What a little character I have brought home!.......................
He says hello and thanks for bringing the two of us together!
Kiss from Charlie...we'll keep in touch!!
LIZA May 11, 2006
---
Hi Pat,

I just wanted to send you some photos of Dapper.
He is doing very well and we have received an unimaginable amount of compliments on him!
I have given your email to a few individuals who have asked for it as
they have seen Dapper and wanted a puppy just like him.
I hope you do not mind!

Take Care Pam
June 2005
---
Hi Pat;
I just wanted to tell you that Dapper is doing fabulous and he is very loved in his home. I also wanted to thank you for giving him to us, he has brought a lot of happiness to my family. I couldn't have found a better puppy. We have received many compliments on him.
Thanks Again Pam
March 2005
---
Dear Pat
Just a few lines to let you know that Bella is doing just great
She adapted real well with no problems.............She is so smart............ The next door neighbours just adored her. They came over to play with her when I went out for a few hours yesterday. She is Such a joy. We just can't thank you enough for the most wonderful Christmas gift we could receive. All your dogs are wonderful. You truly have a real gift with your dogs.
Give them all a hug for us. Bye for now
Hugs Nancy & Don & Bella.
December 23, 2004
---
Hi Pat;
....... We are very satisfied with our new show puppy................ She is doing quite well playing with Newton and defending herself. She did lots of exploration and is following me and Jonathan around the house............. She has lots of toys and is playing a lot also. She is absolutely lovely and cute and lovable and so small compared to Newton! I have to watch were I step! We are absolutely in love with her. I watched her move around in the house: she has quite a good lift! I will send some pictures soon! Again thanks to you and Gaston for all the trouble and traveling you had to go through so we could have our little girl before Christmas!
Isabelle
December 19, 2004
---
Hello Pat,
Words cannot describe how happy we are with our new little boy. He is such a hoot!!! He has made himself so comfortable in our home (found dust bunnies I didn't know we had). He used his papers as soon as I put them down and has his father wrapped around his paw. He goes great on the lead and has had many walks showing off. He's very good at that.
Needless to say we are very proud parents and have shown him off shamelessly. Rascal spent this afternoon under the very watchful eye of this father at Lake Ontario running and playing about and is now sound asleep with Daddy. I don't know who snores louder!!!
We Love him so much...................
We have decided on the name - Little Rascal - he is one - of the most loveable sort. It's safe to say he will run this household. He has such a proud and regal stance he draws attention from everyone he meets.
Regards,
Sharon ( otherwise known as Mother of Rascal) August 22, 2004
---
Dear Patricia,
May I introduce myself? My name is Meow. I'm a Min Pin breeder in Thailand and a good friend of Katie Winters of Winters Min Pins. I've just finished browsing your web site. So wonderful with many dogs with the type I like.

Last year my black boy was No. 1 Min Pin in Thailand while another red male I imported from Italy was No. 4. All of them are always shown by me myself.
I was so surprised to see dogs with the type I like and very glad to know that there's still someone who cares for the standard and raises Min Pins in a big field as big dogs!!!!
Well, very glad to know you and I'll send you later some pix of my dogs.
Best regards from the land of mangoes,
Meow : )
p.s. I do love the picture of the three fat ladies trying to find a way out!!!!! Also, I do appreciate that my friends from Europe, Goran Bodegard from Sweden and Norman Huidobro Corbett from Spain saw the quality in your dog!
May 27, 2004
---
Pat,
I just want to take a few minutes of your time to thank you for all of the time you spent educating me this past weekend. I really feel when you are researching a breed, you have to research the breeder as well. Your website is fantastic and everything anyone would want to know is readily available. I will be watching for any news of Cameo and the puppies you had here.
On Sunday, I introduced you to Steven, as you could tell he loves animals. He met a number of people and dogs at the show. He fell in love with your Pins. When we left, he said you were the nicest person he met at the show. You explained things to him, had Yogi perform, without a lead and you didn't talk to him like he was a kid. He was very impressed!
As was I, few breeders would take the time and trouble you did!
Thanx again,
Brenda Kells April 13, 2004
---
Hi Pat,
Just wanted to say hello and say how happy we are with both Max & Simon. We purchased Simon in June 2001 and the Max in Feb 2002. They are both doing absolutely great and since we moved out of our apartment & into a house they love it. Very tempted to get another one from you but we just had a baby so my hands are quite full.
Any way's wanted to say your sight looks fabulous and that I think that you are the best breeder for minpins in Ontario. I see that you still have Max and Simon's picture on your sight (snuggled together on the blue blanket when Max was brought home for the first time).
Congratulations & take care
Sincerely,
Michelle & Peter, Aurora, Ontario, April 8, 2004
---
Hi Pat,
The Surgery went well according to the vet, and I am glad to have the boys back home. They are doing well,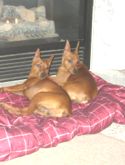 but are quite reserved, thank goodness. I think by tomorrow, they will be back to their normal selves again. I took the day off so I could keep an eye on them tomorrow.
The vet also found & removed a deciduous tooth from Hummer, so I am sure that is a little sore too. They are both sighing and whining just a little, mainly when I am paying attention, so while I am sure they are not feeling their best, I suspect that they are playing me for sympathy as well! But that's OK....they need it right now!! They also find the warmth of the fire soothing...I find it a little hot, but if they are happy, OK!
The vet thought that they looked nice and healthy, and that their shots and records of them were nicely done. I have gotten several very nice comments on the boys do far, and I'm sure there will be many more....they are beautiful sweet babies!
Deb, March 31, 2004
---
Hi Patricia,
I'm just writing to give you an update on Blitz. He's doing great. Very healthy and lively, although his 16lbs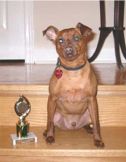 weight was a bit of a concern at the Vet I'm sure he'll slim down this summer with lots of exercise.
What prompted me to write this e-mail to you was having Blitz finish his first obedience class last week. He finished first overall in his class in the exam, and we were quite proud!! We're displaying his 1st place trophy proudly. He is just a very smart dog. He knows exactly what's going on. Anyway I thought that would be some good news for you since Min Pins can sometimes be forgotten when it comes to obedience. I plan on bringing him to more advanced training in the coming months and who knows from there.
Take Care
Domenic March 19, 2004
---
Hello Mrs. Gauthier;
As per the contract Patapin puppy Mischief Noble will never be a part of the breeding gene pool. Though he has taken things rather well. The stitches don't seem to bother him at all and it looks like he's on his way to a speedy recovery. The people at the clinic absolutely adore him and according to them, they knew that this puppy did not come from anyone local. Many compliments to his breeder!!
He's friendly with other dogs that he encounters on walks and no problems with guests that come to visit at our home. Though man can he jump! with better weather, he's walked a minimum of 2 times a day with a max of 4 so far. He's extremely smart, at times almost too smart. He's learned to go to the back door to be let out to do his business and is gentle receiving his treats for doing his business outside. He's also learning to play fetch.
I fancy myself as a dog man, and I researched for a while trying to find the best breed of dog. This puppy has exceeded my family's expectations and mine as well. He's affectionate, loyal, resilient, fearless, and just about any other positive quality you could want in a dog. We've had other people come to our home and see the puppy, all to rave reviews. We've had two people mention that "man if we'd have had one like that we'd have bought two". Apparently, their dogs barked at everything and anything. Mischief does bark, but typically when someone has come in the yard or knocks on the door.
He's currently just about done his teething and boy oh boy have my socks taken a beating on that one. He's a bit of a bully with other dogs that are bigger, I think they don't know what to make of something so small and with so much energy. Pretty funny watching a husky run from a dog that is about a fifth it's size.
Mischief is a healthy 12 lbs and has good teeth. The vet said the dog is in tip top shape and we shouldn't do anything other that what we're doing with him. That's just a little bit of info on Mischief for you. My dad just wanted to let you know he'd be fixed.
Sincerely,
Bob, Fay & Darin March 14, 2004.

---
Okay...can she (Lexi) be any cuter?! I thought I was in for a rough first night because she probably would cry. I put her in her bed in my bedroom, naw...she got out and came to the side of my bed. She stood there and I told her to come up, which she did. She sniffed around and then got under the feather duvet and snuggled beside me ALL night until 9:00am this morning. The only time I have heard a sound from her is when I am working in my office and she sits in front of me and does a little whimper because she wants to sit on my lap....how can I resist. She is sleeping in my office in her bed right now as I am typing this. I have this baby sleeping bag that is really fluffy and warm and is shaped like a cocoon, so she crawls in it and sleeps for hours at a time...then she does play hard. I have only been keeping her on the main floor because I want her to know where her litter box in the laundry room is before I show her the rest of the house (additional 2400 sq. feet) which she could get lost in here...she is soooo small!
Lexi can't get enough of my 2 little ones. It's funny she plays different with them then the older kids. When the little ones are on the floor, she runs up and jumps on them and licks there face like there is no tomorrow and she pounces on them...it's funny to watch. She almost tries to get them going. She does that play bow with them just waiting for a reaction from them...when they move...she runs a foot over..and does it again. It's like watching some mimes. The more the kids roll around the more she does it. Lexi really likes kids. With the adults...she just washes our face then uses us as a bed...she really loves to cuddle. Is this breed really so cuddly or is it just her??
Cheers Michele January 6, 2004
---
Hi Pat
I am sure you remember me, Charles from Mississauga, we got Caramel from you. If I did something good in my life was getting her from you. I thank you for that. She's very well, very healthy, behaving good, we love her so, so, so much, she's adorable!! Anywhere we go people just fall in love with her and we always proudly tell people that we got her from you when they ask.
Keep up the good work.
Thanks
Charles October 18, 2003
---
Hi Pat
I just wanted you to know that our precious Minjay is happy ,healthy and runs the house. We think she is fantastic and she sure knows it! We are thinking seriously on another one but the same size if possible color does not matter. Are you going to be at the show in Orono or when are you showing next? I hope to hear from you soon. Thanks again for our wonderful little girl.
Sandy May 21, 2003
---
Hi Pat!
Our new puppy is doing excellent!! Her name is spelt Schatzie, it means "little sweatheart" in German... and is she ever. She got to know us very quickly and she is very loving. She loves her crate and all the toys we had here for her and she is very playful and nosey. She's fitting in just great around here and everyone loves her to death. Thanks for everything and take care,
Rae-Ann and Schatzie March 17, 2003