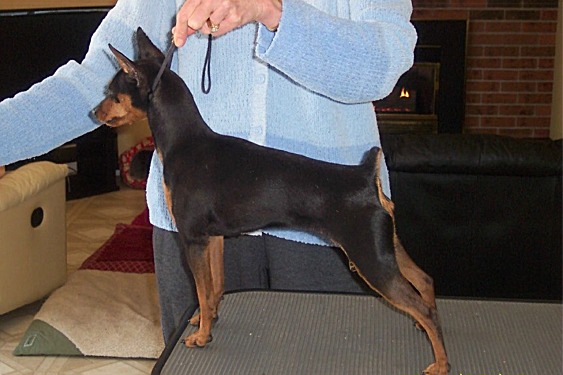 I took this today on Beauty's 18 month B-day. She is maturing well!
Feb. 19/11


Ch Patapin Black Bold N Beautiful is showing selectively in Canada and is pointed out in the States.
We are actively pursuing those majors.


Beauty gets her first major by going BOS at the Monroe MI show on Oct 3rd, 2010 under Judge Dawn Hansen.

Beauty is singled out and just needs one more major to finish her American Championship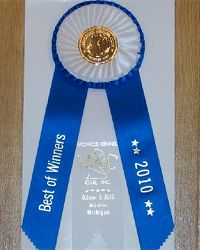 Beauty entered the show ring right on her six month birthday and took breed over a special for two points. This was her first and only time in Canada. Below is a collage of Beauty that clearly shows how proud we are of her.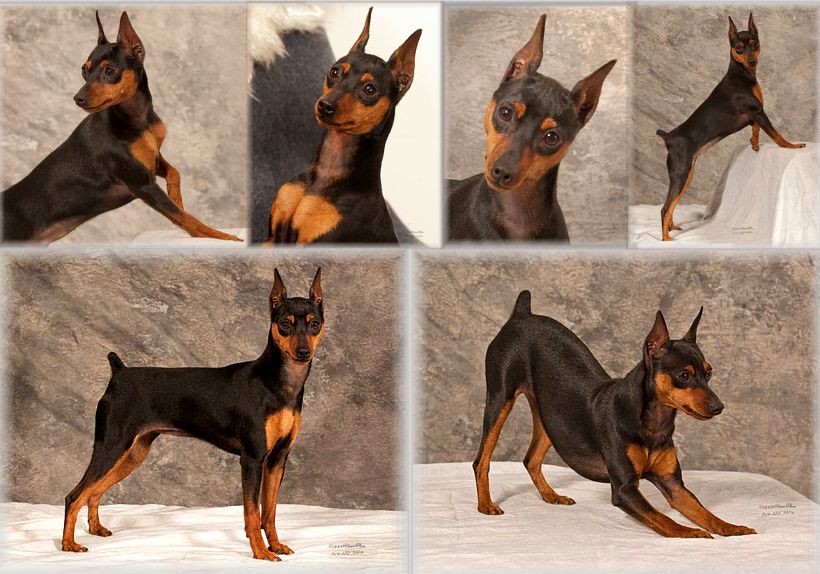 Beauty on the Table on September 20., 2009
Why Beauty is the best I have ever bred
Aside from Beauty's perfect conformation, exquisite head and beautiful movement she also talks. Beauty is very interactive and expresses her opinion, both positive and negative, vocally. I will talk and she will reply - a real character. The best however, is that she has spunk. Here are some typical Beauty stories:

Caroline, a big dominant girl, carries around a mini-beanie baby that is her baby and very precious to her. Leggy is in love with a bullwinkle chew stick. I also brought home a new chew bone today.
I am working in my office. I look down and Beauty is chewing on the new treat. She has Caroline's baby under her paws, along with Leggy's bullwinkle. Laying around her and patiently waiting, are Caroline for her baby, Leggy for her bullwinkle and Cammi, waiting for her turn with the new treat. All these girls are mature adults and are at least twice Beauty's size.
Beauty is such a minpin!!

We were showing in the BPIS ring at Kent. Beauty and I were at the end of the line and had our back to the dog coming around. It was a Bouvier and it didn't stop and pounced right on Beauty. Beauty shrieked and I actually heard an audible gasp from the spectators. I looked down and all I could see was a big black Bouvier head. The handler looked like she was going to vomit. I panicked and bent down to scoop Beauty up. Before I got down she had sprung right up on her toes and was trying to get to the Bouvier, barking her head off, with her tail vibrating at 90 degrees.. She barked intermittently for the rest of the time, always glaring at the Bouvier.
If I hadn't seen it I would never have believed it myself. People came up and told me that Beauty would always be afraid of big black dogs and might be ruined for the show ring. Of course, that never happened.

Stay tuned, I am sure there will be more stories to come.