March 27, 2016
This is Apollo (black collar) and Lucille (pink collar).
They were born in Dec 6/15.
They are maturing into beautiful little dogs. When I sit on the couch they both curl up behind my neck. They are very affectionate and if given the chance they will enthusiastically lick my lips and clean out my ears.
They love to run and can do the whole 13 acres with the adults.
They are very sweet and have never gotten into a tussle.
Hardly a day passes they don't make me laugh at least twice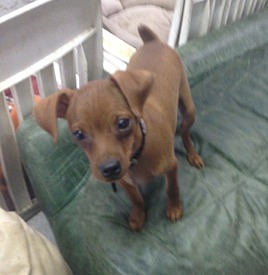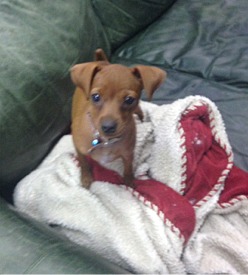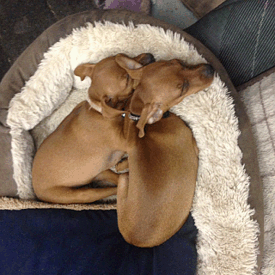 February 27, 2016
Apollo and Lucille were born on Dec 6/15. Lucille is on the right.
Ideal home would take them both as they are very close but I will place separately.
These pups are totally full of themselves. They are confident and fun loving.
When not tearing around the house they curl up on my lap and snuggle.
I've had a lot of puppies and these guys stand out as something special.
Come and see them in action. You won't be disappointed.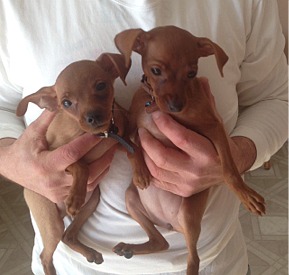 January 31, 2016
The puppies and adult conspirators tore apart the puppy pen. Mayhem reigned supreme. lol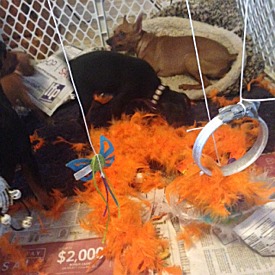 BB King, Lucille and Apollo are maturing before my eyes. So far they have had four outings to PetSmart where they are the #1 attraction. They are touched and cuddled by many people and children. As a result they are confident and content in new situations.
If you are a regular Blog reader you will remember that Fanta had these pups without showing any sign that she was in season or in whelp. It happened when I was in Florida in December. Prior to that I had let everyone know that my passion was gone and I planned to retire my Blog as well as retire from breeding.
If one of these pups matures into a show prospect I will compete with it until it's no longer competitive. If that doesn't happen they will all be matched with wonderful families.
Then I have 4 1/2 week old Colin. I cropped him for show and have been training him to enter the ring. Much to my dismay, I recently noticed that he has a level bite. If it doesn't resolve into the required scissor bite by the time he is six months old I will place him with a very lucky family. This is Colin showing off his crate. He's a very handsome boy. (Pic)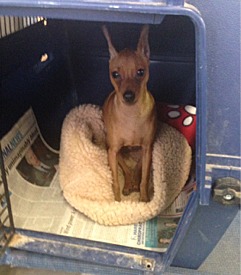 So that leaves me with pups to find homes for and potentially Colin. I also have several adults and retired champions that would love to have their own families.
This will be my last Blog entry but you can rest assured that life will carry on in exactly the same way as described in my many years of blogging.
I am back at the condo in Florida for two weeks. As usual I have Eva with me. She has turned into a wonderful traveling companion.
Even with retirement Minpins will remain the most important part of my life. My love for them is enduring.
Thank you for following my Blog for all these years. I hope you enjoyed reading it as much as I have enjoyed writing it. Pat xx

January 24, 2016
I'm dedicating the weekend's Blog to the most WONDERFUL news!!
You must remember Harold and Gerry. They purchased Suzie about a rear ago.
Gerry writes the Adventures of Suzie complete with pics twice a month. I used to post them on my Blog.
They very seldom check my website but Gerry decided to take a look to see what I was up to.
The first thing he saw was the last pic I posted of Liam with the caption "Poor Liam". His heart melted and the rest is history!
They showed up today and brought Suzie with them. They did an outstanding job with her and she dominated the room. I couldn't take my eyes off Suzie.
They decided that they had enough love in their hearts for two. They also came to the conclusion that a companion would enhance Suzie's life.
They are both dog lovers and spent more than an hour socializing my puppies. You can see Gerry with Apollo and then Apollo with BB King. Then we have Harold with Lucille.
I was getting sadder and sadder that lovely Liam hadn't found a home and pretty much gave up.
Then the miracle happened- my favourite home of all time took one of my favourite puppies. Once more I have learned to "never say never"
This made my day, my week and my month!!
So happy!
The last shot is Harold, Gerry and Apollo all packed up for their return to Toronto.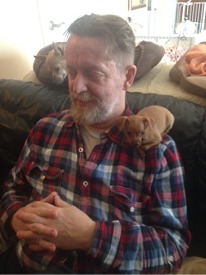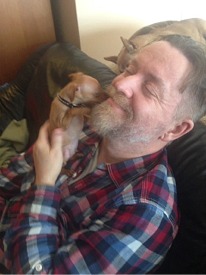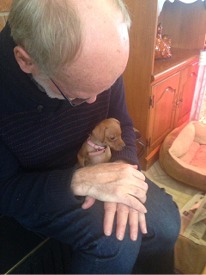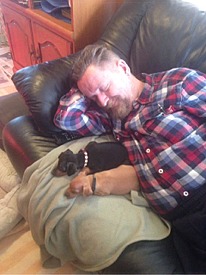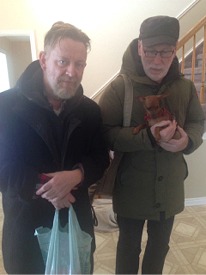 This is Liam's brother Colin. The sad part of Liam leaving is that he was exceptionally close to his brother, Colin. You wouldn't see one without the other. They did everything together. Colin will miss Liam terribly. There is no one here that's his age to play with.
Colin is my show dog for 2016. He is due to hit the ring in March. Here is his pic with Liam. Colin is a pretty boy.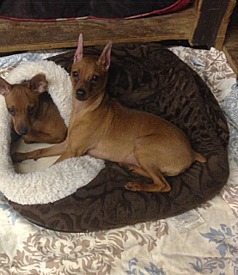 January 17, 2016
We were excited to get a huge box of bones from our abattoir. They are so good for their teeth and gums. Even the puppies are chewing on the bones. Lucky dogs!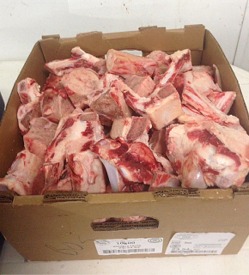 All the puppies have learned to climb the stairs to get on the couch. Lucille made it to the top step and then had to have a little nap before she made it all the way.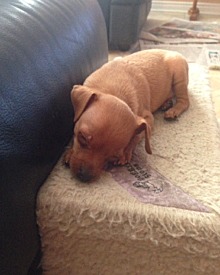 So now it's time to show the little dogs and how they are maturing.
This is BB and Lucille hanging out in the kennel.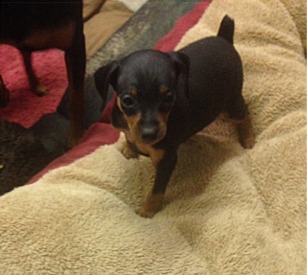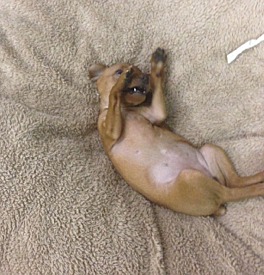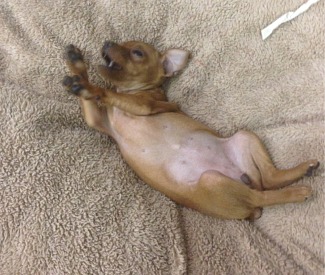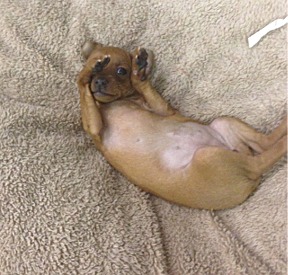 January 10, 2016
I keep feeling more sad that poor little Liam is still here. I haven't bred a puppy with so much personality. He is as smart as a whip, loving, playful and as cute as a button. Liam is a rich mahogany colour and his ears are now up permanently. The pic was taken on Jan 9th.
He went quickly but the woman never picked him up. Now that he's a bit older, everyone passes over him and asks about my new litter. He comes when called and is crate and paper trained. If I think to open the patio door Liam hops outside and does his business outside.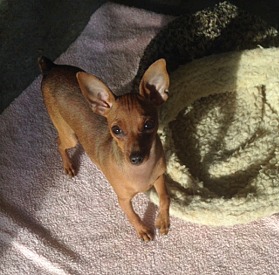 On to the puppies. Their pics were also taken on Jan 9.
They were born on Dec 6 and have turned from sleeping puppies to little dogs.
They also have names! The black boy is BB King, the red girl is Lucille and the small red boy is Apollo.
BB is twice the size of the reds and has a lot of bone. So far he looks like a show prospect puppy but I am concerned that he may grow too big to be shown and will eventually go to a family.
BB is also way ahead of his littermates. He runs around and comes when I call "puppy". He is confident and plays one on one with Liam. He asks to get on my lap and licks my lips off. A very special guy. I can't wait to see how he matures.
Lucille is a confident little girl. She spends most of her time in her run and makes small excursion into the room and back. She can play with BB but prefers to play with much smaller Apollo. She finds BB a bit rough.
Apollo is the smallest and has a very short back which is an asset in the show ring. If he gets big enough and matures well he has great potential as a show dog. Apollo still trembles when exposed to something new and lacks confidence. No matter how beautiful he might be if he doesn't strengthen his temperament he won't make it into a show ring.
In fairness the pups missed out on early socialization as the were born when I was in Florida for almost three weeks.
I have accepted one deposit and that will be it until the pups are 8 to 10 weeks old.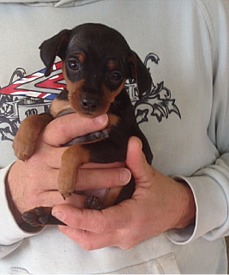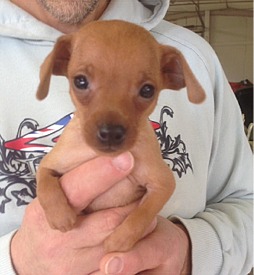 I am posting some random pics of the puppies on their daily visit to the kennel.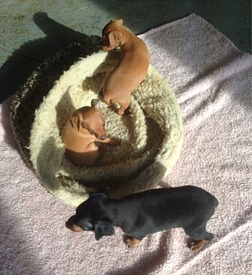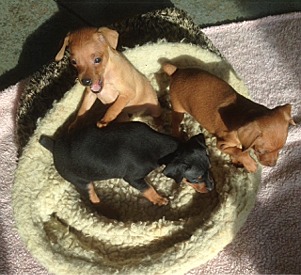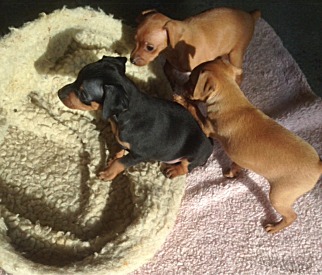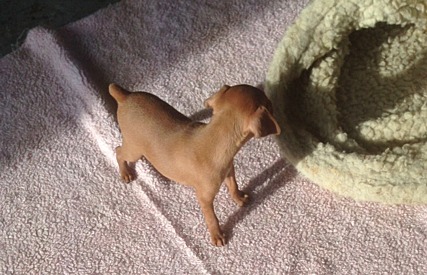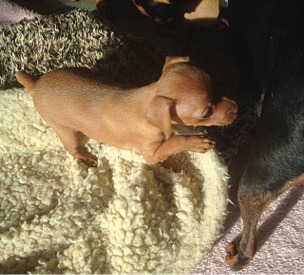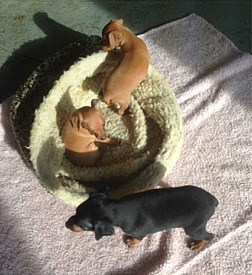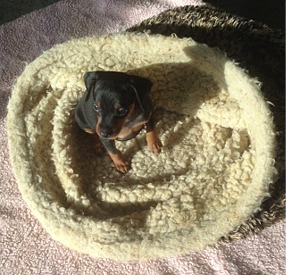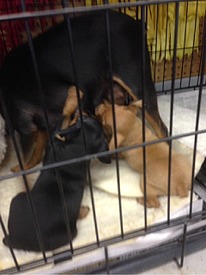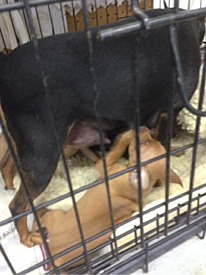 January 03, 2016
Happy New Year everyone.
Surprise! I'm back.
Since I have another litter my retirement plans are on hold so I'm continuing my Blog.
This will be a short one to start back.
Sadly Liam is still here. So disappointing. He is the best puppy I have bred in a long time. He's only here because the woman who sent a deposit didn't pick him up.
Colin continues on the road to being a show dog. As you can see the sponge is fell off (when my husband was in bed last night) and I had to put his ears back up on snore strips by myself. Colin is a wild one and I deserve a big ribbon for getting it done with out breaking his little legs. lol
You can also see his lovely outline. His topline is rock solid but the shadows make it look uneven.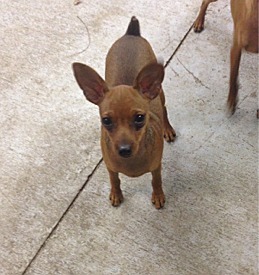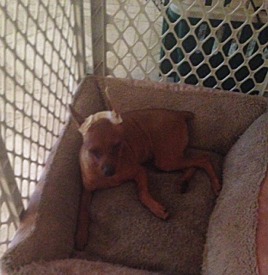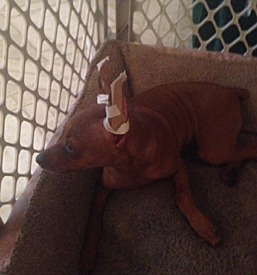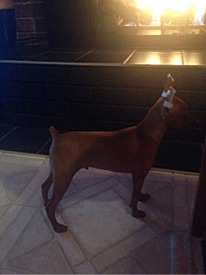 December 27, 2015
I'll start with what I was going to write when I got home from Florida.
At the end of last's week's Blog I said that I was at a crossroads. So this week was ",I am retiring at the end of the year. I just don't have the passion that is necessary to keep going. My patience is also gone and the difficult people I deal with get under my skin. I am down to nine adults and will try to place them with wonderful families."

So my husband picked up Eva and I at Detroit airport and he said that he had something to show me when we got to the car. He took out his phone and showed me this -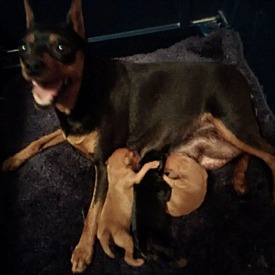 I couldn't absorb what I was looking at. My girls had stopped coming into season which was consistent with my retirement plan.
I left on Dec 3 for Florida and Fanta had three puppies on Dec 6. Gaston said he went out to get them up and Fanta didn't come out of her crate. He reached in and found a red and a black boy and a red girl. He said that Fanta showed no signs and he was shocked.
Gaston decided not to tell me because he was sure I would worry and I was desperate for a stress free break.
I was concerned about tails and dew claws because I do that when the pups were three days old. Now they were 2 1/2 weeks old. As soon as I walked in the door we set up and started. I did them quickly and was surprised (and relieved) that they didn't show any more discomfort than they did at three days. I can only think that there are few nerve endings in the tail bone.
I call these puppies my Christmas miracle.

The pups will be four weeks old on Jan 6. I took these pics today (Boxing day).
I offered them a mixture of raw ground mixed with canned puppy today and they gobbled it up. They are strong, healthy, curious and very calm. It's all good!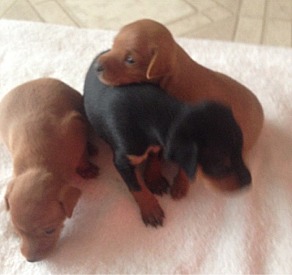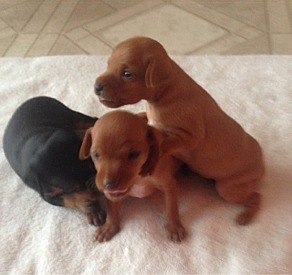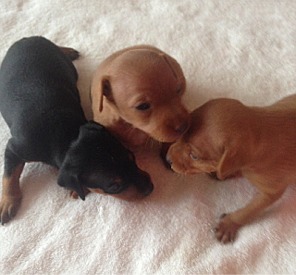 Still on the topic of puppies, I had picked my favourite of the Beauty-Al litter. It was the white collar boy. He is almost 16 weeks old. I was coming home to put him on my Available page as I was not going to show any more.
Well, Fanta's pups changed everything. Their sire is Simon and the pedigree is wonderful. I expect them to be competitive show prospects. That was all it took to awaken my love of showing. It's far easier to retire when you don't have anything to show. lol. I decided to show him and I was lucky enough to get him in to be cropped the day after I got home. I'm naming him Patapin Last Call as it was both Beauty and Al's last litter. I will call him Collin.
I'm going to have to get busy and get him trained. I usually start from birth. Right now he won't stand on the table and he won't let me near his mouth. He has never been in a lead. I have my work cut out for me.
Here are a couple of pics of Collin.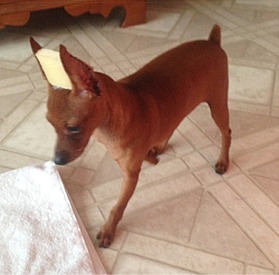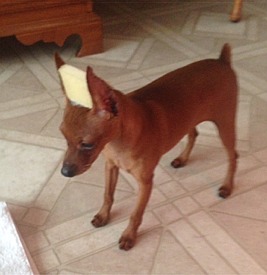 Now for Beauty's last puppy. He was going to Alanna and she sent a deposit. She was going to pick him up the day before I left for Florida. Well, I sat here all day and she didn't show up. I emailed and called her and left messages. The next day she answered my email to say she had a flood in her apartment and forgot all about it. We agreed that she would pick him up at noon on Dec 22. I told her if she didn't show up she would forfeit her deposit and her puppy. She assured me she would be here. Well, guess what? Another no show. Again I called and emailed and I haven't heard a word since! I am so frustrated and angry. How do you explain someone like that??
It is a real shame for the puppy. I could have sold him many times while I was holding him for her. Now it's Christmas and no one is thinking puppies. Goodness knows when he will find his family.
Here are some pics of the little guy. It breaks my heart.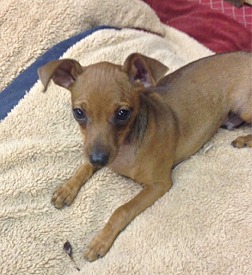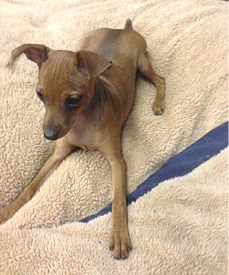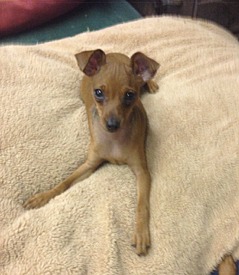 One thing I am retiring from is my Blog. This will be the last entry. I have thoroughly enjoyed sharing my life, warts and all with you.
There are puppies and adults here that still need families. Just read the Blog and you can rest assured that life is carrying on the same way it has been for the past four years.
Take care everyone and nothing but the best in the New Year.
Sincerely Pat xx

December 22, 2015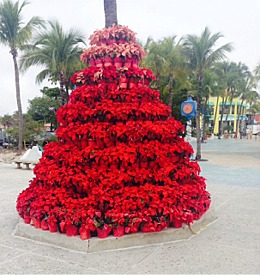 Merry Christmas from Cape Coral! Eva and I fly home tomorrow. I could easily stay until the end of the month.
It's been a great de-stresser. I have only had minimal contact with home as I wanted to clear my head.
I pray that they have finished with the house. If they haven't, I will let Gaston visit with his family in Sudbury for Christmas and then I will come right back!!
Overall 2015 hasn't been a very good year. I look forward to a better 2016.
I still have the one puppy left although I have had several inquiries while I have been here. I'm going to assess his show potential as it would be wonderful to have something to take in the ring next year. I'm doubtful as it looked like this was an entire litter of pets. That seldom happens to me. I have actually had several litters of all show dogs, called an "All Champion Litter."
What will be will be. I'm at a crossroads.

December 12, 2015
We have been here for 10 days and I am just starting to unwind and relax. I am realizing just how burned out I was when I left. With everything else this year, having the foundation collapse on my house had me teetering on the edge. I don't know what I will do if they aren't finished the repair by the time I go home.
Eva and I spent the first week quietly at the condo and divided our time between sitting on the balcony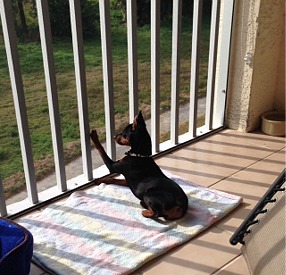 and walking around the abandoned golf course that surrounds the condo complex.

Finally on Friday we ventured out to Ft Myers Beach. I park on one side of the huge bridge that goes into the area and walk over to the bridge and back. This is Eva on our way back to the car.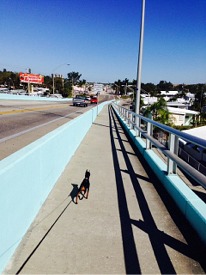 We walk the south end down to the Pink She'll Hotel and back.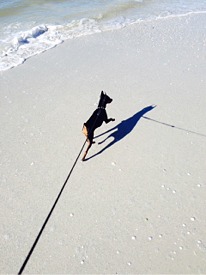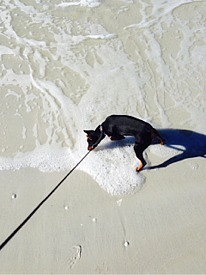 By the time we get back to the car we have walked for two hours.

Each time we get home from our long walks Eva is so tired that she collapses on the rug as soon as we walk through the door. I feel the same way. There is not a better way to de-stress.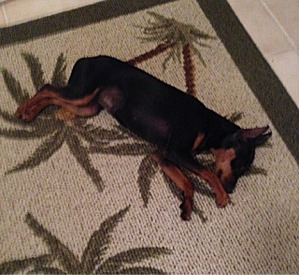 Today we walked almost an hour to get to the Farmer's Market. Eva loves the Market and is always the centre of attention.
I bought a fresh loaf of raisin bred and a cantaloupe for lunch when I got home.
I soon regretted lugging the cantaloupe all that way!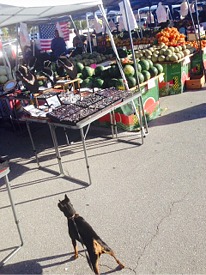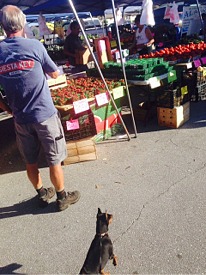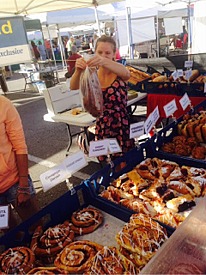 This is me now as I finish my Blog update. It doesn't get much better than this!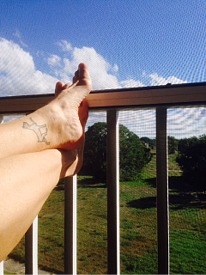 December 05, 2015
Let's deal with the bad first and get it out of the way. Foundation is worse than anticipated they now have to replace everything including the brick. As the back door is sealed off, the only way I can get to the kennel is jumping over the brick wall that surrounds the patio. Of course the extra work results in the price doubling. So much for retirement savings.
To make it even worse the workers just don't want to work. I confronted them the day before I left about all the breaks they were taking and they replied that they were "saving their bodies." If they aren't finished by the time I get home on the 20th I'll have a fit.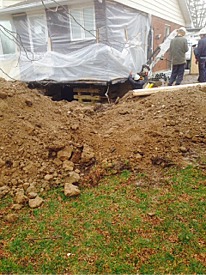 I just took this from my balcony in Cape Coral. We arrived in a torrential downpour on Thursday night. Eva and I were soaked to the skin by the time we picked up a few groceries and walked through the door. Just starting to unwind now.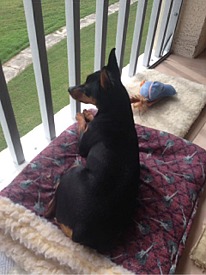 I took Silver to be groomed just before I left. Here we are coming home from the groomers'.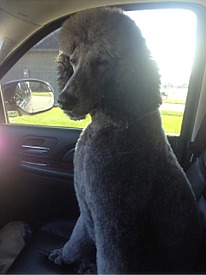 On a happy note I got these pics of "Penny" from Sharon. She looks so tiny. I love the pic of her curled up in the toy box. Thank goodness I am still able to find good homes that meet all my criteria.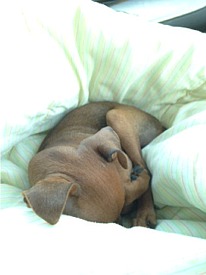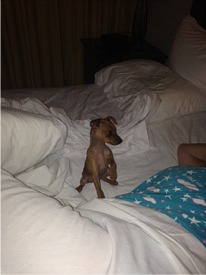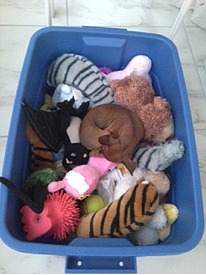 Gaston went to BOS the day after I left. We got the best haul in a long time.
He usually takes donuts once a week. This time he took a case of canned beer from Port Huron Michigan. It was an obvious hit as we got one blue tote full of bags of frozen kidney and one of heart and tongue.
We have been trimming and bagging what we get for almost two years now. The only thing that still bothers me is the tongue.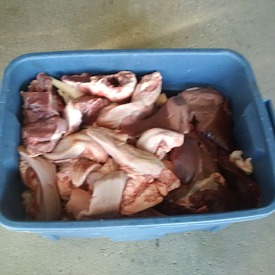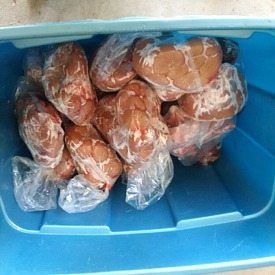 I have one puppy left. He is my show pick and favourite. I have had one inquiry but the man hasn't been approved yet.

November 29, 2015
They are crawling out of the woodwork. A prospective puppy buyer, after calling me a number of names - horrible lady being one example, finished off by saying "it's true what they say about the French". First of all my parents were born in England and I was born in Canada. There is not a bit of French in me at all. Second, what is it that they say about the French? I have no idea. After threatening to call the police on me she slowly calmed down and apologized. Whew! After 20 yrs of having nothing but positive, congenial relationships with the people that contact me I have run into two crazy women in one month.

Decided to make some comfort food. Something I last had when I was a child. Shepherd's pie! My husband and I devoured enough for a family of 10 in less than a week. So good.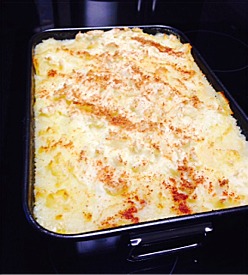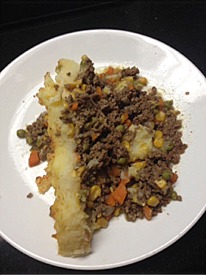 Super good news. Darin arrived with his sister to pick a puppy. He picked up a puppy called sometime around 2003 - to 2004. He had three choices but only had eyes for the black collar with the skin condition that is in the process of clearing up. To make a happy event even better, he also took Simon! Darin lives with his parents and they are a wonderful home. Just like his last puppy Mischeif, he plans to take Simon with him on hunting excursions. Couldn't be happier!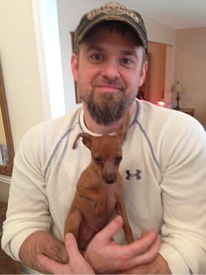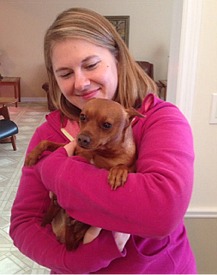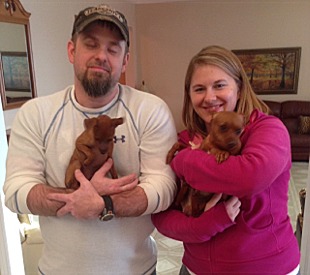 It's 7:00 pm and she hasn't called, emailed or showed up. It will be interesting to hear her excuse. Makes me think twice about giving a puppy to someone so irresponsible.

I am leaving Friday for our condo in Cape Coral. I have never needed a holiday more than this! I'm going to turn off my phone and relax in blissful peace and quiet.
I have an announcement to make and will do it from Florida within the next two weekends.

November 22, 2015
The woman who insisted on taking Fanta despite her biting was also taking the black collar puppy. This is the puppy that was left with a bald spot on its face when the dried skin fell off. It has already started to grow back.
The woman was not happy about this and sent me three consecutive emails with questions I had already answered when I explained it to her initially. Her emails had an angry tone and I don't take crap from anyone so I told her I'd return her deposit. I told her I had a bad feeling about her from the start (due to pressure about Fanta) and she called me childish. lol
I was so relieved to keep Fanta here where she belongs.
I had another inquiry about a puppy and I sent them a pic of black collar. She asked if the hair would grow back, I said it would and the deposit was here four days later. It was a breath of fresh air. I have been very lucky. The woman was the only "crazy" I have dealt with in almost 20 yrs of breeding.

The purple collar is leaving Tuesday and the white collar on Nov 30. have one puppy left. Email for details.

November 15, 2015
Two pups have been picked up. The yellow collar was the first to leave on Wednesday and the girl left today. The yellow collar was leaving the next day for Yellowknife NT I hope Shannon buys him a fur coat.
I have one boy left.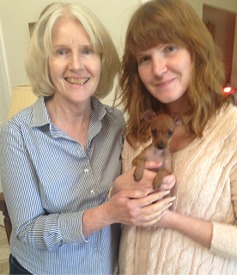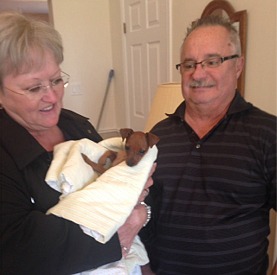 This is the yellow collar peeking out of the big bag he will travel in on the plane.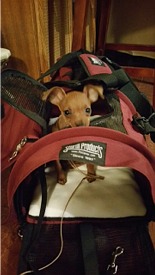 It is a gorgeous day today. Eva and white collar puppy are enjoying the sun on a big cushion.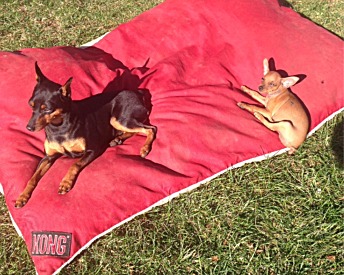 This is Simon. I can't say enough good things about him. He is 2 1/2 yrs old and has been here since he was a puppy. I can't use Simon for breeding as he has a long white streak on his chest.
Simon is kind and gentle. He loves playing tug and going for long walks on the property.
Simon doesn't have an aggressive bone in his body. He is very affectionate and loves to lay on my lap while I watch. Sadly the girls kick him off. Simon is low man on the totam pole and often gets bullied.
Simon is crate trained and lead trained. He would like nothing better than find his own family.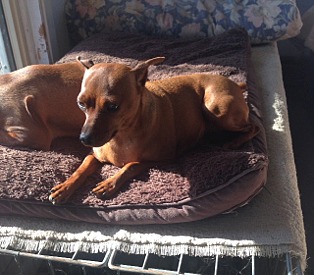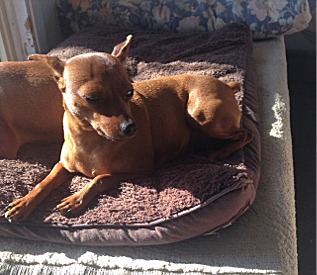 The black collar pup is being picked up on Wednesday. The family is also taking Fanta who was born here and is now five years old. She is a beautiful girl but she circles around strangers and bites them on their thigh. She broke the skin and drew blood on my father in law.
I have told the people about Fanta and advised against taking her. When they come I will have them sign a waver saying they were told about Fanta and advised against taking her.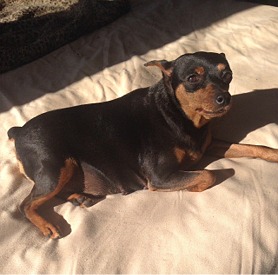 Speaking of the black collar pup he developed dried skin on his face. I have been treating it with emu oil and coconut oil. The dried skin is resolved but it took the hair with it. Puppy now has a large bald patch on his face. I am treating it with "Nu Pro" a product that re grows hair. It's the yellow mask he has on in the second photo.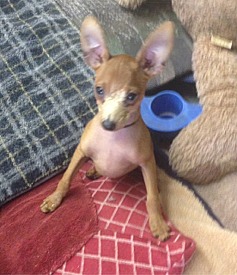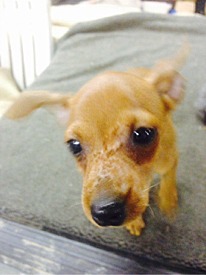 November 08, 2015
This is the girl that is Available. She has the red collar on. So the two puppies that are left is the girl and the boy on the Homepage. I think the black collar boy may be Available but I will confirm that on next Sunday's Blog update.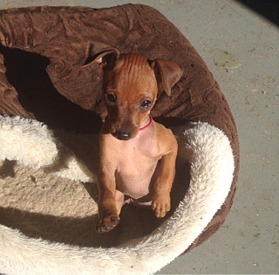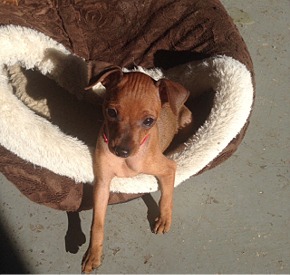 Most know that I look for families with someone home all or part of the day. Joe works five days a week. I placed a puppy with her because she made perfect alternate arrangements. Chance goes to doggie day care five days a week. See email below.
Pat, I am so happy that the puppies are all doing well.
Chance and I knew that if anyone could save them you would.
They are all so adorable of course Chance thinks he is the best looking boy his mom Beauty ever had.
Chance continues to do well. I fall in love with him more every day.
He continues to go to day care daily (spoiled little guy) he has a sense of entitlement.
I must say he has quite the personality , he is strong willed but very smart.
I will send photos soon he hates the camera.
Love Joe and Chance

I took the puppies back to Super Pet yesterday. As soon as we walked in the door we were swarmed. The staff all recognized the puppies and mentioned that they had grown since their last visit.
The first puppy leaves tomorrow. Shannon will be here at noon to pick her puppy. On Tuesday they will fly to Yellowknife NWT together.
My crumbling house had a setback last week. It is much worse than they thought. Now they have to remove the brick as well as the concrete blocks in the foundation. Now I wait for 10 days for the new parts to arrive. It is a much bigger job at twice the price. So stressful!

November 01, 2015
I identify each puppy with different bands. These are yellow, black and purple. The girl has a red band and the clear puppy has a white one.
They just turned eight weeks old and are ready for their first set of boosters. They can go to their new homes in two weeks.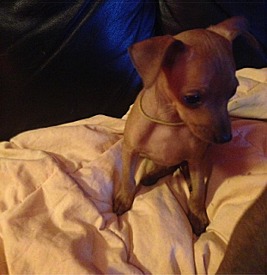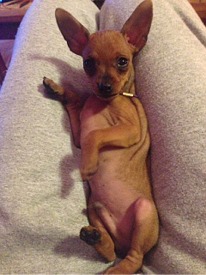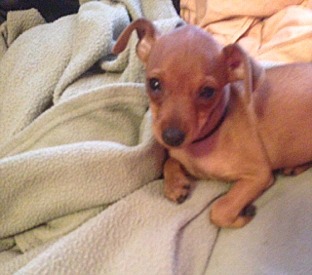 Leanne and Jeff adopted Brazen almost two years ago. Beauty is Brazen's mom. She is also the mother of the current litter.
Their great grandmother lived with them. She would share her toast and egg with Brazen every morning at breakfast. When she became critically ill Brazen wouldn't leave her side. They gave each other great comfort.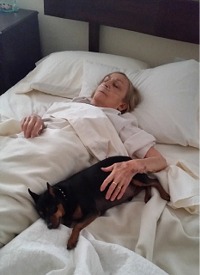 Leanne and Jeff came on Saturday to pick a new puppy. They brought their parents with them.
They are all tremendous dog lovers. They stayed for over an hour and the puppies swarmed them. Cammi laid on the couch between Jeff and Grandma. Cammi thoroughly enjoyed the attention she got from both.
They had a terrible time picking their puppy and agreed that they are all adorable and very outgoing. There wasn't one shy puppy in the bunch.
Finally consensus! They picked the black collar puppy. They are also taking Beauty in two weeks when they come back for their puppy.
I took a pic of Beauty sleeping with the black puppy.
They are so impressed with my dogs that when they return they will pick a young adult for Grandma and Poppa.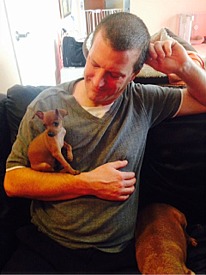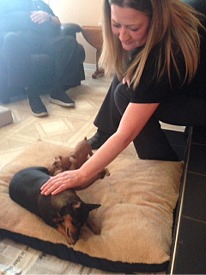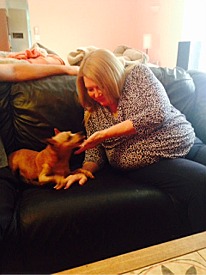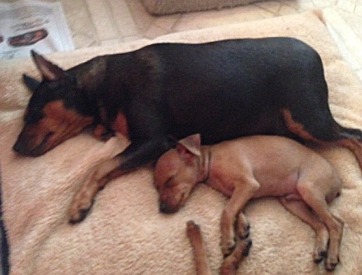 There is one boy and one girl puppy left. I also have two young girls that are looking for their forever family. Their pics and description are on the Available page. If you have any questions, just ask.

October 25, 2015
The puppies had quite the week! It started off with them all being checked by my Vet, Dr Johnson. Hecarefully examined each one and made notes and also wrote on their individual vet cards.
You can see what he wrote. They're all healthy! He also said that they all weighed about the same which is a sign of good breeding.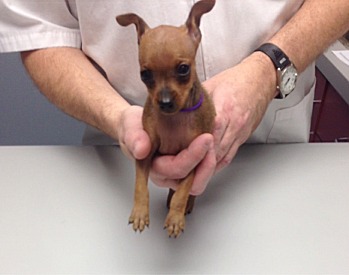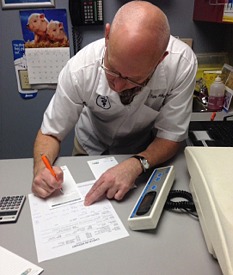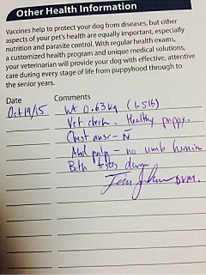 They also made two trips to Pet Smart where they rode around in a cart. Many, many people put their hands in to pet them. They were also held by staff, shoppers and children. They loved the attention and gave out lots of kisses.
This is one of the reasons that people tell me that my dogs "are like no other".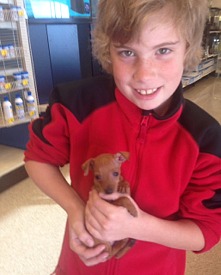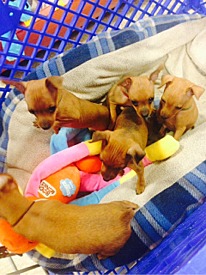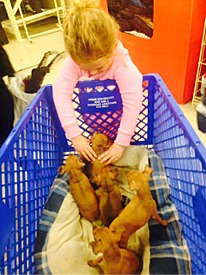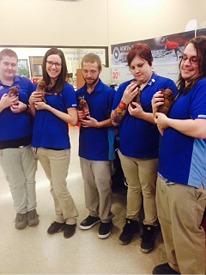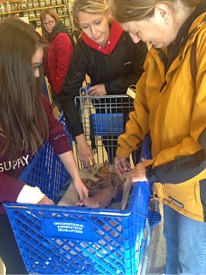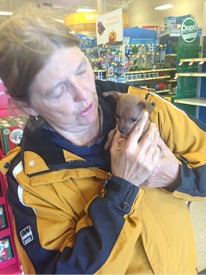 The weather has been warm and they have been out in the yard several times. They started out being very cautious but were soon running all over the yard.
They also spend time in the kennel everyday and play with the adult Pins. They are dog proof.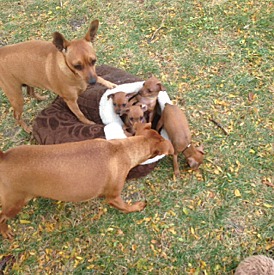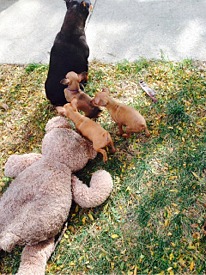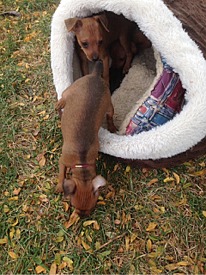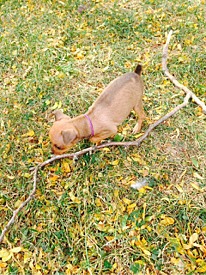 These are the puppies in the kennel. They are very comfortable and spend about three hours a day in the kennel.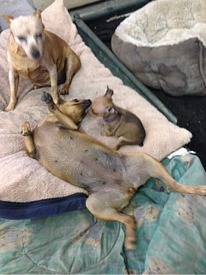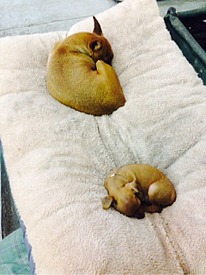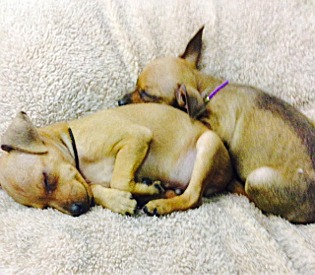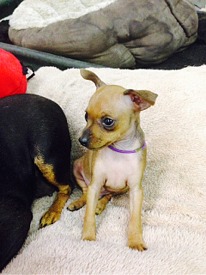 This is Beauty hugging one of her puppies in the kennel.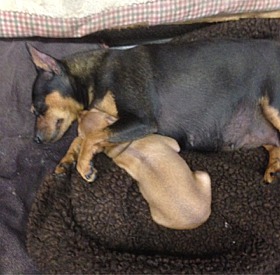 Here are more pics.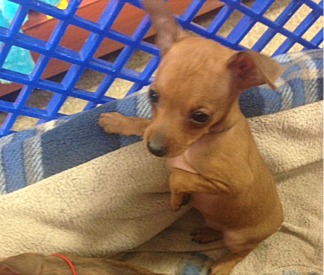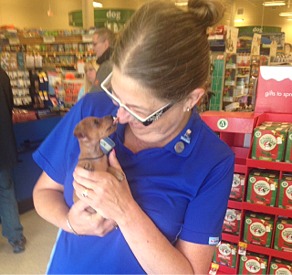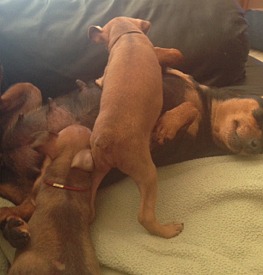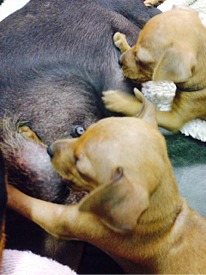 The process for getting a puppy is to send me a detailed email telling me about your routine, who is in the home, how you would raise a puppy etc. there is no such thing as sending too much info.
I approve homes from these emails.
One woman was very interested. She had a Minpin that had passed and she was ready for another. These are my favourite homes. I asked her to send a detailed email and I never heard from her again. sigh
It is very important to me to find good homes. If you aren't motivated enough to tell me about you how can I possibly pick?
These are exceptional puppies. They have had more handling and socialization than a lot of my litters.
This is my last litter so here's your chance to get a special Patapin puppy.
I do not keep a waiting list so first come first served. Once approved a $450 deposit guarantees you a puppy. The pups are seven weeks old and can leave at 10 weeks.
Looking forward to hearing from you.

October 18, 2015
This is going to be a big update as we missed last week.
Let's start off with my favourite Suzie update from Gerry.
Suzie encounters her first Jack-o-lantern, encounters a new, huge toy, and makes friends in the park.
I love, love, love this girl. She is still going strong although I heard her coughing a lot during the night. It's caused by progressive heart disease.
It will break my heart when she goes.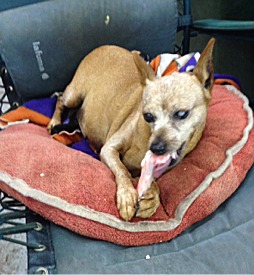 Puppy update - all the pups are healthy! I am once more accepting deposits and have two boys Available.
We start off with their first time outside on the patio. First they had a big snack from Beauty and then started exploring.
Puppy sneaks up on its first meeting with a stone and then tries to climb into the dryer vent. Then they hang out around the place I made for them. I see hackney! Do you?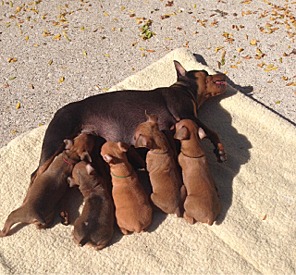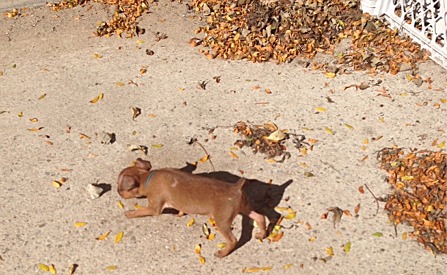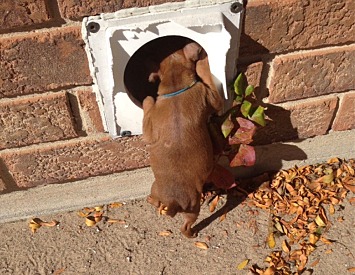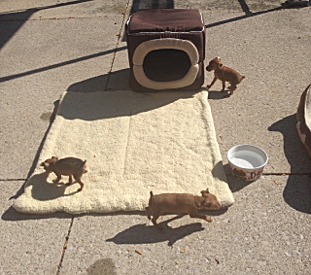 Now for some eating and sleeping pics. Something they still do most of the time.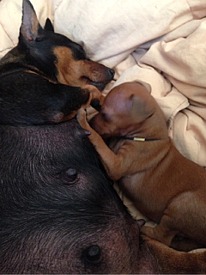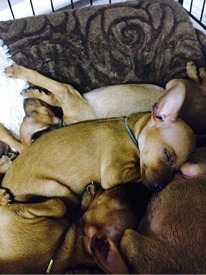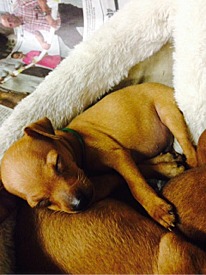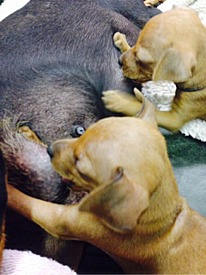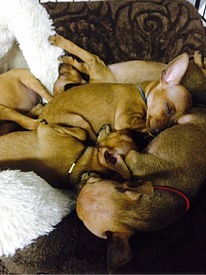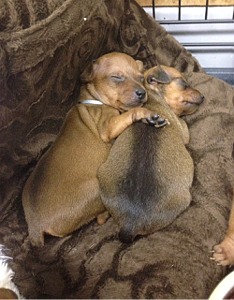 October 04, 2015
I have spent another week consumed with the puppies. I can't get rid of my gut feeling that something is wrong and I may lose them all. They are not growing or gaining the weight I think they should.
In spite of this I have carried on with their enriched feeding and socialization.
Each puppy has been identified with a different coloured ribbon so I can differentiate amongst them.
The first pic shows their beautiful range of colours.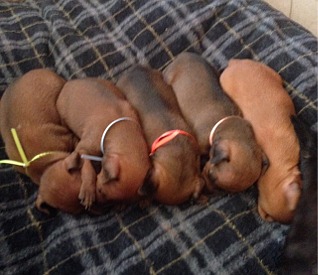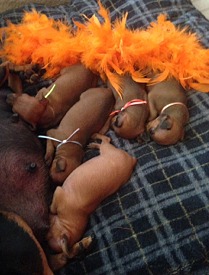 This is how I feed them 3x a day. One bowl is ground raw and the other is a mixture of canned puppy with added goat's milk, egg yolk and multi vitamins. They eat if I get them started by putting their noses in it. I leave food down at night but they never touch it.
I put Beauty back in her crate at night. She still nurses them during the day.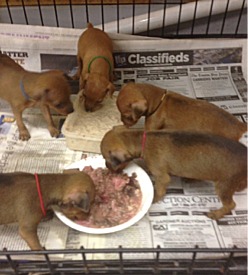 For part of the day I bring them to the kennel with me. They stay in two adjoining, large wire crates on the counter. Beauty goes in and out at will.
I have also strung stimulating toys across their pen in the house. I put them on elastic string and they have just started to notice them.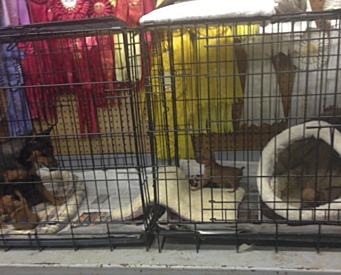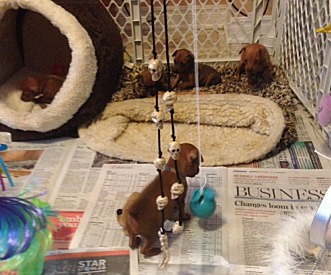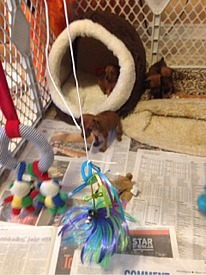 I have accepted one deposit on the puppies. I don't think I will accept any more until I am 100% confident that the pups are healthy. I have a vet apt. for next week.
The pups have paper trained themselves. They have distinct little personalities and couldn't be any cuter.

There will be no update next week. See you October 14th.

September 27, 2015
The puppies turned three weeks old on Friday. Just like clockwork they began eating on their own. The small dark puppy is eating a selection of ground beef and the lighter boy is eating canned puppy food.
I took the following two pics on day 23. They are still very small but are strong and active.
Beauty is not the best mom and I am still supplementing every three hours during the day. I feel sorry for the puppies and I am doing the best I can to make up for Beauty's deficits.
Every day that goes by is a good sign everything is going to be ok.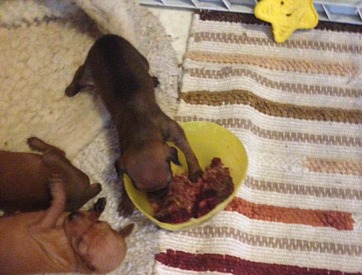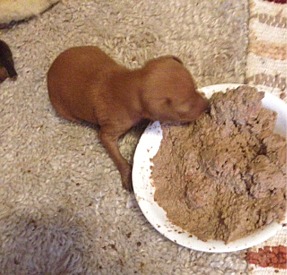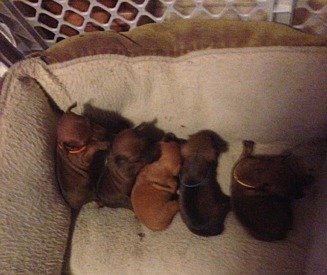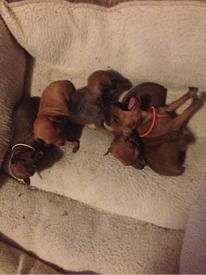 I just took this pic (Sunday) as I was composing this week's update. Beauty is giving them all a bath. The clear puppy is a boy. The girl is the darkest of all and has the most pigment.
Will know more next week.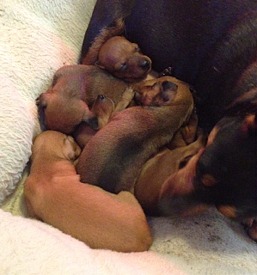 September 19, 2015
Beauty's puppies were two weeks old yesterday. That's when I took the pic. Their eyes and ears are starting to open so they are meeting their milestones. I was happy with their weight and their general condition so I stopped supplementing and let Beauty take over and nurse them.
Problem was that they stopped gaining weight. There is obviously something lacking in her milk that is not meeting their nutritional needs.
I began supplementing again with a "super" formula. I mixed canned goat's milk with their Esbilac powered formula. I added two egg yolks and two spoons of regular mayonnaise. It's a thicker formula and they love it. It's back to every three hours during the day but not at night. Being able to sleep again makes me feel human. For almost two weeks I was an exhausted zombie with no ability to focus on anything else. Normal life stopped and everything revolved around the puppies.
By three weeks they will be able to eat on their own so I have that to look forward to. Only six more days.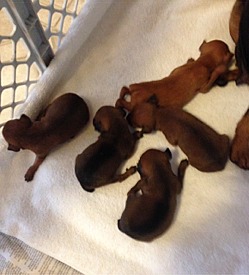 Two weeks ago friends gave us a giant upright freezer. They are the owners of Brill who is also out of Beauty. It was a very generous gift as it is almost brand new and at least twice the size of our upright freezer that is in the basement. It gave us an opportunity to clean out our chest freezer. We found things at the bottom I didn't know I had. Some of it had been there so long that it had freezer burn. Now everything is organized and we can see what we have at a glance. Now we use the chest freezer for bones and our smaller upright is also full.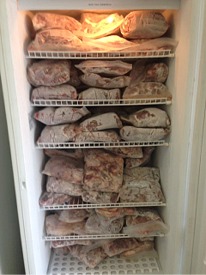 Gerry noticed Hawks flying over the two parks he takes Suzie to. He has been struggling with how to continue to allow her to run free and enjoy the parks while keeping her safe. This is what he came up with. It makes an interesting read.
September 13, 2015
It's been a horrendous week. Beauty got mastitis and wasn't able to nurse her puppies for five days. I anticipated that this might happen and started clavaseptin immediately. It didn't have any effect and within 12 hrs Beauty's teats were red, hot, hard and swollen. As it is an infection, Beauty was running a temp and was panting and restless. I applied hot compresses and continued with the clavaseptin and on day five her teats were back to normal.
During this time I was making my own puppy formula and feeding them every two hrs day and night.
Once they started nursing I continued to supplement as they weren't gaining weight. I purchased a high quality goat milk based powdered formula and cans of goats milk with added vitamins as seen in the pics. I fed them with a tiny Turkey baster also pictured.
They are sucking back the formula and continuing to nurse. Problem is that they haven't gained anything since they were born. By one week puppies should double their birth weight. Everything points to Beauty's puppies not making it.
There is something soul wrenching about supplementing pups every three hours knowing they will die. It's been the worst and saddest experience since I started breeding.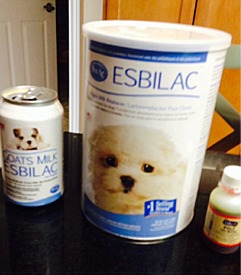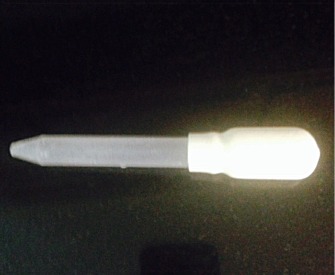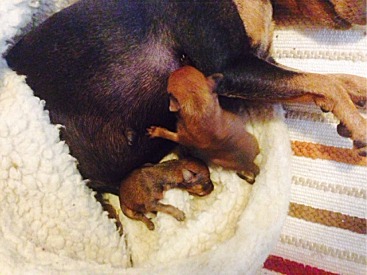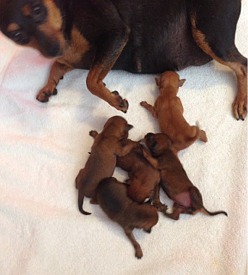 |
September 05, 2015
Woo Hoo!! Beauty and Al had their puppies yesterday. I wanted a nice boy to incorporate into my breeding program. Beauty listened and gave me four boys and one girl! There is one clear boy and the rest are a dark mahogany.
It was a stressful day. She was in labour for a long time and completely tired herself out.
I took her to the vet and they gave her a shot of oxytocin. Ten minutes later the first one popped out followed by two more. Then she was tired again so one more shot of oxy and the last two were born.
Today everyone is thriving. Beauty is such a good mom.
It's the end of an era as this will be her last litter. It may also be Al's last litter judging from his failing libido.
The first pic is Beauty in her bag at the vet's. In the next one she pops her head up after having two puppies. Of course the third pic is the puppies and then Beauty with her pups.
I couldn't be happier or more relieved that everything worked out so well.
Stay tuned for more pics as they grow.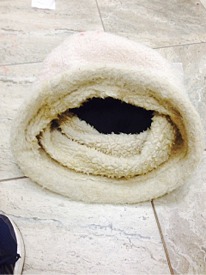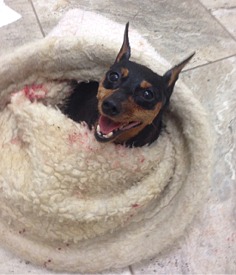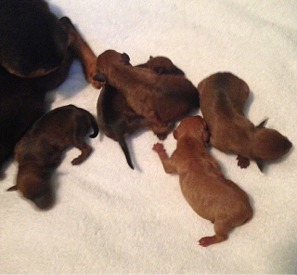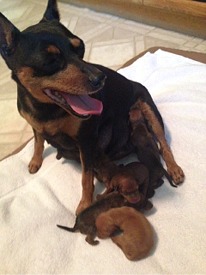 I just took this pic of Sunshine enjoying the pool. It's a very hot humid weekend.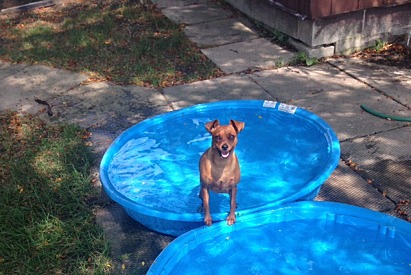 Eva and I went for our annual summer visit to see Jean and Brill. It was a beautiful day and Eva had a great time.
You can see from the pic of them both that Eva and Brill look alike. Even I was mixing them up.
Then we have Eva testing out the pool and looking down the dick to the St Clair river.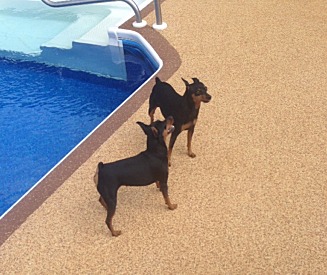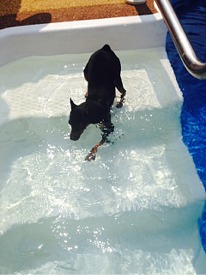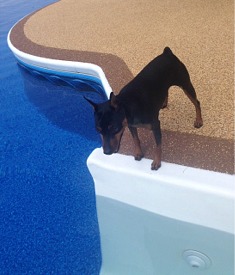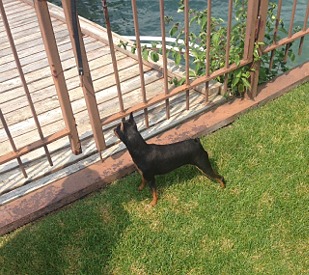 August 30, 2015
The weather warmed up and the pools became popular again. Belle likes to cool her feet while she has a drink. Cammi has always loved the water. Even tho her heart disease is progressive Cammi never misses an opportunity to get in.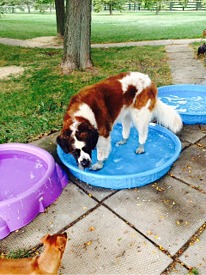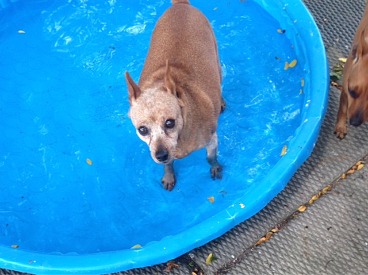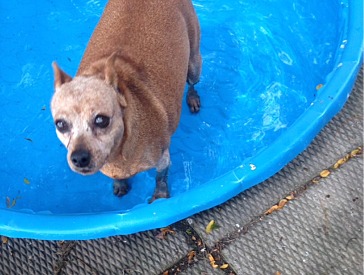 My dogs have always loved peanut butter. A few times a year I would smear some on baking sheets and let them lick away.
The last time Eva and I stayed in a hotel I noticed the tiny PB and jams at breakfast. I'd bring a couple back to the room to entertain Eva when I got cleaned up.
As soon as I got home I had my husband go to Nat'l Grocers and pick some up. I also asked him to get the little containers of cheese whiz.
As often happens, Gaston came home with way more than I wanted - two boxes of PB and two boxes of Cheese Whiz. There are 350 containers in each box!
They are now enjoying their daily hit of PB. Only problem is that Oliver steals them and swallows the container.
This is pregnant Beauty with her PB. She thought Eva was trying to steal hers so she showed her teeth to scare Eva off. lol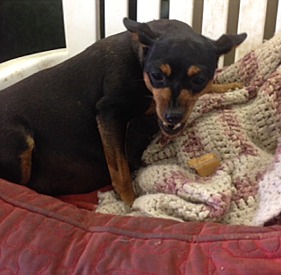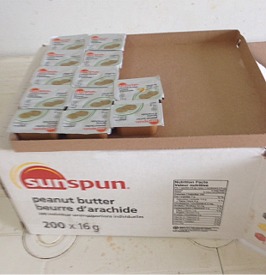 Speaking of Beauty, she is due to have her pups on Sept 8. It's her last litter. I bred her to Al and judging from his performance, it may be his last breeding as well.
I did this same breeding over two years ago and got a super little boy Patapin Little Big Man (Manley). He finished in one weekend. The next weekend he got BPIS. Best personality ever.
I sent Manley to Australia and have missed him terribly. Talk about sellers remorse!
Beauty is huge. My fingers are crossed that there is one more Manley in there for me!
Here she is in her favourite position. She must be more comfortable on her back.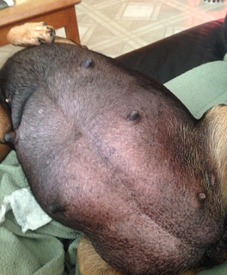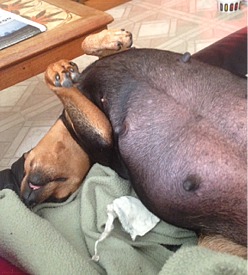 I had to change my phone number. I was hacked last year and they've been calling up to 5x/day. So now I have a new "unlisted" number. If you need to call me, email and I can call you.
I have had the same phone number for 30 yrs. Hate, hate, hate these people!

August 23, 2015
Beauty and Al are having their last litter. Beauty is due around September 8. Manley is out of Beauty and Al. I sent him to Deb in Australia. It's something I regret. My fingers are crossed for something as nice as Manley. Let's cross all our fingers for a smooth whelping, healthy puppies and another Manley.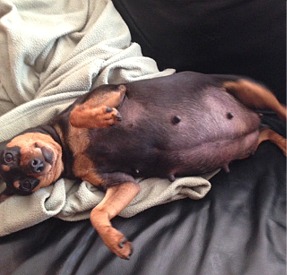 August 16, 2015
Best news is that Beauty is pregnant by Al. I didn't expect anything as there were only 3 two minute ties. Sadly Al is coming to the end of his breeding career. So is Beauty. This may be the last litter and I will cherish it. I so hope everything goes well.

Rita may also be pregnant. It's doubtful as the entire time she was bred she was bleeding. If it took, she's due in aprox 10 days. She was bred to Simon.
I took these pics yesterday. What do you think?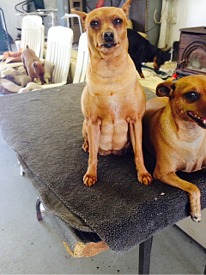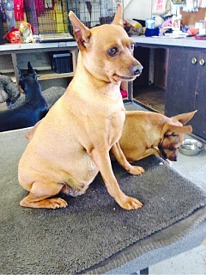 I broke down and purchased the Pins a green leather couch from a Thrift store. It was $200, way to expensive. The sales person justified the price by telling me that it came from a lawyer's office and was an "executive" couch. lol
Their old second hand couch has been here for 10 years and was split open along the seams. Long overdue!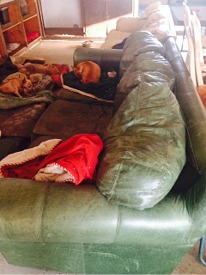 It's corn season. The dogs love it. I buy more for them than I buy for Gaston and I.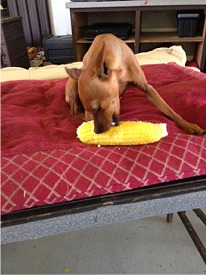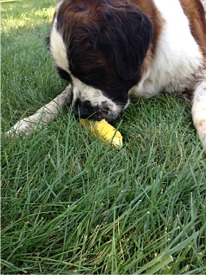 I'm going to end with another Suzie update from Gerry. Gerry and Harold worship Suzie and it's an understatement that they treat her like a queen.
August 08, 2015
Once again it's been a quiet week. The dogs were happy that it is corn season. They love holding a small cob in their paws and picking off one kernel at a time with their teeth. They strip the cobs clean and then ask for more. This is Sunshine enjoying her first cob of the season.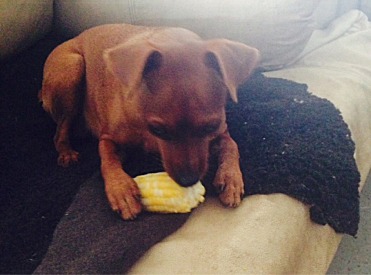 I also heard from Margaret who has Tim. For the second time she described him as a wonderful little dog. Marg says that Tim is quiet and very affectionate. She sent this pic if him looking so relaxed and confident in his new home. Lucky boy boy to finally find his first family.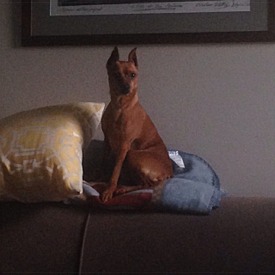 For anyone who has wondered about hawks and small dogs I am posting a very good question from Gerry and my response.
"I have been hesitant to bring this up, but I feel I must. I would like your thoughts -- any thoughts -- on this issue.
In a park a block or so away from the TTC property (a kind of park too) where I usually walk Suzie there is a family of hawks. One morning, because there was no one in that park, despite the park having a sign saying keep dogs on leash, I let Suzie off the leash. Then woman came up to me and warned me about the family of hawks that hang about there. This was several weeks ago, when Suzie was a little smaller.
I looked up and there, sitting in a tree, was what I thought was a really big hawk. I immediately put Suzie on the leash, but I was shaken by the experience. Then, when I got back to the TTC property, I brought the subject of hawks up with one of the dog owners. They said there was an incident of a hawk carrying away a puppy -- lifted it hundreds of feet and then dropped it, killing it of course.
Since then I have been more careful with Suzie, scanning the trees and sky whenever she is off leash. But, being a worry wart, it's been getting to me. The idea of Suzie -- well, you know what -- just sickens me, horrifies me, and yet I feel helpless, in a way I don't about foxes or coyotes, which are land-bound at least.
Today I took Suzie to the TTC property. There were no dogs there, and I let Suzie off leash as usual. She stays around me quite well, and comes when I call, but still -- I worry. Then, at one point, I heard the cry of a hawk, and there, perched high in a tree on a dead branch about 100 yards away, was the hawk. I immediately called Suzie and put her on her leash (I have gotten a 30 foot leash for trips to the TTC property, so that I can keep her on leash, but she can run more). The hawk appeared to watch the entire time I took Suzie back to the car.
Just now I weighed Suzie -- using the bathroom scales (admittedly not very accurate) -- and she weights 6 pounds. Given that weight, I am wondering: Is Suzie in danger? And, if so, what do you recommend?
Any thoughts you have on this would be most appreciated. Suzie is a wonderful family member and I don't want to lose her that way. (I would shoot the hawk if I had a rifle -- even though that's illegal; frankly, anything that picks off citizens -- and I consider dogs such -- should be gotten rid of, endangered or not -- those things don't belong in the city anyway.)
Thanks,
Gerry"

"Yes, Suzie is in danger on the TTC property.
Maybe about 3 times in the fall hawks circle above when I walk my dogs. Fortunately my Komondor, Oliver recognizes them as predators and his natural guarding behaviour clicks into gear. When they start swooping lower he runs out and, looking up, barks at them. He stays with us until the hawks give up and fly away. I must admit that I get nervous when I see them.
My friend had an owl swoop down and take one of her Minpins several years ago. She went out and purchases a guardian dog and hasn't had a problem since.
Being on a long lead doesn't stop a hawk from getting ahold of Suzie. They are hunters and can swoop down in an instant. If this happens you would find yourself in a tug of war with the hawk.
I encourage you to trust your gut reaction and act on it. My motto is zero tolerance of any danger, real or perceived.
Thank you for asking for my input. You are a good dad to Suzie. Pat"

Eva and I are leaving tomorrow for a 10 hour drive to New Liskard to attend six shows in three days. Although there is only one other Minpin as competition it is very typey and only needs one point to finish his Canadian championship. Minpins have disappeared in Canada and this is the first one she will compete against. From pics this Minpin is lovely. It can go either way. Eva will do her best. Stay tuned fir results next Sunday.

August 02, 2015
This is Norm (now Riley) relaxing in his new home with Rhonda. I asked Rhonda what was attached so his collar - yes I was terrified that it was a shock collar to discourage barking. It was a huge relief to be wrong. Rhonda has an invisible fence and this gives Riley a warning if he gets too close to the fence. It keeps him safely in the yard.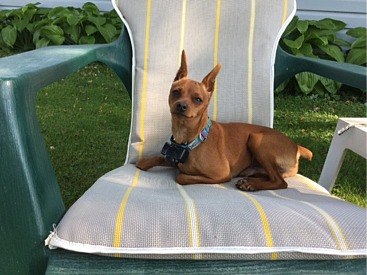 This is Tim who flew out to Manitoba to live with Margaret. I asked for a pic so Marg took a selfie with Tim on her knee. I monitor my dogs in their new environment to ensure everything is ok.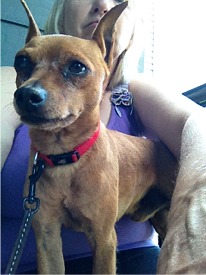 Chloe went to join Micah and live with Lori in the spring. Chloe is quite the character. Here she is with "her" cat. Of all my homes, Lori is probably #1 in quality of care. The pups are her whole life.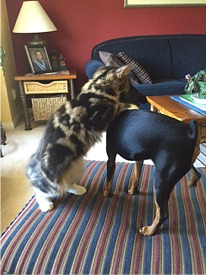 I found Belle curled up in the pool. By the time I ran to get the camera and ran back out Belle was coming out to see what I was up to. I'll have to go back to keeping my phone in my pocket.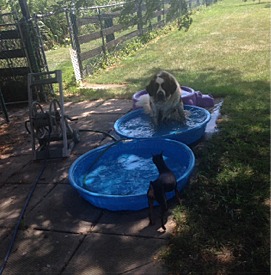 July 26, 2015
The 26 July 2015 edition Sunday Suzie
More pics of Suzie, the world's most amazing min-pin.
I have taken to taking Suzie on Long Walks -- around an hour and a half in length, good exercise for me, and lots of fun for her. We never hurry and she checks out -- everything as we go. We also stop off in an empty schoolyard for off-leash running about (until I'm too tired, and then we rest a little in the shade).
Gerry
Best news in a long time!!! Tim found an excellent home in Edmonton with Margaret. He flew out yesterday. Margaret emailed that Tim arrived safely and he was "wonderful". Tim will be the only dog in his first real family. Lucky Tim!

More great news. Eva showed in Kingston on the weekend. It was an extremely competitive Group 5 with four #1 ranked, multi BIS Specials. I expected nothing.
Saturday, Eva took Group 3 from the classes over many Specials. We actually had the #1 Affenpinscher in Canada with 2600 pts standing behind us in fourth position.
Sunday she won best Bred by Exhibitor in Group! It was a wonderful weekend.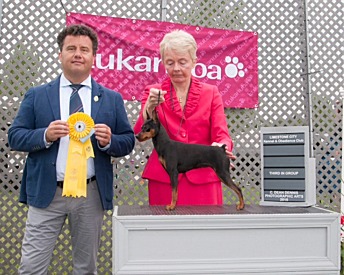 I received this email from Angela last week. So touching and well written I thought I'd share. Lovingly shows the impact these little dogs have on their owners.
Greetings from Angela Johnston who purchased Finalee from you in 2004.
You shipped Finalee to me via airplane to Phoenix, Arizona. I believe he was born January 1, 2004 and I purchased him from you when he was 9 or 10 months old. What a beautiful miniature pinscher! Stunning really! Later you also sent me my black and rust min pin who I named El Capitan. I'm so sorry about your loss of Mini. I was reading your website and can only imagine your heartbreak because my Finalee passed away Sunday, July 12th, 2015. He was the joy of my life. I wanted you to know that he brought me so much love and that his heart was larger than all outdoors. It's with great sadness that I send you this news. Finalee had been ill for quite some time. He was diagnosed with Cushing's about 5 years ago. Shortly thereafter he was diagnosed with Diabetes. Finalee's Vet and I took excellent care of him always. He had his medicine and insulin and monitored by us regularly. What a joy he was and a very happy and loving king of hearts in my home. I always made sure he knew he was the "alpha" dog as you had suggested. My heart is broken right now with his loss. I want to thank you for agreeing to sell him to me and send him so far away from you. He had a really good life and is loved and remembered by many people who got to know him. Friends, family, neighbors, work associates, Veterinarians and staff. My walks with El Capitan are not the same nor will the house seem the same again without Finalee.
Thank you for the little package of enormous joy you sent me! I'm going to download some pictures and send to you. We moved from Arizona to Houston, Texas in 2005. Finalee and El Capitan liked it much better because they had lots of grass to run around on.
Warmest Regards,
Angela

July 12, 2015
Gerry sent another update on Suzie
I have attached the current edition of The Sunday Suzie, more images of the world's most beautiful min-pin.
She is growing fast, and getting more adult in her perceptions, but still as playful as ever -- especially with other dogs in the park.
Gerry
June 27, 2015
Little Eva flew to Vancouver and was picked up by Holly and Duffy. Here she is with them at their home on the Island. Holly and Duffy plan to show Eva and have already contacted a handler.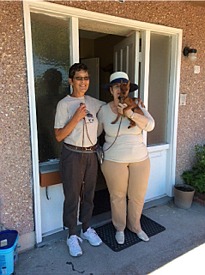 Rita is in season and the boys are going nuts. This is Flynn and Norm acting out their sexual energy. They are puppies and practice makes perfect.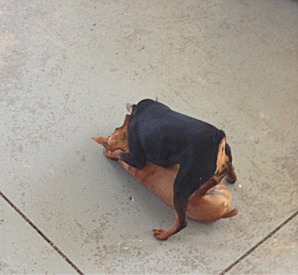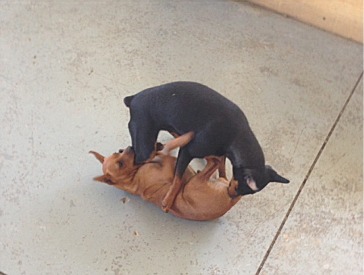 Silver was groomed yesterday. The other dogs tease her mercilessly when she gets home. It lasts for over an hour before life goes on as normal.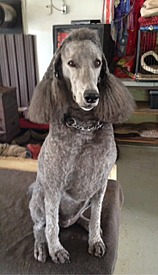 When my eggs reach their due date I take them to the kennel and roll them across the cement floor. The dogs love them! I rolled six yesterday and there were only a few pieces of shell left.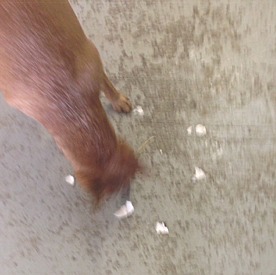 I passed a truck painting lines on the road last week and got my vehicle sprayed. This pic only shows half the paint. My black Escalade looked like a bumble bee.
These trucks usually have a county vehicle following them with flashing lights. This causes you to pass farther back with no spray. This truck didn't and I paid the price.
I lodged a claim with the County and after an "investigation" they denied my claim due to driver error. Imagine that!? They blamed it on me.
I was going to launch an appeal when my husband discovered that he could get it off with the pressure washer. Whew!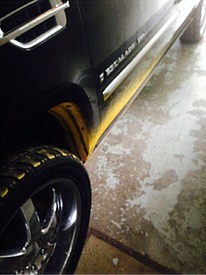 Flynn and Norm are adorable puppies. They are still looking for their forever homes. I'm really surprised they are still here. I planned to show them both as they are not only intelligent but gorgeous. Sadly Norm only has one testicle and Flynn's ears were cropped too short.

June 21, 2015
Let's start off with Gerry's update on Suzie.

Suzie continues to grow and amaze. I left her alone in the house for the first time this past Friday, while I went to the doctor. She was a bit shaken when I got home, but soon relaxed when I reassured her and took her outside. I know I am being a little too indulgent about concern for leaving her alone. She will, as everybody says, "have to get used to it," and she will, but really, I don't go out much anyway and I enjoy her company. So I'm not deliberately sticking around and avoiding going out because of her.
I love sitting on the patio under the sun umbrella with my laptop and a coffee or cool drink, writing, while she plays or sits on the chair next to me. Now and then I take a break to play with her, which she loves too.
Like Simon and Ali, she is happiest (other than during outings) when Harold and I are sitting on either end of the couch. While Simon and Ali filled the third space between us well, she has more room, and will sometimes stretch out lengthwise, and can almost touch Harold with her back paws while reaching out to touch me with her front paws. It's like she's trying to connect the "family" -- quite wonderful.
We took her to the vet last Monday morning - she is 2.5 kg now - and she took her two needles without a peep this time. Having an only dog is quite different than having two. Her toys mean a lot more to her, and she loves playing with them, especially if a human is playing too. She is amazingly intelligent and gets things very quickly. She is also very gentle and outrageously rambunctious in turns, and is making friends and admirers with all the neighborhood kids.
Gerry
We ground up more raw food for the dogs yesterday - beef, kidney, heart, liver and 20 chickens. It's a one person production line! I freeze the bags and take them out one at a time. Makes for quick nutritious meals.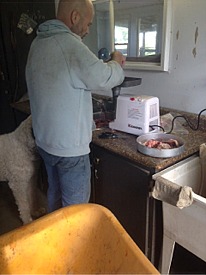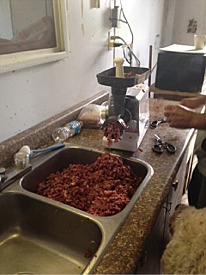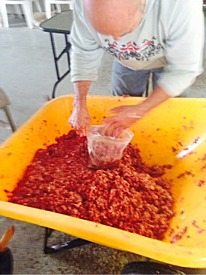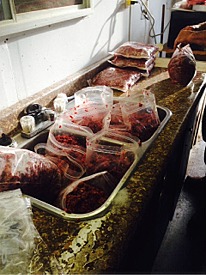 Little Eva left for Vancouver today to live with Holly and Duffy. Such a gorgeous puppy. I cropped her as they want to try and show her. Normally I never crop my pets.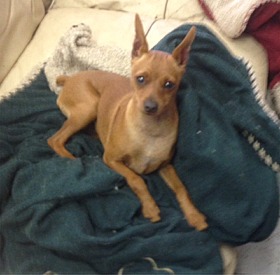 Here's something I'll bet you don't know. Black Minpins tend to hang out together - it's self imposed segregation. lol
Here they all are greeting me at the fence.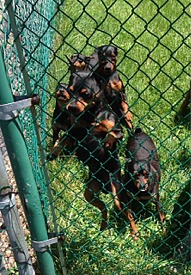 I had this painting done of Can Am Ch Patapin Sunshine Express. I posted it on FB and got a huge response about how beautiful he was. Didn't expect that.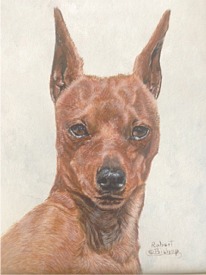 June 13, 2015
Yikes! Oliver is fat. Komondors are supposed to be lean.
In Oliver's defense he is nine years old (where has the time gone?) and he has slowed down a lot. Komondors have a 10 to 12 yr lifespan.
Too much food + lack of exercise = a fat dog. Just look at that belly. This is Oliver's favourite position. lol
I really should cut back his food as excess weight is hard on the joints. It's hard to do because Oliver follows me up to the house if he decides he didn't get enough food!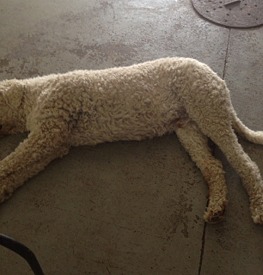 Another yikes. Poor Simon got stung by a wasp and had an allergic reaction. I keep tabs of Prendisone on hand for just that reason. I gave Simon two and it took six hours for it to resolve. There is a chance of the swelling closing the throat. Closing the throat = stop breathing. Anyone with a garden should have a few just in case.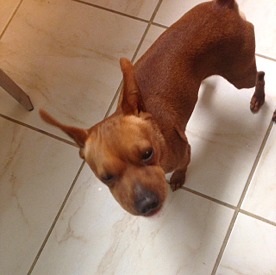 Beautiful Chloe in her new home and little Eva peeking out from under the picnic table. Little Eva is the show puppy. She is flying to Vancouver on June 21. I don't think I will keep a puppy this long again. I get too attached.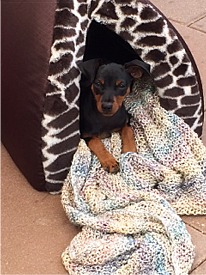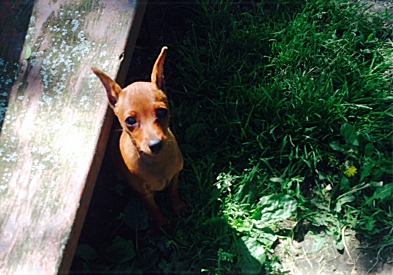 We have Norm available again. Someone put a deposit on him right after he went on as Available in early May and said he'd pick him up at the end of of May. He never showed up and I can't reach by email.
You may remember that Norm is a beautiful show dog but he only has one testicle.
Norm is the sweetest puppy ever. He crawls into my housecoat when I'm watching TV. He loves his 40 min walks and usually races ahead. He loves chewing bones even tho my bigger dogs take them away from him.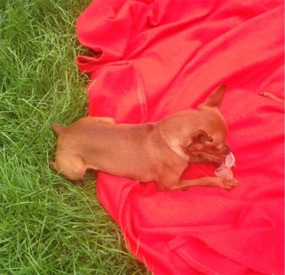 I don't think I've ever said one of my puppy's is perfect but Norm is as close as it gets. He has a very pretty face. I certainly hope the delay doesn't stop him from getting a home as wonderful as he is.

Sarge and Al have started fighting over who gets to lick my face. Problem is they fight on my chest! Lol

June 07, 2015
Let's start off with poop! Chloe is all settled in and it was love at first sight with Micah.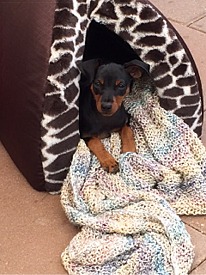 Lori was finally convinced to feed raw - the prey model diet.
It completely changes a dog's poop. A kibble fed dog has large brown poops as they are expelling all the crap in kibble that they can't utilize for nutrition. A raw fed dog absorbs 99% and their poops are very small, hard and white in colour.
Lori would send me a pic of Chloe's poop and I would comment and then send a sample of my dogs' perfect poops. Chloe's is the brown one, yes, this went on all week. You know you have gone to the dogs when you can be fascinated by their poop. lol.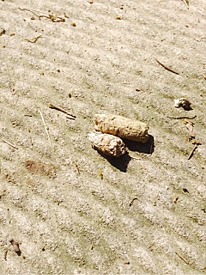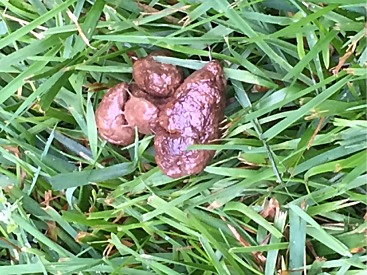 Lori's son Kody came to pick Chloe up. It's a long way to Vancouver island and Lori didn't want her traveling alone.
The first pic is the carry-on bag I purchased for Chloe. It's a ruby red, Sherpa Deluxe - the very best you can buy. Chloe traveled in style!
The second pic is Kody on the couch in my kennel. He is in the midst of Minpin immersion.
Then two pics at Sarnia airport. The employee who checks people in couldn't get enough of her!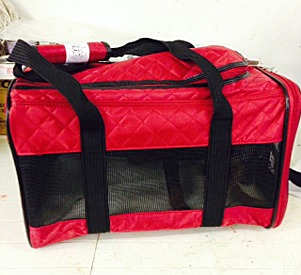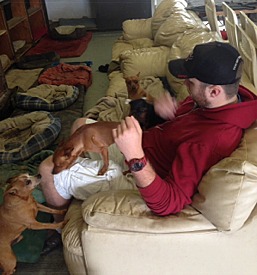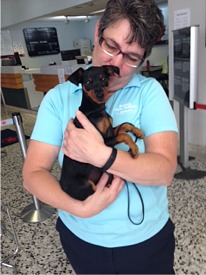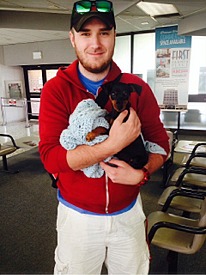 I was watching TV yesterday morning. Silver got off her chair and stared at me for 10 minutes. She was so close I could feel her breathing on me. She wanted to go for a walk. After ignoring her for as long as I could, Silver won and I got up and took her for a walk. lol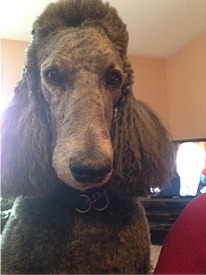 I cooked a beef roast and brought the pan to the kennel for the Minpins to clean. As you can see, they attacked their job with enthusiasm. People are constantly amazed how well my Pins co-operate over a special treat rather than compete for it by fighting.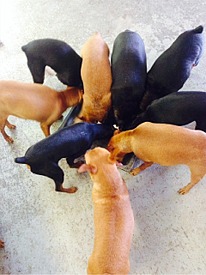 We got an estimate of $2,500 to have the dead branches cut from our trees. Of course Gaston refused to pay that and did it himself under my supervision. So far we have spent three half days. If my husband doesn't fall off the ladder it will be worth it. Fingers crossed!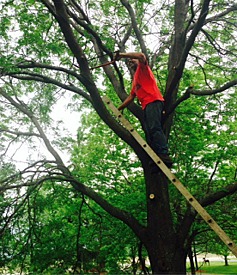 May 31, 2015
Today I'm starting out with a first in almost 20 yrs of being in Minpins. A commonly held belief is that Minpins and young children don't mix. I always believed that the Patapins would be different. Now I have proof! Many thanks to Anne Marie for sharing this very precious moment.
"I read your blog often and know from experience that your dogs have a different temperament than most Minpins. Whenever we go out or to the vet, people always tell us that Sara is a lot more friendly and loving than other Minpins. Your dogs are unique and we are seriously considering a friend for Sara in the next two years.
We are so proud of Sara and her behaviour with the baby. She licks her and checks on her multiple times a day. Sara never steals her toys and whenever we leave (honestly once a week for an hour and a half at most to go shopping) she always goes to the baby first in the car seat when we walk through the door". Anne Marie May 27/15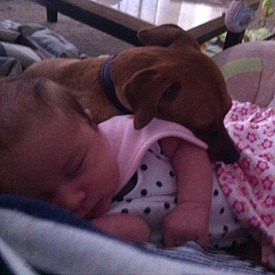 My favourite puppy leaves tomorrow. Lori has named her Chloe and she is going off to join her half brother Micah on Vancouver Island. I have never had a smarter puppy with this much personality. I will really miss her - may even shed a few tears.
Lori has sent her son to pick her up. He flies into Sarnia tomorrow, gets Chloe and flies home with her in the cabin. Nothing but the best for Miss Chloe.
In honour of Chloe's leaving I have posted a series of pics in an attempt to show how special she is. My favourite is the one where I caught her with peanut butter on her nose!
First is the pic of Micah - see how much they look alike?
| | | | |
| --- | --- | --- | --- |
| Micah | | | |
| | | | |
| --- | --- | --- | --- |
| | | | |
| | | | | |
| --- | --- | --- | --- | --- |
| | | | | |

I am going to end with something delightful. We have heard from Gerry and Harold before. This is their latest update. I hope these continue as they always make me laugh out loud.

Here is the latest "Sunday Suzie." I hope you like it.
Suzie is learning and growing. She now goes for walks, and lets me sleep in. We had Harold's 70th birthday party last night, so I'm not in the best shape today since I don't generally drink, and won't say any more - except that she's happy, we're happy - and the pictures speak for themselves.
Gerry
May 24, 2015
This is Tim and Cammi. I pulled 3 ticks off Tim yesterday. They were in his arm pits. I have found ticks on many of my Pins and Also Silver.
Then when I went to bed I felt a bump in my hairline - you guessed it a fat tick full of blood. Then I felt tickling down my leg. Again a tick looking for a place to latch on.
Yikes! I'm having a terrible tick problem this year.
Just after I finished writing my blog I found this huge tick right between Oliver's eyes. It's a strange colour for a tick but once I pulled it out with my tweezers the legs were unmistakeable. Yuk!!" I have asked Gunter to put this pic with my tick update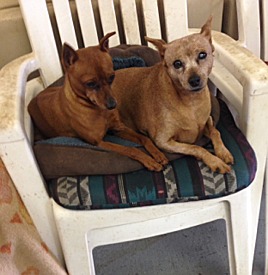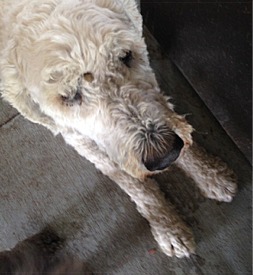 Yesterday was pool time! The weather has been cold most of the month but was finally good enough to get them going.
Last year 's dogs remembered them and they were brand new to the puppies and Sarge who quickly caught on.
I filled the small turtle pool and the big blue pool. Cammi is the #1 fan and jumps in after every walk. Sarge, Karma and Sunshine also love the pools and are teaching the others. Soon they will all be in there.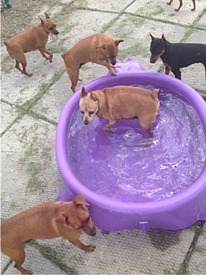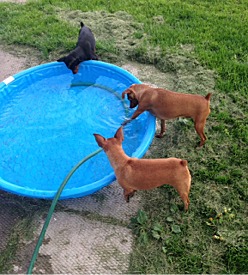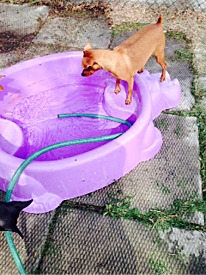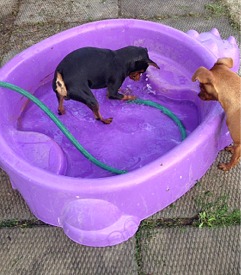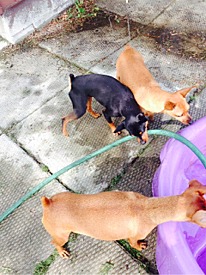 The warm weather has made the pond very popular. Again Cammi is the number 1 fan but they all go in. It is impossible to go by the pool without Belle going in until the water hits her chin.
We are all enjoying the walks. I took the walking pic and didn't realize until I looked at it how the blacks stick together. That's all the blacks sticking together on this morning's walk.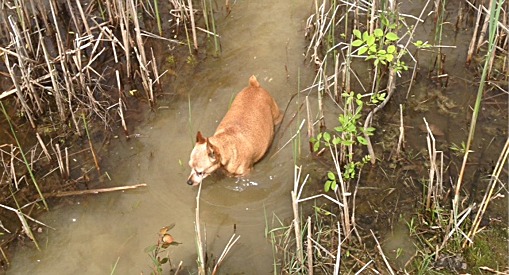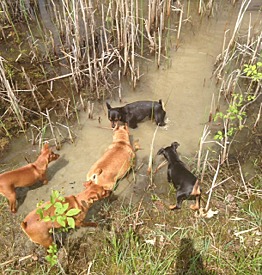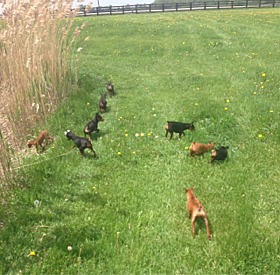 Summer is so much better than winter!

I am looking for a good home for Flynn. He is the puppy who had his ears ruined by Dr Anne Mitgarten from Ohio. Flynn is an amazing boy. He is absolutely gorgeous. He was going to be my show puppy for. 2015 but I can't show him with ruined ears. I get a dull pain in the pit of my stomach every time I look at him. He will be on the Available page along with Tim.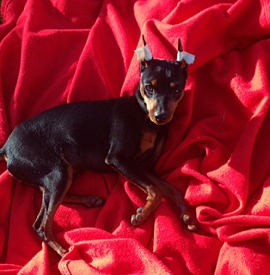 Let's end on a happy note. This is Chloe playing with Flynn. She will be flying out on June 1st to join her half brother, Micah, with Lori on Vancouver Island. I told Lori her life will never be the same. lol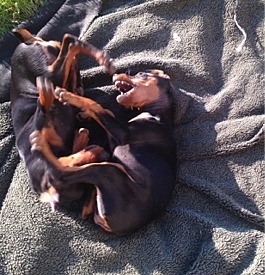 May 17, 2015
I wanted to start off with the best inquiry I have received in over 15 yrs. Needless to say he is getting a puppy!

"I was looking on your website and wanted to send a note to ask about any current or future puppies.
My partner and I live in the Beach area of Toronto - about a block from the dog park and the water. We run our own business - an eyewear distribution company - and work from home. Our dog and cat are almost never left alone (other than if we're out for dinner for a few hours). We have a fully fenced backyard that is very dog-proof - our dog and cat spend a lot of time out there enjoying the sun. On the occasions when we have to be out of town for business the animals stay with my mother who lives in Brantford and has two dogs of her own.
The only dogs I've had in my adult life have been two min-pins - starting with our dog Trix who was a stag red min-pin - I got her in 1997 right shortly after university and she she passed away in early 2014. She was an amazing friend. In March of 2011 we got a chocolate brown min-pin Chloe.
When I got Trix it was honestly a bit of an impulse decision - I had grown up with dogs my entire life and planned to get one. I was with a friend getting a puppy and made the decision on the spot. Min Pins have since become my favourite breed - I love how spirited (and bossy) they are, and I think they are the most loyal dogs I've ever seen.
Our dog Chloe has also been a great companion. She loves the outdoors and even the water (which most min-pins I meet don't seem to - Trix hated the water). She was diagnosed in January of this year with auto-immune mediated encephalo-meningitis (GME) and is being treated for this with a mix of prednisone as well as cytozar shots. She has responded well to treatment and I am cautiously optimistic about her making a long-term recovery. We just found out that another of her female littermates is being treated for the same issue at the same animal hospital as Chloe. I am doing whatever I can to help her get better - in addition to her regular treatment at the Veterinary Emergency Hospital I'm also engaging a holistic vet who is helping identify some vitamin regimens that have shown promise in keeping this disease in remission.
It took a while to grieve for Trix and I didn't want to rush into getting another dog. Late last year I decided to look at getting another dog but with Chloe's illness I put that on hold. I'm now feeling like we've turned a corner and it is a good time to at least start thinking about bringing another dog into the household. Chloe has regained most of her old energy and habits - and she really loves other dog company.
We also have in the house our cat Mulligan who was a stray we got in 1998 - although very old he's still in good health. He's spent his whole life with min pins so he's very used to them. He is particularly close to Chloe.
We would really be looking for a companion dog. I've had two females but I'm open to either (I grew up with male dogs - it was really my mother who talked me out of a male when we got Chloe by saying they were harder to house train).
In terms of training, Trix was crate trained. Chloe wasn't as she was never really left alone and she took a lot of her cues from Trix (she has the habit of a long morning nap in bed every day). She is completely house trained, great on leash and off (although I am very cautious of only letting her off leash in the safety of the park) and generally very well behaved. I will say that she does like to bark and I have not been able to find a completely effective way to control that (I tried the can of air - which worked for a while but she soon learned to ignore it). Most of the time she is fairly good - it's primarily when total strangers come to the house that I find her barking a challenge to control.
We don't have children but many of our friends do.
Sorry for the long email but wanted to let you know about us - and wanted to be very open about the current situation with Chloe and her illness as it is an ongoing thing we are managing. I think we can provide a great home for another dog - and we have a lot of experience with the breed. I know I probably should be considering a rescue dog - but honestly I really just love min pins.
As I mentioned, I'm not in any rush - but please do keep us in mind for any current or future puppies. Or if there is an adult dog who needed a home I'm also open to that.
Jamie
April 5/15"

Speaking of good homes, I received these pics this morning.
Holly from Vancouver Island sent a pic of the bed she purchased for Eva. It's heated and matches their furniture!
Then pics of three recently placed puppies - Emma, Suki and Dexter enjoying the good life. Only the very best for a Patapin puppy.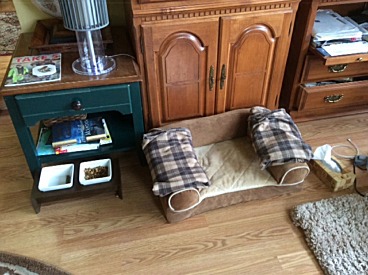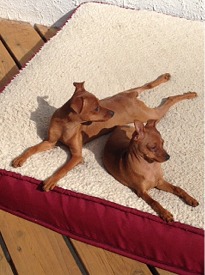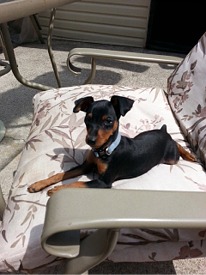 This is Eva, the only show prospect I have ever placed and the only placement I have ever cropped. She is in the last stage of getting her ears to stand and will be joining her new mom soon.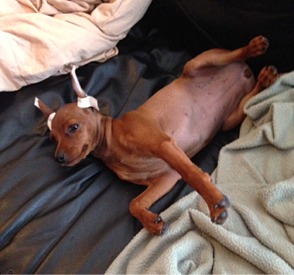 Can you tell the Pins are happy the sun came out? Finally, they can sunbathe.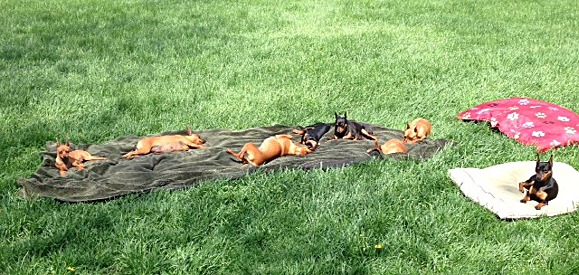 May 10, 2015
Stephanie and Gaige arrived from Hamilton to pick up the black boy. They have named him Dexter. They were very excited! Dexter is going to have a wonderful family.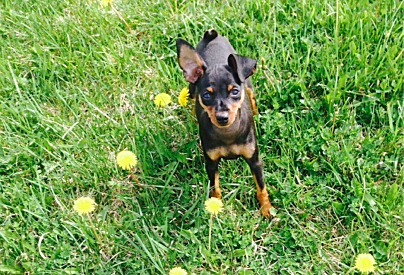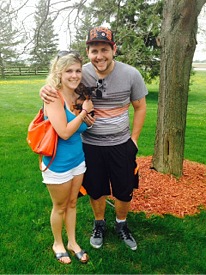 The big black girl Chloe is quite a character. After a long walk, she crawled under a dog pillow to have a nap. Half an hour later she crawled out to join the others. Chloe leaves on June 1. Lori has her brother Micah and Chloe will be joining them on Vancouver island. Lori's son is flying into Sarnia for Chloe, then back to Toronto and then a few hours later on to Vancouver. It's going to be a long day.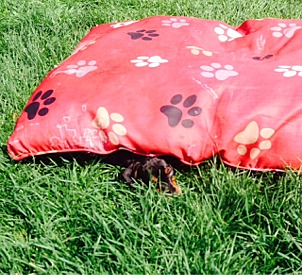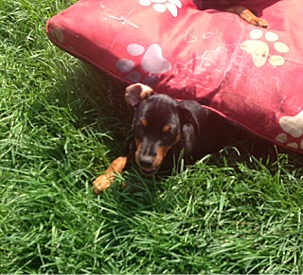 We walked this morning and everyone had a dip in the pond. In the first pic you can see Belle in the upper left corner.
There are small creatures swimming in the pond and the Pins do their best to catch them.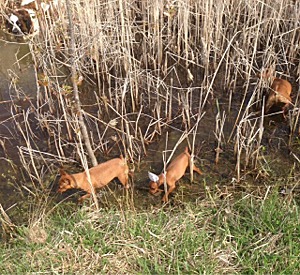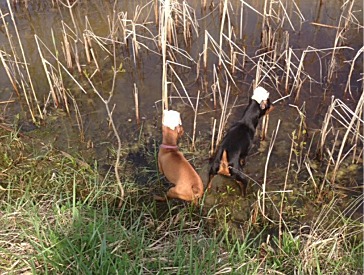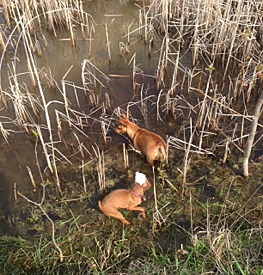 Then we have Evangeline. She is the show prospect who will fly to Vancouver Island to join Holly. I have warned Holly that she is a very tiny girl who isn't going to stand out in the ring. They are ok with that as temperament is their # 1 priority. Eva is a sweet, easy going girl. She was having so much fun in the walk that her smile is unmistakeable.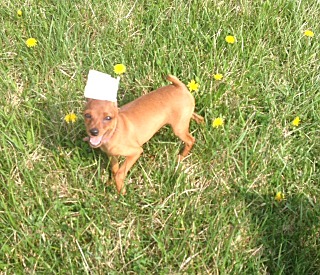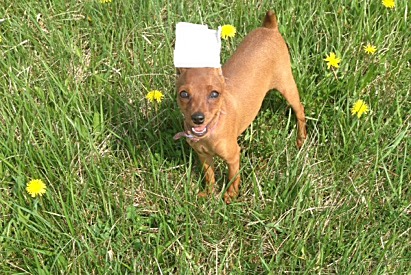 I will end with one of the cutest pics ever. This is Beauty and her daughter sleeping head to head. It has joined the ranks if one of my favourites. May 10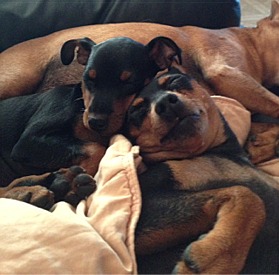 May 03, 2015
I have seen the face of true evil. I have had some terrible things happen since I"ve been in dogs. Sadly most of them have not been dog related but related to the people who breed dogs. In the last six weeks I have had three horrendous experiences, the last one just this past week. It has caused me to suffer stress to the point that I have a dull ache in my chest. The first was when my American breeder friend asked me to sell a puppy for her and then instructed the vet to euthanize him when he got sick. She then refused to reimburse me for the vet bill. Then there was the new puppy owner who called my seven times in one day, frantically complaining that the puppy he had picked up 12 hours earlier was "a sick little girl". After countless futile efforts to reassure him she was just stressed he insisted on getting several blood tests and a $500 vet bill. Twenty four hours after he took her home she was fine. He suddenly stopped calling when she improved and of course all the tests were negative. This man is a doctor and his "credibility" convinced me that I had sold a sick puppy. No more contact no apology for over reacting.
Now we have something so terrible that I am sorry I lived long enough to see it happen. A US vet that I had been going to for two years intentionally ruined my new show puppy's ears because she doesn't like me. Several months ago she asked me to find another vet as "I got too upset" about the complications I has having.

My Canadian vet had taken an extended period of time off and a US breeder friend offered to take Flynn with her to be cropped along with her litter. I didn't realize the crop was ruined until I took the sponge off. For a while I was in denial and kept taping to try to get them to stand. When the realization hit that she had intestinally disfigured my puppy I was sickened. I took him to my vet for a $300 re-crop and his ears have improved but they are now short, thick little Schnauzer ears. It brings me to tears every time I look at him. This constant reminder of evil has devastated me.

The vet is Dr Anne Mitgarten in Ohio. I posted what she did on FB. The shocked, outraged responses were overwhelming. It was suggested that I report her and I am looking into doing that. I believe in Karma. I believe that Karma will get her. The only thing I don't understand is why I seem to have such bad Karma. As most people know, I keep to myself and live for my dogs. So very hard to accept.

Although my heart isn't in it, I must drag myself out of depression and talk about my dogs.

The last red girl left on Friday. Harold came from Toronto and purchased two male pups from me in 1992. He recently lost them both to disease and old age and came with his new partner Gerry to pick up Dora. This is a pic of Harold and Gerry meeting Dora and a pic of Harold and Dora once they got home.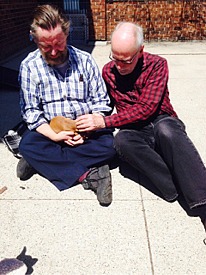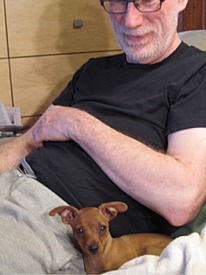 I often walk Silver on an isolated country road. This week I took Eva. I may never get a lead on this girl again. She reveled in the total freedom. She zig zagged in and out of the bush and stood and admired the view. So much fun to see life thru her eyes.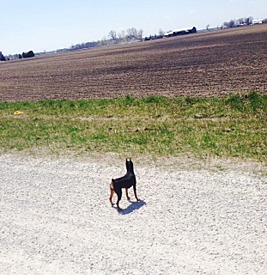 Sweet little "Evangeline" had her ears cropped. She is going to be a show prospect for Dr Holly on Vancouver Island. As you can see she had big floppy ears and it made a big difference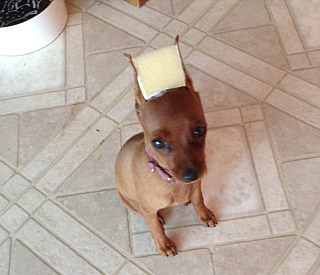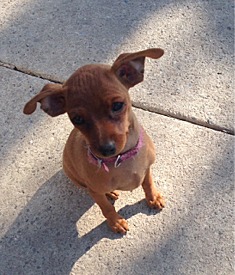 Yikes! Spring brings brings bird and mouse catching. My little hunters are hard at work. Karma couldn't be prouder of herself.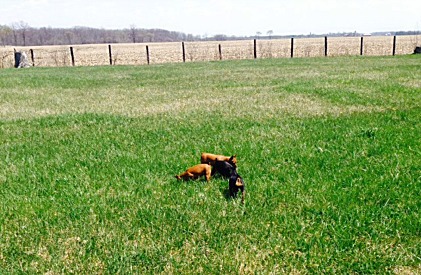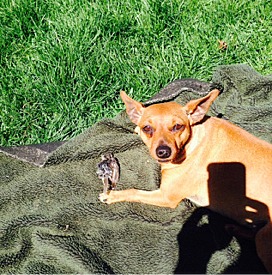 Sweet 13 yr old Cammi mothers the puppies. Their mother Beauty gave up on them weeks ago but grandma is always there when you need a cuddle.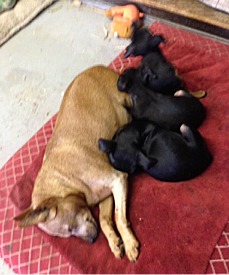 There is one black puppy left. Here she is sleeping with Dora.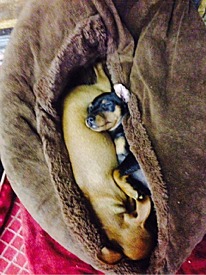 Belle is delighted to be back in the pond. She doesn't even mind that the water is green. Yuk!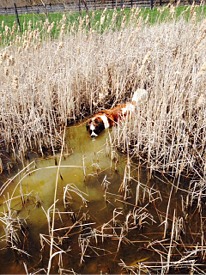 We have updated the Endorsement page with a humorous report from Harold about Dora

April 26, 2015
I learned a lot about stress this week. I have dealt with stress most of my adult life and I thought I was an expert. lol
Last Sunday a couple arrived to pick up their two red girls.

The man called at 7:00 am the next morning and said they had been up all night with the small puppy. She had been having small squirts of diarrhea, I told him it was likely caused by stress and suggested he monitor her for 24 hrs. He said that she was a "very sick little girl." His calls increased in frequency as his anxiety grew. She was drinking but refusing food. Guess what, anxiety is contagious and he had me wracking my brain trying to think what else could cause it. Her five littermates here were active and healthy as was her bigger sister. I could only think of stress.
He couldn't accept that said he would take her to the vet. Before he took her, he fed her cut up pieces of steak which she "gobbled up".

There is a range of temps that are considered normal for dogs ending at 102.5. Hers was 103 degrees. He had blood drawn for a wide range of tests. I talked him out of Parvo which is a very expensive test and there was zero chance she had it. I spent hours pacing the floor during and in between his calls. He had me convinced that I sold him a sick puppy.
The vet drew blood for a series of tests. They sent him home with a prescription for Metronidazole, a common medication for drying up diarrhea and a bill for $500. The test results were to be ready at 7:30 the next morning.

The medication worked almost immediately and she became very active and happy, even "bossing her bigger sister around". She slept well and had a huge appetite.
The next morning, I called the woman to see if the test results were back. She said "not yet" and would let me know. She told me how happy she was with them both and told me they were hilarious to watch and so easy to manage. Despite no test results, she wasn't worried any more. Later that afternoon she sent me a text that all the tests came back negative.

As it was stress related I did some research on the Net. I found that stress can cause diarrhea and anorexia. That I knew. It can also cause elevated breathing. Elevated breathing raises the body temperature. That I didn't know.
I also learned about my own stress. I quickly absorbed this man's stress and escalated along with the man. I was completely devastated to the point of telling the man that I was going to quit breeding. I paced and I couldn't eat. I couldn't sleep that night.

I have heard that constant stress can make you very ill and I believe it. I was completely exhausted when it was finally resolved. This all occurred in a 24 hr period that seemed like a week.

I have been breeding for almost 20 yrs and I'm still learning.

All is well with the girls as this pic shows. The woman named them Emma and Suki.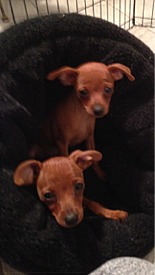 Beauty tried to put her baby boy in his place but he retaliated. He soon got the upper hand and ended with a big bite out of mom's neck.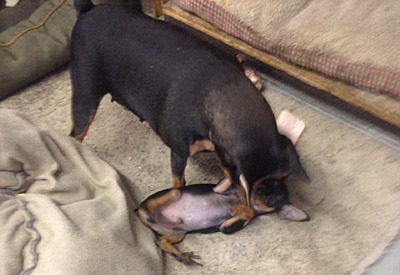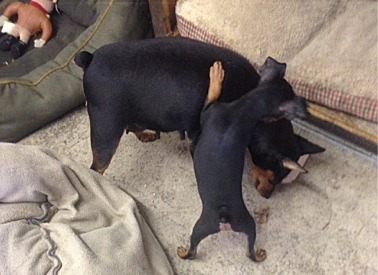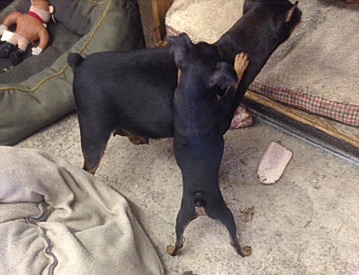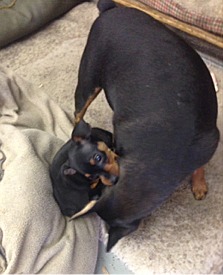 Rita is the best mother. She loves 1 on 1 time with her babies. This girl is the one that is looking for a home.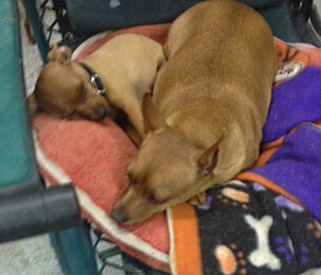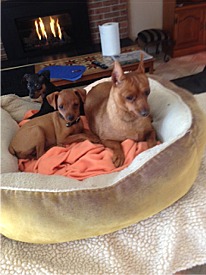 Gaston woke up Saturday morning thinking he was a mechanic. He was determined to change the brake pads on his old car. After an hour if frustration, he is off to a professional on Monday. lol.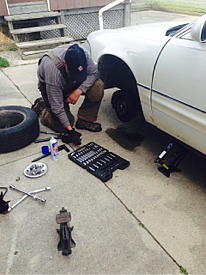 No spring yet. Low temps during day and below zero at night. Actually woke to snow on Friday morning. Yuk!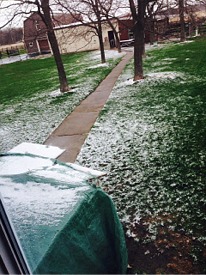 April 19, 2015
First, my apologies to Gerry, (G.P Keith). He was the skilled author of the beautiful illustrated version of 'life with Simon and Ali.' Harold sent the initial email and they both took the photos. There was a lot of response to that posting. Many readers said it brought tears to their eyes.
Gerry is thinking of writing a much longer version as "there are so many memories and good times

Now on to puppies , puppies, puppies! I had eight wonderful families who met all my requirements. Two red girls and one black girl went to people who either have or had Patapins. That left one black boy. I agonized over the decision. There was overwhelming interest. I ended up picking a couple who were at home most of the time and had many family members wanting to help with babysitting, socializing etc. there enthusiasm was over the top!
Although I felt terrible disappointing so many quality homes I was also humbled and grateful by all the families who recognized that Patapin really are special.
For the first time in 20yrs of breeding I have agreed to place a show prospect puppy. Now that was and is stressful. Her puppy will be cropped in two weeks and when the ears are healed and standing I will fly her out aprox mid June.
The family is arriving this afternoon to pick up their two girls and I was still assessing and changing my mind about which one I will keep at noon. lol. It's a very consistent litter, which is preferred. The downside is that they are all so similar than it's "brain wrenching" to choose.
So out of seven puppies I kept a red show prospect girl and a black show prospect girl. Five have found wonderful homes.
The weather has finally warmed up and the puppies are coming on the 30 minute dog walks. They are all healthy, very intelligent and energetic.
I will leave you with many puppy pics showing them participating in life at Patapin. Enjoy!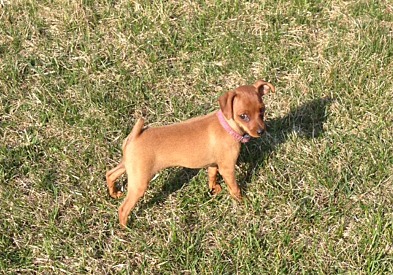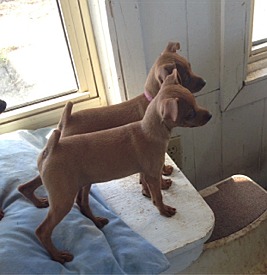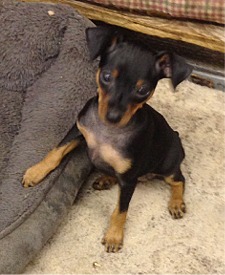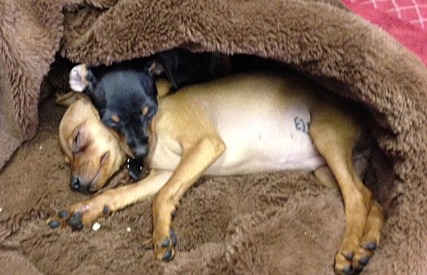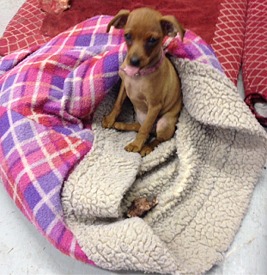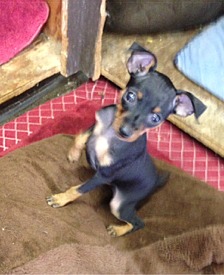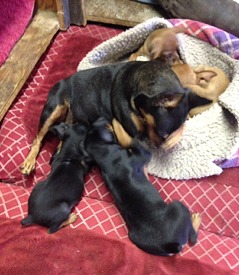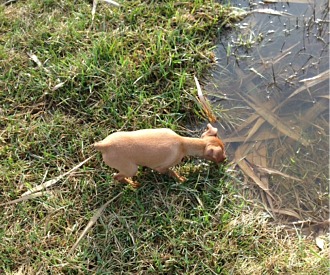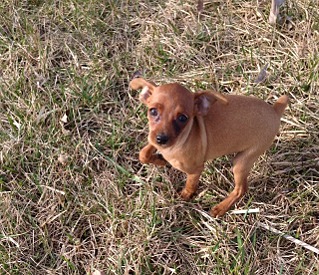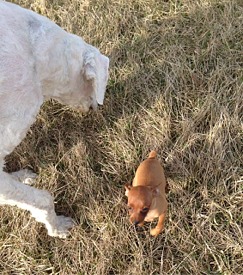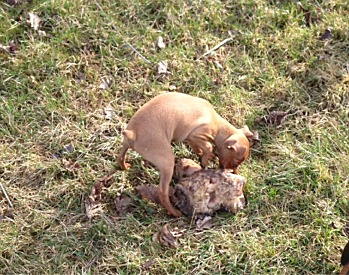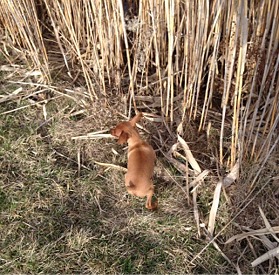 We know it's spring when Oliver has his annual April ritual. His coat was taken off at the groomer's and his nails were cut. Oliver is very laid back and stoic. He is a favourite with his groomer who looks forward to seeing him every year!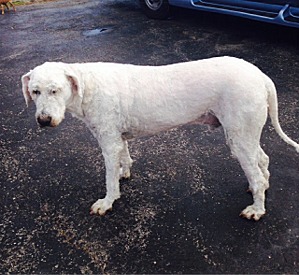 April 12, 2015
It's been a while since I had a gripe so let's deal with before we move on to more pleasant things. I have a breeder- friend that lives in Michigan. She asked me if I would sell a puppy for her and send her the money. I was ambivalent at best but agreed because she had been a good friend for several years. After Nat had been here for about a month he got very ill. I messaged the owner and she replied that she "didn't have the funds to pay for a puppy that was perfectly healthy when he left there".
I took him to the vet and she wouldn't assess or treat him with out the owner's consent. I called and handed the phone to his owner. The vet said Nat was very ill and it was either congenital heart disease or pneumonia caused by aspiration. She recommended a $300 x-ray to confirm the diagnosis. Owner refused x-ray and instructed the vet to put him down. Vet told her Nat's bill for his exam and euthanasia would be $202.49. I was so embarrassed in front of the vet as I tried to get her to agree to pay. It was like pulling teeth but she finally agreed.
I held and comforted Nat while he was injected. Nat screamed and it was the first time I had a dog cry out. It is usually peaceful. I was devastated. The vet wrapped him in a towel and I sat with him in the quiet room until I composed myself.
The day after I got home I scanned the invoice and sent it to her. She laid out five excused why she couldn't pay. The most outrageous one was that it was my fault, even tho I heard the vet tell her three times that it was congenital heart or he aspirated resulting in pneumonia. After trying to reason with her with no success I was hurt and frustrated. As a final resort, told her I would sue her in Small Claims Court.
That got her attention and she angrily told me she would make four $50 payments starting next month. Not once did she thank me for taking care of Nat nor did she say she was sorry for what I went through.
Thinking of Nat still brings tears to my eyes and having to fight to be repaid made the whole experience horrendous. Reminds me of the saying that. " bad things happen to good people
| | | |
| --- | --- | --- |
| Nat. | Nat being examined. | Nat wrapped in towel on my knee. |

Patapin has had its first indication of Spring. Oliver got his coat removed on Saturday. It is an annual event and Ollie always looks so relieved and grateful to be rid of it.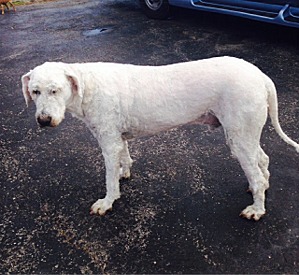 I received this email yesterday and still haven't found the words to reply to Harold. I am posting this and Harold's summary of life with his two Patapins because it so poignantly describes the loss one feels at the death of their furry family members. My heart breaks for Harold and Gerry.
Dear Mrs. Gauthier,
I am writing to inform you that Simon and Alistair are no longer with us. My roommate, Gerry, and I miss them greatly. I would have written earlier, but was not ready to do so. My whole neighbourhood misses them as they were very popular with all the children, many of whom have grown up seeing them on a daily basis in the warmer months.

We had over twelve wonderful years with the best little dogs in the world, even though the past year was very difficult. Alistair had his first bout with pancreatitis when he was eight, with an increasing number of recurrences since then. By the middle of last year his kidneys were functioning at only 20-25%. A week before Christmas in 2013, Simon suddenly came down with diabetes. By the end of February last year he was totally blind and his eyes then ulcerated so badly I had to have them removed. He adjusted to the new reality remarkably quickly and soon was very much back to his old bouncy and opinionated self. Alistair had a very difficult time at Christmas 2014 and was recovering a little when, at the beginning of January, Simon suddenly went downhill. The emergency vet said that the diabetes had dramatically affected both his kidneys and his liver (he had been thoroughly examined less than two months before and was doing quite well). Simon died first and then Ali gave up. Simon had been his go-between with the world and, without him, Ali was completely lost and seemed to say "I'm outta here!"

Gerry has compiled a history of our lives with the pups, which I am attaching. I hope you enjoy it and get a sense of how much they meant to us and how we tried to do everything for them.

I am not ready (though Gerry is) to get another dog just yet, but wonder whether you might have another red min pin for sale either later this year or, next spring. The latter is probably preferable. We would not want one with ears that have been clipped. For Alistair, in particular, his ears were a defining part of him. As one fellow, sitting on a bench in a local park remarked, "Wow! That dog is all ears!"

Seen from a certain angle, he was! The saying in our house was that while Ali had big ears, Simon had pig ears (the shape was remarkably close). At the moment we are thinking of one dog, but that may change.

Another thing I would like to say is how often we were complemented on Simon and Ali's temperaments. We never really thought about it as they were so good with us, but the vets were really impressed (all said that most min pins snapped or bit). During the pups' many visits to the vets, neither ever bit anyone or gave any trouble. Simon was considered so adorable that there was always a lap at the front desk for him if he wanted to be out of his cage. And Ali, who loved to wrap himself in a blanket with just his nose sticking out, was considered something else.

Most sincerely (if rather sadly)
Harold
For more please read SimonAndAlistair.pdf

April 05, 2015
Where to start? It's been a while since I sent in an update to Gunter. He has been gravely ill and is still not completely recovered.
Mother Nature played an April fool's joke on us. This is what I woke up to on April 1st.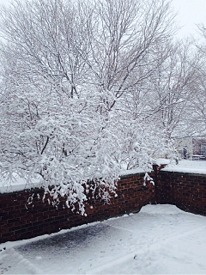 The puppies are maturing beautifully. Rita's red girls are running, jumping and running everywhere two have even come on the 20 min walk in the fields!
As you can see, the repeat breeding of Eva produced lovely puppies. They are almost three weeks younger than the reds and not quite as brave. They still like to nurse and even tho they are weaned and have teeth Beauty is a patient and indulgent mother. (Pic to follow)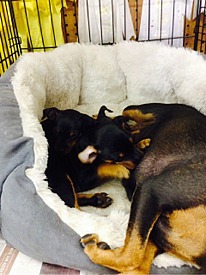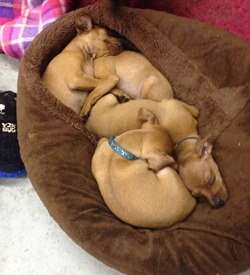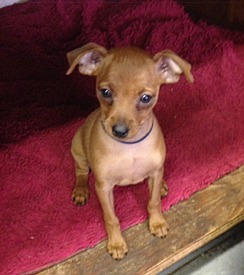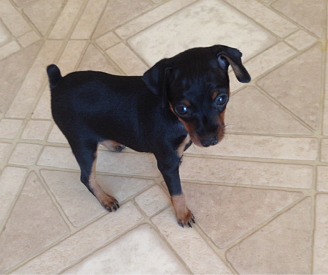 While we are on the topic of puppies my breeder friend sold me a show prospect puppy and sent along his brother for me to sell. Nat is tiny and is the sweetest, most cuddly puppy ever. He has big ears and they're trying to stand. Right now one is up and one is down which gives him a comical look. Nat will make a loving addition to the right family. His price reflects the fact that he is not a Patapin.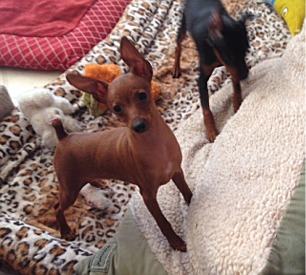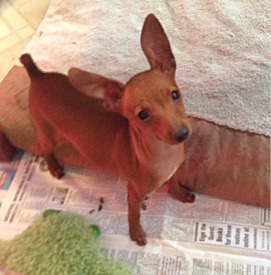 I have Nat Available. Two of the red girls are going to the same home. One black girl is joining Micah in Thunder Bay. So I have a red girl and possibly a black girl looking for their special family.

I paid for a professional photographer to take pics of Eva in the ring in New York. They did a good job and captured that she is stunning and the best thing I have bred in years. I am showing her in Canada and the US and look forward to having a lot of fun.
I am going to end with one of my favourite puppy pics - enjoy!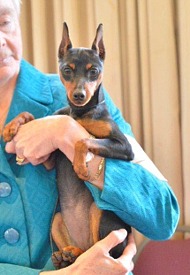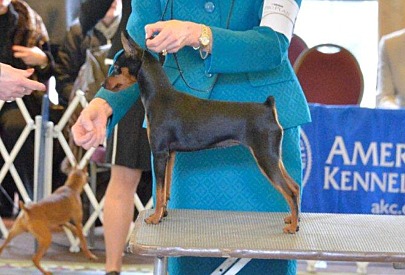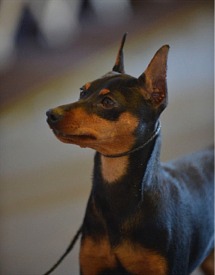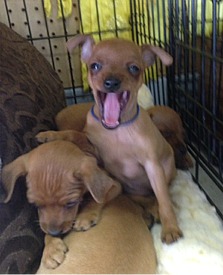 March 15, 2015
We leave Florida on Tuesday and Eva has a show on Sat. I have never come so late in the season and the weather has been fabulous - if anything too hot and sunny.
Eva and I have walked for hours every day. Gaston sent me a pic of a dog walk he did yesterday and it reminded me how much snow we still have left.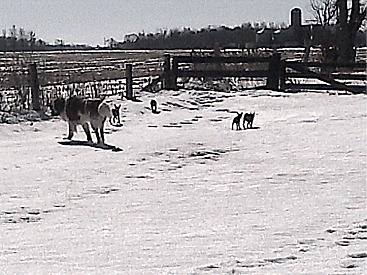 I took three pics of Eva just after we came in from three of our walks. The first walk, she made it to the den before she collapsed on the carpet with Palm trees.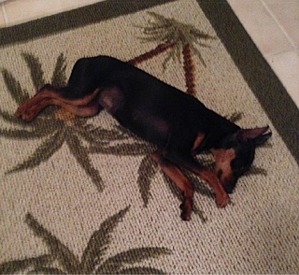 The second day, she made it to the bedroom before she collapsed on the white carpet.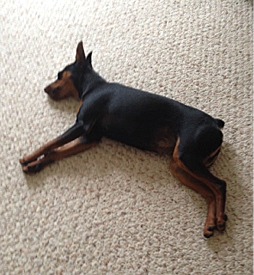 Today, she only made it to one of the "pee pads" I put down before she collapsed. If you look closely you will see that Eva is so tired that she doesn't even notice that her head is on a pee stain. lol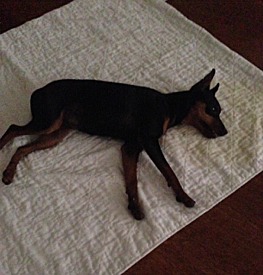 I can't wait to see the puppies. You should see a big difference when I put their new pics up next weekend!

March 06, 2015
Let's start with new pics of Beauty's babies. Since last weekend their eyes and ears have opened. They are struggling to get up on their legs but mostly crawl on their bellies.
Big news is that they moved downstairs on Friday. I am leaving for Florida late Saturday so Gaston will take over their socialization.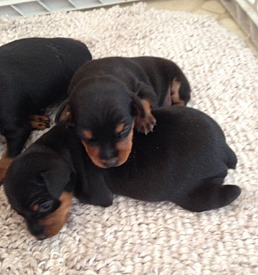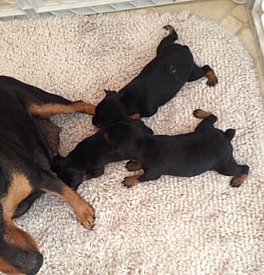 Moving on to Rita's girls. They get cuter every day.
Up until last night, Flynn slept in the house with Cammi. I noticed that the puppies be reluctant to crawl out of their pen. The pen is open on one side and at this age puppies are usually coming out and exploring the family room.
I finally figured out what the problem was. Every time a puppy ventured out, Flynn would pounce on it. Then he put his jaws around it's neck. Yikes! The pups were being traumatized and at such an early age. I feel terrible!
Needless to say, Flynn moved into his own crate in the kennel last night. After I put everyone to bed and turned off the light, Flynn was screaming his head off. He will adjust but I felt sad for him.
Speaking of Flynn, his show training and socialization is progressing well. I take him to Superpet on a regular basis. The staff couldn't be better at helping to socialize. I took this pic the last time we were there. After playing with one if the employees Flynn sat nicely for a pic. He is high spirited and a challenge to manage. However his sweetness always shines through.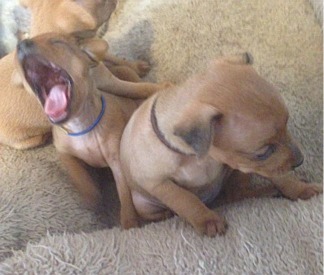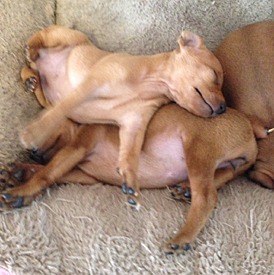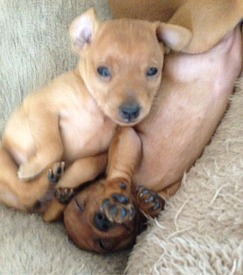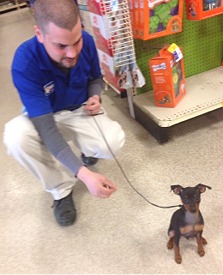 March 01, 2015
Rita's pups are coming along beautifully. They are up on their legs and moving around. So far it looks like a show prospect litter.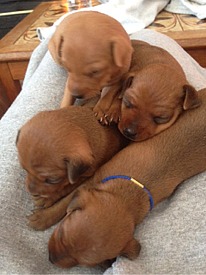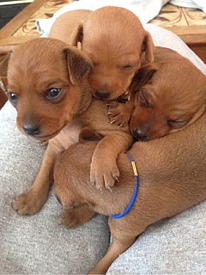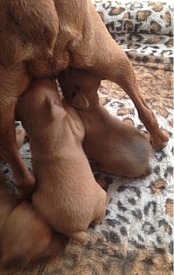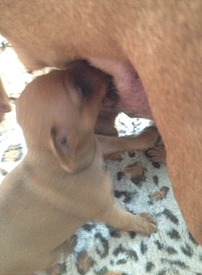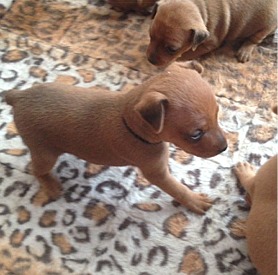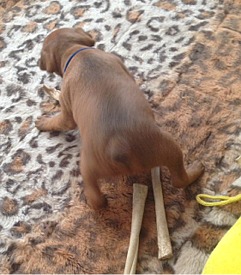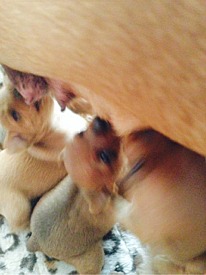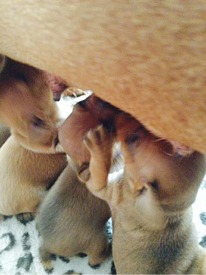 Beauty's pups are thriving. It took me three days to clear up her mastitis. The pups were able to nurse enough until it was cleared up and So relieved that I didn't didn't have to bottle feed. Beauty is eating like she has a litter of seven. So rolly polly I will start cutting her back today.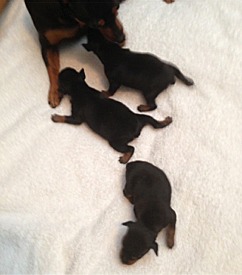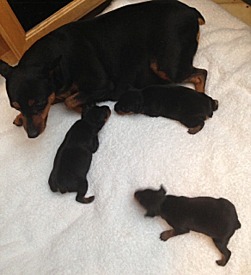 I leave for five days in Florida on Saturday. I get back on Thursday and then off to a three day show on Friday. Busy, busy, busy. All going well. Couldn't me happier. Maybe 2015 is my year. After four years filled with tragedy I'm over due.

I paid $500 for ringside pics at Progressive and Empire Specialties in NY. I just received 100 gorgeous proofs. I will pick my favourites so look for them in next weeks update.

February 22, 2015
Our trip home went smoothly. The last time the maid cleaned our room we stayed to watch. Eva was fascinated with the vacuum. When she was finished, Eva gave the maid a big kiss of appreciation. The woman reciprocated by blowing Eva a kiss on her way out.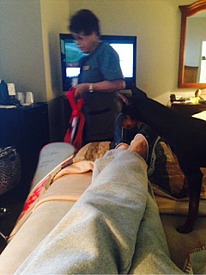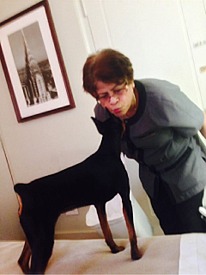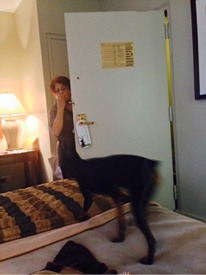 We took a taxi to the airport and this is one of the parting pics of New York that we saw out the window.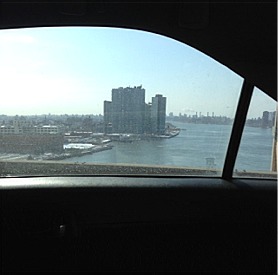 We had a wonderful time! In addition to taking Reserve on Friday, Eva won the Sweeps on Saturday. She defeated everyone in the Sweeps. These same Minpins were entered in the Breed show just after and Eva didn't win anything. Welcome to dog show politics! However I had several Minpin breeders come up to me after and tell me how beautiful Eva was. After complimenting her individual attributes they told me she was the total package. A woman in the breakfast room told me that she has been in Minpins for 50 yrs and Eva was the best she had ever seen!! Wow. So good for my ego. I floated all the way home.

Bella found the best home! The family had purchased a female from my very first litter in 2001. and called her Angel. They were overjoyed to meet Bella and take her home. As you can see, Bella took to her instantly and everyone left with big smiles.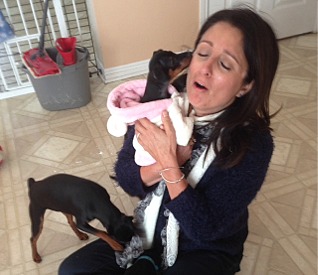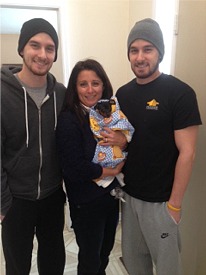 I saved the best news for last. On Wednesday morning Beauty was so full of milk and puppies that she was completely miserable. By mid afternoon she started labour and by 7:00 pm she had whelped a boy and two girls!

Same as last time Beauty developed mastitis. This time I got right on it with aggressive treatment - antibiotics, hot compresses and cabbage leaves. It is now day 3 and I have it under control. Whew. Breeding puppies is a lot of hard work.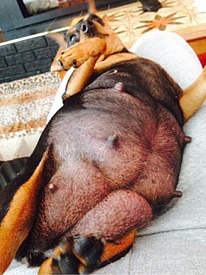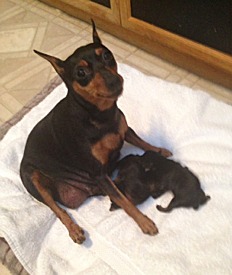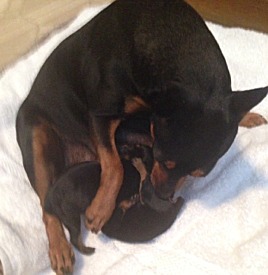 February 14, 2015
Let's start with a pic of Rita 's pups at four days - tails and dews removed without incident. They are content, chubby and thriving.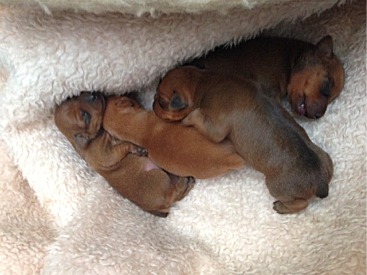 Tim Tim's family arrived to pick him up on Monday. Tim is the smallest and is taking a few days to settle in. Family did the right thing by letting him get used to a smaller space first. They report improvement every day.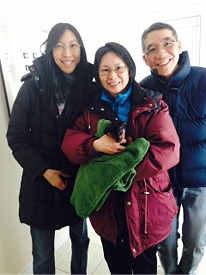 Lori flew in on Tuesday to pick up Micah. She brought me two beautiful pairs of hand knit socks and a couple of warm touques for Gaston - much appreciated!

You can see that she thoroughly enjoyed her almost 24 hrs of Minpin immersion - lots of doggie kisses. The last pic is of Lori and Micah at the Sarnia airport waiting got their plane to Toronto and then on to Victoria - such a long trip!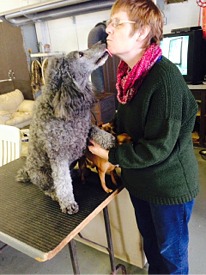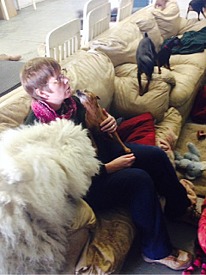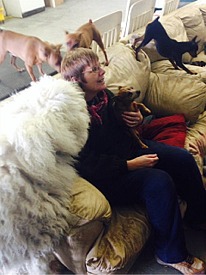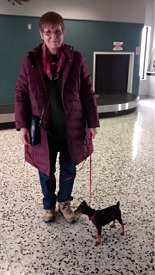 Lori emailed an update after she got home. We were both so pleased that her 12 yr old Chase is getting along so well with Micah. See her update in the Endorsement page.

Now on to New York! We arrived on Thursday. The first pic is of Eva waiting at the Detroit airport. Then two of her posing on the counter of the coffee shop in the Pennsylvania hotel.
We were sitting in the lobby of the hotel and Eva introduced herself to the man beside us. Lucky for us he was a dog lover!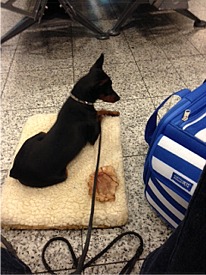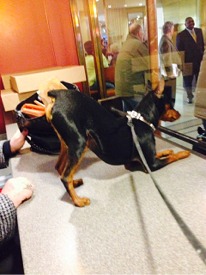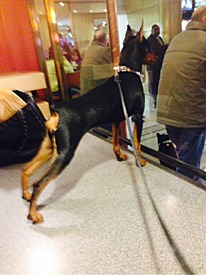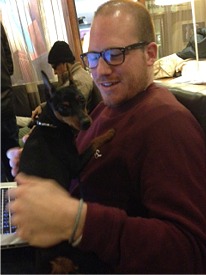 We watch a televised TV program in the hotel lobby. First we see the host getting his make up on before the filming begins.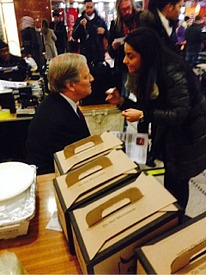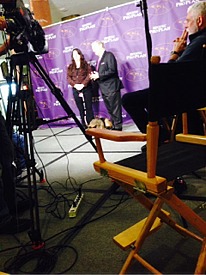 Eva showed well at the Progressive dog show and took Reserve (second to Winner's bitch) to a puppy shown by a top US Minpin breeder/professional handler. You can see Kim Byrd holding Eva at ringside as I took pics. Then a pic of the Breed winner.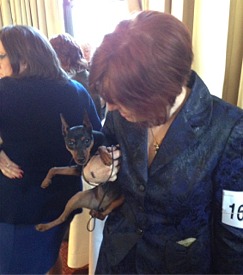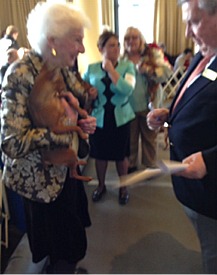 Today is the Empire Minpin Specialty and Sweeps and then home tomorrow!

February 08, 2015
We have to begin with the big announcement. Rita and Sarge had their puppies on February 5th - four healthy girls!! Rita was nice enough to have them and be all settled in before I had to leave for Eva's first dog show. The puppies are gorgeous. Rita lacks pigment and usually has very light red puppies but this time Sarge added tons of dark pigment. You can see how dark they are in the pic. Today is the day I remove their tails and dew claws which I always dread.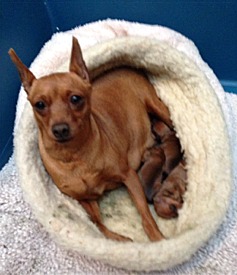 Speaking of Eva's first show, there is more exciting news! The first time Eva walked into the ring on Thursday she won Best Puppy in Group and many nice compliments from Judge Judy Taylor. Then she did it again on Saturday with Judge Pat Taylor (no relation). Pat complimented Eva on her showy temperament, wonderful movement and even her beautiful coat. That was the first time I have had a compliment on the coat - must be the raw diet. We didn't return today as everyone was complaining about how rough the Judge from Ireland was with all the dogs. We would have had him today so I kept Eva home. There is also a long list of things that need to be done to get ready for New York. As well, Tim Tim leaves tomorrow and Micah on Wednesday. As I mentioned, I am picking Lori up at the airport on Tuesday to stay here overnight. As my husband is working out of town for two days Lori is going to have to roll up her sleeves and help me. Such a great Minpin immersion program.

Third bit of exciting news for the readers. I now have a black girl available! I held back a girl and boy for the show ring and have settled on just the boy. I had so many requests for a black girl at the beginning but I don't keep a waiting list. She is an exceptional puppy and see more about her on the Available page.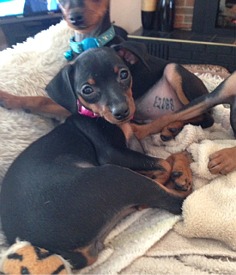 The weather here has been COLD and SNOW. We got so much snow on Monday that it took Gaston almost four hours to clear the driveway. It's like living in the Arctic. Certainly not Minpin weather.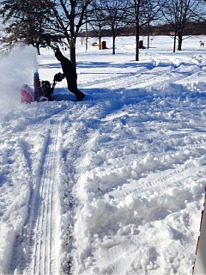 Next update will be from the Big Apple. Think winning thoughts for Eva.

February 01, 2015
Since last Sunday's update, Eva has made two trips to Ft Myer's Beach. I parked just before the bridge into the Beach area and we walk over. You can see Eva playing in the surf, walking on the beach and checking out a piece of driftwood. Last is a pic of us walking back over the bridge to our car.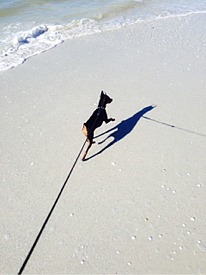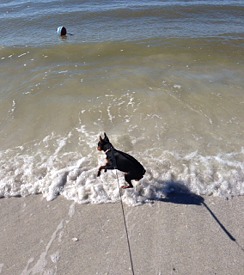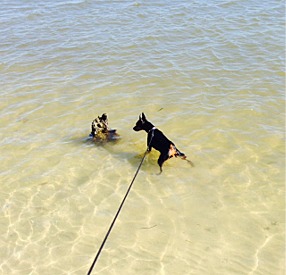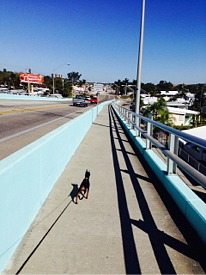 The flight home was uneventful. This time Eva laid on a blanket and entertained herself with a pig's ear while we were waiting to be called to board the plane for our return trip home. We left sun and temps in the high 70's for wind, snow and temps well below zero.
Eva was a wonderful companion and thoroughly enjoyed herself. She is looking forward to our return trip in February.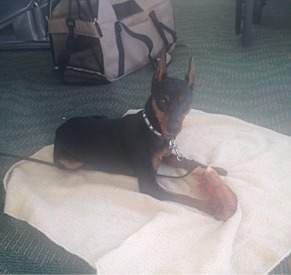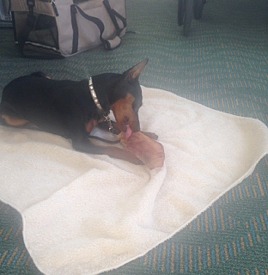 Gaston picked us up at the airport in Detroit. As we got in late, he had put the dogs in the kennel to bed before he left. As I entered the house, I was greeted enthusiastically by a thundering herd of puppies with Cammi bringing up the rear. I couldn't believe how much they had changed in just one week. The puppies were bigger, stronger and louder! After 10 minutes of hugs, squeals and licks I pealed them off me to go to bed.

Since I've been home, the puppies have gone to Marylynn's for their tattoos and nail trims and they have been dewormed and received their first set of boosters. They are now ready to go to their new homes. Tim Tim will be the first one to leave next Monday.

For next week's update, I will have Tim and Micah's leaving pics and also the results of Eva's very first dog show.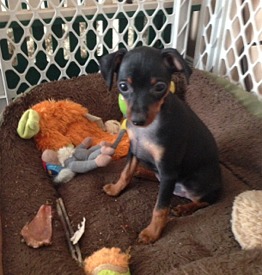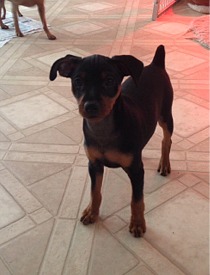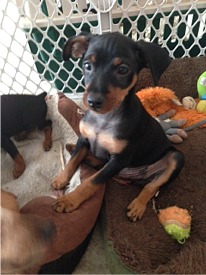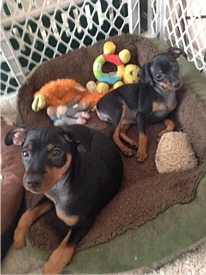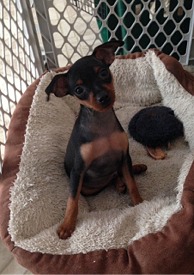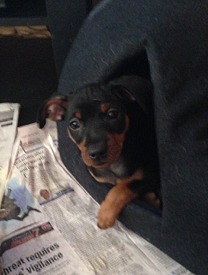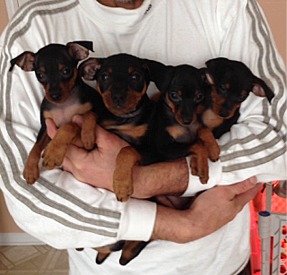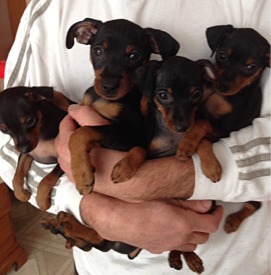 January 25, 2015
Eva and I are in Florida! (Think traveling with a toddler). At risk of a $5,000 fine I let her out of her carry-on to play. I brought her favourite small toys and she entertained herself and anyone in sight. When she wasn't playing, Eva was watching all the happenings at the busy Detroit airport.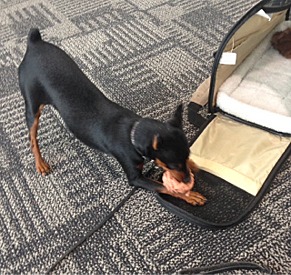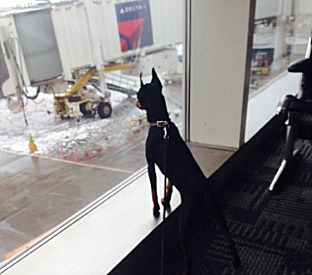 Florida is amazing. You can bring your dog anywhere. I was most surprised to find that I could take her grocery shopping.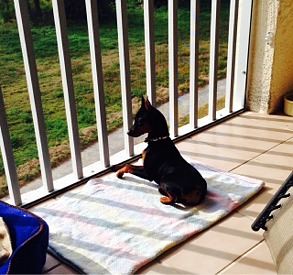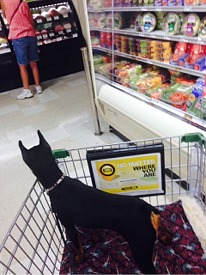 I took several pics of the pups before I left. Looking at them reminded me how poorly blacks photograph. These are the best of a bad bunch. They also don't stand out as well in the show ring which is one of the reasons that a lot of Judges prefer red Minpins.
You can see my picks with the collars.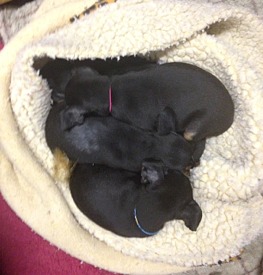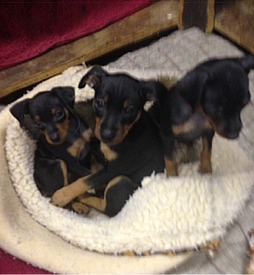 January 18, 2015
There is a lot going on this week so let's start with the news. Eva's first four shows are in Woodstock on the weekend of Feb 5 to 8. At handling class, she still isn't rock solid on the table and has started pulling when she goes around the ring. She is very high spirited and I never know what she's going to do from one moment to the next. Eva's first show will be an adventure!

Then, much to my own surprise, I am taking her to New York and I have entered her in the Progressive Specialty on Friday and Empire on Saturday. There used to be a show on Sunday but it doesn't exist this year. Normally I wouldn't consider going that far for just two shows but I miss the excitement of The Pennsylvania Hotel just before Westminster. I am sure she isn't ready for that level of competition but it's an excuse to have fun in the most exciting dog show venue of the year. I don't embarrass easily and I will be proud of Eva no matter what she does.

The time for the pups to leave is fast approaching. Shermie is coming for Tim Tim on Feb 9th and Lori is flying in the next day for Micah. I will pick her up at the airport and check her into the "Patapin Bed and Breakfast" and will return her to the airport the next day. I'm not sure she knows what is in store for her. It will definitely be Minpin immersion.

Now let's get to the part you have been waiting for - the puppies! They are definitely little dogs and run and climb everywhere. They come to the kennel every day at 4:00 and Gaston takes them into the house to feed them dinner at 7:00 They have huge appetites and empty their bowls in record time. They also enjoy raw chicken wings with their supper. The puppies get bones frequently, and as you can see they include small bones and big Oliver sized bones.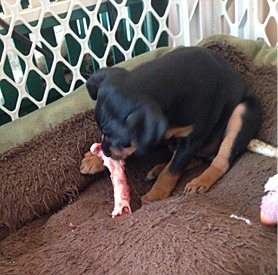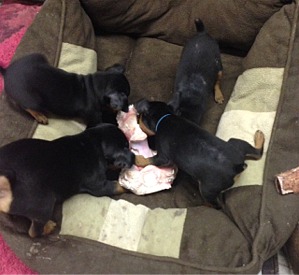 Now we have a pic of Lori's Micah. He and his mom are sound asleep.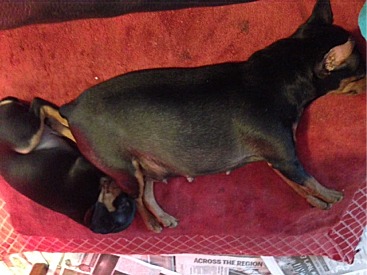 I love to walk and it greatly improves my mental health. For the first time I took Eva along with Silver when we did out country road walk. It was cold so I put a coat on Eva. That girl was amazing. She ran and explored for 20 minutes before she asked to be picked up. I had brought a blanket and wrapped her up. She was shaking like a leaf and it took another 20 min for the shaking to stop and she was warm again. As soon as that happened, Eva asked to be put down again and walked the last 20 minutes. (it's an hour walk down and back). As you can see, when we got back in my vehicle Eva passed right out. Poor little girl was exhausted! Unfortunately we have had Arctic temps since then and we haven't been able to walk again.
| | | | |
| --- | --- | --- | --- |
| Just look at Eva's lovely lift and break | | | |

For last, I have an exciting announcement. Sarge had his way with Rita and we will have puppies at the end of February! This is Rita looking preggie while Silver looks totally unimpressed behind her.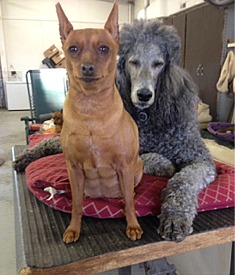 January 11, 2015
There have been lots of puppy firsts since I got home. I cut their nails for the first time and they were not happy!
They chewed on their first chicken thighs and this is Micah with his clenched in his jaws.
They all had a great time rough housing with Cammi and she was so gentle and patient with them.

The puppies continue to come to the kennel but now they are running around on the floor. They don't venture far and Fanta keeps a close eye on them. It took a couple of days to teach the adults to be gentle with the puppies and now they are very careful not to hurt them.
TimTim and Micah have homes and I have my eye on the girl and a boy for the show ring. If I don't like them at 8 weeks they will be available for pet homes.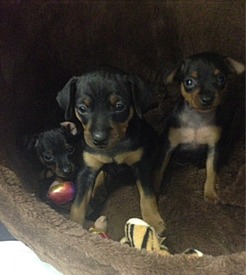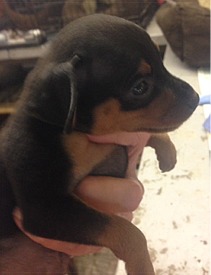 I took this pic in the kennel after I wrote my blog. This is my boy (blue collar) and the girl, enjoying a big bone that was intended for Oliver. A minute later Micah and TimTim joined in.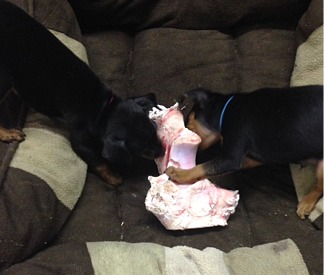 This is Sarge. The handsome sire of the puppies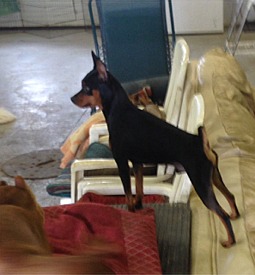 Now it's time to brag. The puppy lying in front of the fire is Loco. He was purchased by an Egyptian family and now lives in Cairo. You can see how proud they are of him.
The stacked shot is beautiful Whisper. Whisper's sire is Manley and she was born in Australia. Her proud mom is Deb who is now entering Whisper in the show ring.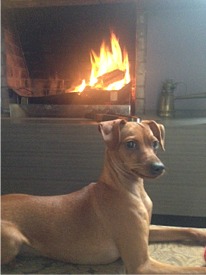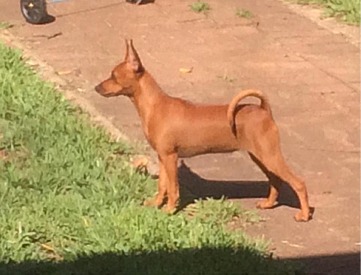 January 02, 2015
While I was away, Rhonda died in her sleep. Gaston called to say that she had been sleeping on her side in her favourite chair. When he got everyone moving to go out for a walk, Rhonda didn't move. He went over and she was just starting to get cold. Everything had been normal. Rhonda had emptied her bowl the night before and had gone on the morning walk. Gaston was shocked to find her like this.
He moved her to a dog bed on the counter where there was more light and took this pic. Fortunately the weather was very mild so he was able to bury her on the island with the others.
Rhonda was just 10 years old which is very young for a Minpin to pass. I am glad she didn't suffer but I was very sad I wasn't with her. It still brings tears to my eyes.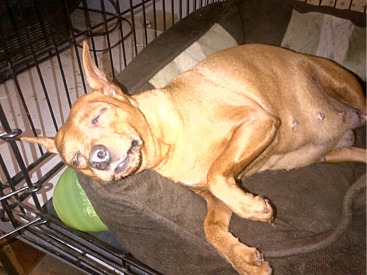 left tiny babies and I returned to find little dogs that roughhouse, bark, growl in play and run around. Although they still nurse you can see them also gobbling up bowls of a mixture of ground raw, canned puppy and goat's milk.
They are completely paper trained which makes them the youngest puppies to be so consistent.
I put a collar on the girl to distinguish her from the boys. The girl and two of the boys are all the same size. The third boy is 2 1/2 times bigger. He is also the most confident. While the others stay close to their run when I take them all out, this boy motors all over the family room. He is spilling over with personality and mischief. He would make an excellent show dog except I am sure he will be too big for the ring. January 1